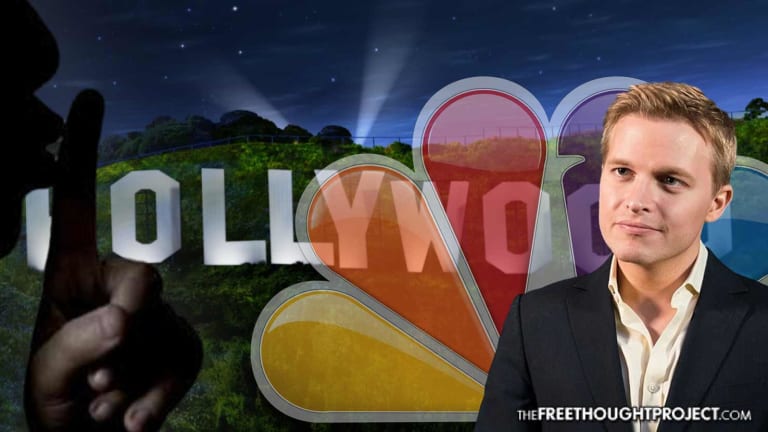 NBC Reporter Blows the Whistle—Says Network Covered Up Reports on Hollywood Sex Abuse
An NBC reporter has come out to expose how the network refused to publish his bombshell evidence showing rampant sexual abuse in Hollywood.
Ronan Farrow, who broke the Harvey Weinstein revelations, took direct aim at NBC News on Tuesday. The investigative journalist unleashed a Twitter storm that intimated the network actively attempted to shut down his story on sex abuses by Harvey Weinstein – going so far as to threaten his NBC producer with losing his job.
"My reporting is only possible because of a group of brave journalists who fought for the story," Farrow tweeted, praising the New Yorker magazine for fearlessly publishing his investigation of Weinstein's alleged sexual abuse.
Farrow acknowledged that "@RichMcHughNBC, my wonderful producer, refused to bow to pressure to stop, through numerous shoots, even when it meant risking his job," during his Twitter storm. Numerous press accounts describe Rich McHugh, NBC News investigative producer, as extremely disappointed that the network shut down his and Farrow's investigative report on Weinstein.

Farrow's most recent Weinstein revelation, published by Farrow in The New Yorker on Monday, exposed the Hollywood producer's use of former Israeli intelligence officers and New York power-attorneys to investigate and shut down any journalistic endeavors to expose Weinstein's alleged abuse of women.
Farrows praised the journalistic integrity of The New Yorker editors and staff who "championed" and "protected" him, while his bosses at NBC refused to publish his bombshell revelations, laughably claiming that it wasn't up to the network's standards.
He tweeted that New Yorker editor David Remnick "saved" his story as a "rare bastion of journalistic integrity," and digital editor David Rohde "was a compassionate, thoughtful and tireless editor."
Essentially, The New Yorker did actual journalism, while NBC was exposed as corporatist shills with no journalistic integrity who are willing to cater to the power-elite in society.
According to a report by Fox News:
To add insult to injury, Farrow, whose Twitter bio currently describes him as an NBC reporter and "Today" show correspondent, appeared Tuesday morning on "Good Morning America," arch-rival of the "Today" show, during the crucial November "sweeps" period. "GMA" described Farrow as a New Yorker contributor and mentioned NBC only when co-host George Stephanopoulos asked Farrow if Weinstein "got to" NBC when it decided to spike the original story.
"I think the story makes it clear [Weinstein and his team] were focusing on everyone trying to get word out about this," Farrow said carefully during his appearance.
Farrow pulled no punches on "The Rachel Maddow Show" when his first Weinstein article was published in The New Yorker last month.
Revealing how the fix was in at NBC, he told Maddow that The New Yorker "immediately" realized his story was in contrast to NBC's assertions, fully reportable, and "there were multiple determinations" that NBC had enough to run it.
The reality is that NBC News President Noah Oppenheim tried to kill Farrow's investigative report about Weinstein, which would have outed Weinstein as an alleged sexual predator months prior to The New Yorker publishing Farrow's reporting.
While NBC News has repeatedly attempted to deny that Oppenheim has ties to Weinstein, the NBC News president moonlights as a Hollywood screenwriter and the two men recently shared a relatively small table at a swanky media event, according to The Hollywood Reporter.
"This story shows the dark side of how media treats powerful men but also reminds us brave people are still defending the truth," Farrow wrote on Tuesday, praising the New Yorker.
After Oppenheim tried to kill Farrow's reporting on Weinstein at NBC, Farrow took the bombshell story to The New Yorker, which is known for its journalistic integrity and high editorial standards.
Laughably, Oppenheim, in an attempt at saving face during an NBC event last month, contended that the "incredible story" Farrow published in the New Yorker was "not the story that we were looking at when we made our judgment several months ago."
Farrow pushed back, essentially accusing Oppenheim of lying, saying The New Yorker "immediately" realized his story was verified and reportable, and "there were multiple determinations" that NBC had enough to run it.
This is exactly how an oligarchic system operates — differing rules dependent upon who you know and how much money and power you have.
Please share this story of extreme corruption and media manipulation -- as this is why you can't trust mainstream reporting!