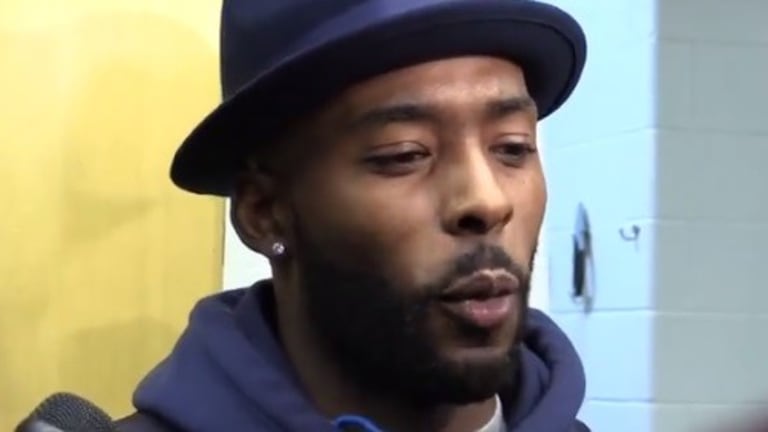 NFL Player Responds to Police Vitirol of Demanding an Apology for Wearing a T-shirt
"A call for justice should not warrant an apology"
Cleveland, Ohio - As we reported last week, Cleveland Browns wide receiver Andrew Hawkins sparked outrage among police when he wore a shirt on-field during warm-ups that said "Justice for Tamir Rice and John Crawford." Tamir Rice and John Crawford are both young men, and in Tamir's case a 12-year-old boy, who were shot and killed by police for carrying toy guns.
Jeff Follmer, the president of the Police Patrolman Union in Cleveland is demanding an apology for Andrew Hawkins decision to practice free speech.
Follmer issued the following statement Sunday, after the game:
It's pretty pathetic when athletes think they know the law. They should stick to what they know best on the field. The Cleveland Police protect and serve the Browns stadium and the Browns organization owes us an apology.
To demand an apology from someone who's simply asking for justice, in either one of these two incidents, is sickening to say the least. Neither one of these innocent individuals deserved to be killed by police, and no one has answered for their deaths. Actual "justice" has yet to be served.
Now, during an unplanned press conference, Hawkins shared his thoughts articulately and compassionately with the media.
Hawkins said that "a call for justice should not warrant an apology," and shared some deeper thoughts about justice:
"I was taught that justice is a right that every American should have. Also justice should be the goal of every American. I think that's what makes this country. To me, justice means the innocent should be found innocent. It means that those who do wrong should get their due punishment. Ultimately, it means fair treatment. So a call for justice shouldn't offend or disrespect anybody. A call for justice shouldn't warrant an apology."
Hawkins ended his short press conference with these final comments:
"I'm not an activist, in any way, shape or form. Ninety-nine times out of a hundred I keep my opinions to myself on most matters. I worked extremely hard to build and keep my reputation especially here in Ohio, and by most accounts I've done a solid job of decently building a good name. Before I made the decision to wear the T-shirt, I understood I was putting that reputation in jeopardy to some of those people who wouldn't necessarily agree with my perspective. I understood there was going to be backlash, and that scared me, honestly. But deep down I felt like it was the right thing to do. If I was to run away from what I felt in my soul was the right thing to do, that would make me a coward, and I can't live with that. God wouldn't be able to put me where I am today, as far as I've come in life, if I was a coward.

"As you well know, and it's well documented, I have a 2-year-old little boy. The same 2-year-old little boy that everyone said was cute when I jokingly threw him out of the house earlier this year. That little boy is my entire world. And the number one reason for me wearing the T-shirt was the thought of what happened to Tamir Rice happening to my little Austin scares the living hell out of me. And my heart was broken for the parents of Tamir and John Crawford knowing they had to live that nightmare of a reality."
You can view his entire speech in the video below:
John Vibes is an author, researcher and investigative journalist who takes a special interest in the counter culture and the drug war. In addition to his writing and activist work he is also the owner of a successful music promotion company. In 2013, he became one of the organizers of the Free Your Mind Conference, which features top caliber speakers and whistle-blowers from all over the world. You can contact him and stay connected to his work at his Facebook page. You can find his 65 chapter Book entitled "Alchemy of the Timeless Renaissance" at bookpatch.com.