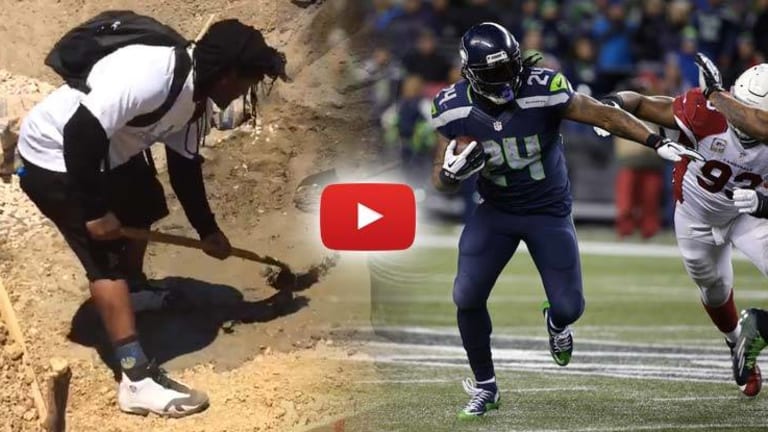 NFL Superstar Making $12 Million a Year Quits Football and Goes to Haiti to Build a School
Some NFL players retire from the league to enjoy a life of rest and relaxation, but Marshawn 'Beastmode' Lynch is an exception to the rule, as Lynch was recently spotted in Haiti building an elementary school.
After making a reported $49.7 million in nine NFL seasons – and reportedly not spending a single penny of it (Lynch is rumored to have lived off of endorsement deals and business ventures during his career) – the likely hall of fame running back is now giving back to those less fortunate.
The mission to Haiti was organized by Lynch's former Seahawks teammate Cliff Avril, who is of Haitian descent, in concert with the international charity Free the Children.

"It's awesome to have their support, it's awesome to be in a situation where guys are willing to take that step with you," Avril said (via seahawks.com). "Marshawn wants to help actually build the school out there. There's a lot of good guys in the NFL … It's cool to have these guys' support."
In addition to the efforts of Avril and Lynch, Detroit Lions linebacker Stephen Tulloch and Tampa Bay Buccaneers tackle Gosder Cherilus also participated in the philanthropic mission by hosting a mobile medical clinic and a football camp in the impoverished country.
"Haiti is the poorest country in the Western Hemisphere," Avril said. "For an island to have so many resources — it's on the same island as the Dominican Republic, and people go there in a heartbeat — but right across the border, nobody wants to go there. It's unfortunate it has a bad rep, but it's an awesome country."
During his playing days Lynch was always one to shy away from the glare of the spotlight, and who allowed his actions on the field to speak louder than his words. It seems in retirement his actions speak clearly of a desire to help those less fortunate than himself.
These NFL players are truly being the change they wish to see in the world! We here at The Free Thought Project salute these men and all who choose to actively participate in making the world a better place.