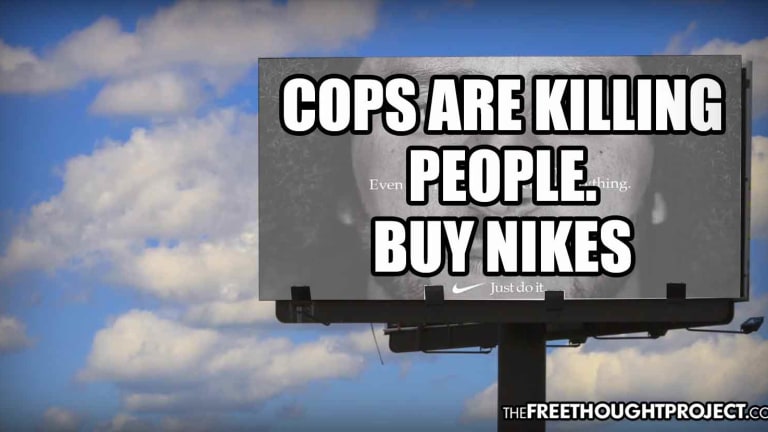 No, Nike is Not Helping, They Are Exploiting Police Brutality to Sell Shoes
Both Nike and Colin Kaepernick will make money from the ad campaign—but nothing is being done for the victims of police brutality who are being exploited.
When Nike released an advertising campaign featuring former NFL player Colin Kaepernick, the internet responded with a host of opinions, and although some have argued that Nike is giving Kaepernick a platform to raise awareness about police brutality, it does not take away from the fact that Nike's ultimate goal is to raise awareness about its brand and to increase sales.
Although it has only been public for less than a week, the campaign appears to be working for its intended purpose. The black-and-white photo of Kaepernick's face with the phrase "Stand for something. Even if it means sacrificing everything," followed by Nike's logo and the slogan "Just do it" went viral online. On top of that, it has also been recreated with everyone from Edward Snowden to Joseph Stalin.
Every time the image is recreated—even when the purpose is to criticize Nike's ad—it either includes the Nike logo, or it references the original ad enough for the public to think of Nike, which was the original purpose of the campaign.
As a result, the company's online sales have increased by more than 31 percent in the days since the campaign launched, according to a report from Market Watch. Hetal Pandya, co-founder of Edison Trends, said that while "there was speculation that the Nike/Kaepernick campaign would lead to a drop in sales," the numbers paint a different picture. "Our data over the last week does not support that theory," he said.
Nike's stock has actually increased by 29 percent in 2018, and the report noted that one of the biggest successes from the Kaepernick campaign was its ability to generate buzz about Nike on social media, with mentions of "Nike" increasing 1,678 percent on Sunday and Monday and mentions of "Kaepernick" increasing 362,280 percent.
Nike intentionally chose a controversial figure to serve as the spokesman for their campaign and—so far—it has worked brilliantly. They have generated buzz on social media because Kaepernick is the kind of person who is either loved or hated by many on the internet, and his actions have polarized the public and left individuals with definite opinions of his character.
But while Kaepernick gets more exposure and Nike makes more money, the innocent men, women, and children who lost their lives to police violence—which is what Kaepernick originally claimed he was kneeling for when he began his public protests on the football field—have been forgotten.
Nike's ads show Kaepernick's face and they share the story of Kaepernick's story as his public display led to the end of his NFL career as a quarterback for the San Francisco 49ers. The ads do not share the stories of Samuel Dubose, Philando Castile, Terence Crutcher, Alton Sterling, Jeremy McDole, Walter Scott, Tamir Rice, Eric Garner, or the countless others who were killed by police.
While the left applauds Nike for choosing Kaepernick as a spokesperson, and the right argues that Nike should have chosen a former NFL player like Pat Tillman—while completely ignoring the U.S. government's blatant cover-up of Tillman's tragic death—they are all completely ignoring the fact that whether they are praising Nike or criticizing Nike, they are still helping the campaign.
Even the people who are taking to social media to brag about burning their Nike merchandise are destroying products that they have already paid Nike for and they are also helping to raise awareness about the campaign. And as The Free Thought Project has reported, the products they are burning could have easily been donated to a good cause:
"After last year's season ended, this sentiment lay festering in the back of everyone's minds until this Sunday when Nike made their announcement. Up in arms, supposed "patriots" began calling for the boycott of Nike and destroying their clothing because a kneeling football player is somehow disrespectful to this country. But is kneeling more disrespectful to "the troops" than taking to social media and destroying a pair of shoes that could've been donated to a homeless veteran? Is Colin Kaepernick kneeling during the anthem more disrespectful to the troops than calling for his freedom of speech, his constitutional rights that the troops ostensibly fight for, to be removed?

What's more disrespectful, kneeling to protest people being killed by police or taking to social media to gloat about the fact that you can burn a $100 pair of sneakers while a homeless veteran you claim to "support" goes hungry, walking the streets in laceless boots with holes in them, as his feet bleed from blisters?Burning goods that could've gone to a homeless veteran—whose country chewed him up and spit him out—in protest to someone's freedom of speech, which that veteran fought for, is not only an insult to the troops, but it highlights just how hypocritical some folks are when they claim to "support the troops."
Nike's campaign has now generated more than $163 million in media exposure, with 40 percent of the publicity as positive, 30 percent negative and 30 percent neutral, according to reports from Apex Marketing Group.
While Nike will make money from the campaign and Kaepernick will make money from his deal with Nike, the question remains—will anything be done for the families who have lost their loved ones to police violence, and will anything be done to stop similar acts of violence from happening in the future?