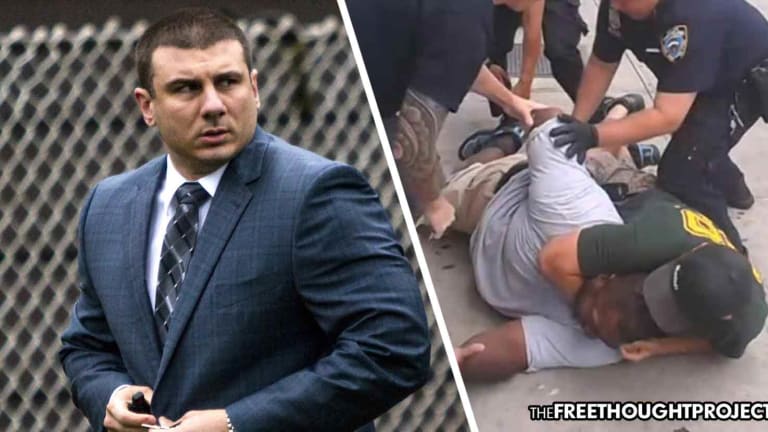 NYPD Refusing to Make Arrests, Write Tickets Since Killer Cop Fired and New York is Not in Chaos
After the cop who killed Eric Garner was fired, the NYPD threw a temper tantrum and has slowed down making arrests and writing tickets, but crime has not gone up.
New York, NY — Since Police Commissioner James O'Neill fired the killer cop who choked the life out of Eric Garner on video in 2014, the NYPD has been throwing a temper tantrum. Officer Daniel Pantaleo's firing sparked a plunge in arrests since August 19th. However, this slowdown in arrests has not led to a spike in violence or crime, illustrating how most of the "policing" done in the US, is little more than revenue generation.
Multiple reports are showing that NYPD police officers are making far fewer arrests in the wake of Pantaleo's firing, leading some to think it is deliberate. According to the most recent data, since Pantaleo's arrest, felony arrests are down about 11% and misdemeanor arrests are down about 17% as compared to the daily totals for the rest of the year. Similarly, moving violations and traffic fines fell a whopping 32 percent, according to O'Neil—who stopped short of blaming the decline on his decision to fire the killer cop.
As CBS reports:
The head of the officers' union hinted at a possible slowdown following Pantaleo's firing for using what a department administrative judge deemed a banned chokehold. Garner's dying words after the confrontation with the white officer, "I can't breathe," became a rallying cry for the Black Lives Matter movement.

Pat Lynch, the president of the Police Benevolent Association, said in the wake of the firing that officers would continue to uphold their oath to serve and protect the public, but not "by needlessly jeopardizing our careers or personal safety."

Lynch said it was time for each officer "to make their own choice" and that the union urged them to "proceed with the utmost caution in this new reality, in which they may be deemed 'reckless' just for doing their job."
However, if one's job consists of grabbing a father of six from behind, throwing him to the ground, and choking the life out of him for allegedly selling "loose cigarettes," one should seriously reconsider said job.
Responding to criticism from the police union, O'Neill told CBS News last month: "I've had five years to think about this."
"I was chief of patrol when this happened," he said. "I became the chief of the department in November of 2014. I was there every day for the protests. I was at Woodhull Hospital when Joe Liu and Rafael Ramos were murdered," he said, referring to the 2014 ambush of two officers in their squad car. "I have been thinking about this for five years, and I know every possible outcome — and I also know how people would feel, whatever decision I made."
Despite claiming the slow down is not a reaction to the firing of a killer cop, a few weeks earlier, Lynch actually told his officers in the NYPD to "take it a step slower" when responding to 911 calls.
The irony here is that this appears be affecting actual crime very little. The police temper tantrum of refusing to do their jobs swiftly because one of their own was fired for killing a father of six is actually proving their obsolescence.
We saw a similar reaction in December 2014 when the NYPD threw their first temper tantrum over the reaction to Eric Garner's death and simply stopped doing their jobs.
During the work stoppage, the city set a record for the lowest numbers of murders in the history of the NYPD.
As we reported at the time, the numbers were far more drastic than the current slowdown.
Citations for traffic violations fell by 94 percent, from 10,069 to 587, during that time frame.

Summonses for low-level offenses like public drinking and urination also plunged 94 percent — from 4,831 to 300.

Even parking violations are way down, dropping by 92 percent, from 14,699 to 1,241.

Drug arrests by cops assigned to the NYPD's Organized Crime Control Bureau — which are part of the overall number — dropped by 84 percent, from 382 to 63.
The decline in crime coinciding with the decline in police activity essentially made the case that most policing carried out in the United States is done so for the purpose of revenue collection and not to fight crime.
Drug offenses, parking violations, and traffic citations are not so much crimes, as they are streams of revenue for the city. They are also the reason for the majority of police harassment within particular communities; harassment that is being proven entirely unnecessary.
Imagine a police force that acted more like firefighters or EMTs. Firefighters don't have to go door to door looking for fires, in order to be effective. EMTs, just like firefighters wait for a call before reacting and their services are oft proven invaluable contrary to that of police work. Perhaps it is time we start talking about this more often.