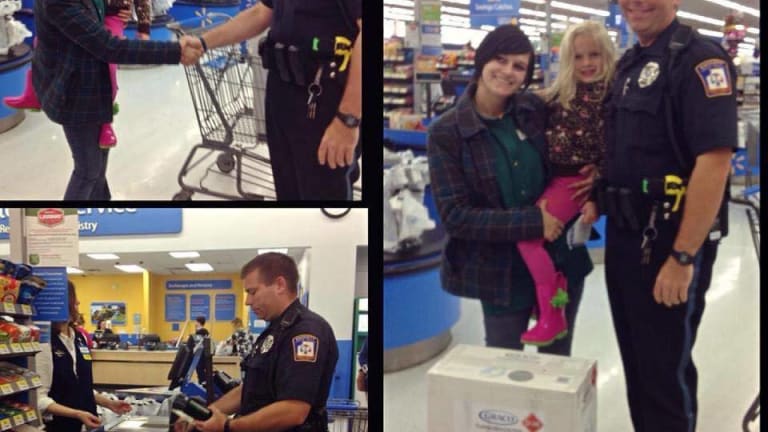 Officer Pulls Woman Over. Instead of a Ticket, He Showed His Humanity
"It changed my life, I'm never gonna forget him."
Emmett Township, Mich. – Emmett Township Public Safety Officer Ben Hall was doing his standard patrol when he pulled a car over for a traffic violation.
As he spoke with the driver of the vehicle, he saw that a child in the back of the car was belted in but not in a required child car seat.
When officer Hall questioned the woman, Alexis DeLorenza, as to why the child wasn't in a safety seat, she explained that she wasn't able to afford one.
Standard operating procedure of law enforcement would typically dictate this as simply another revenue generating stop.
In an extremely compassionate move, officer Hall had DeLorenza go to a nearby Walmart and actually purchased her a car seat for her child.
The Free Though Project would like to credit this officer for showing compassion to a family rather than pushing them further toward the margins of society.
"For a police officer that could have just given me a ticket, and gotten me in a whole lot of trouble, he, out of the kindness of his own heart and out of his own pockets, did something for me and my family that I'm never gonna forget," DeLorenzo told Fox 17 of the officer's act of kindness.
Rather than toeing the line, this officer looked at DeLorenzo as a person and empathized with her circumstances.
"She was telling me that she hit a rough patch," Hall told Today.com. "I know that writing a citation wasn't going to solve the problem. The biggest thing I wanted to do is give the child a reliable and dependable booster seat and giving someone a ticket is not going to fix that."
If more officers followed the lead of Hall in this instance perhaps people would begin to look at law enforcement in a more favorable light.
"It was the easiest 50 bucks I ever spent. It's something that anybody in the same position, in our position, would do. I in no way, shape or form expect to be paid back. It is a 'pay it forward' situation completely," Hall told Fox17.
This is the way that police should operate to gain the respect and trust of the community, kudos to you officer Hall. Hopefully this can be an example to other officers as to how police should conduct themselves on a regular basis.
Jay Syrmopoulos is an investigative journalist, freethinker, researcher, and ardent opponent of authoritarianism. He is currently a graduate student at University of Denver pursuing a masters in Global Affairs. Jay's work has previously been published on BenSwann.com and WeAreChange.org. You can follow him on Twitter @sirmetropolis and on Facebook at Sir Metropolis.