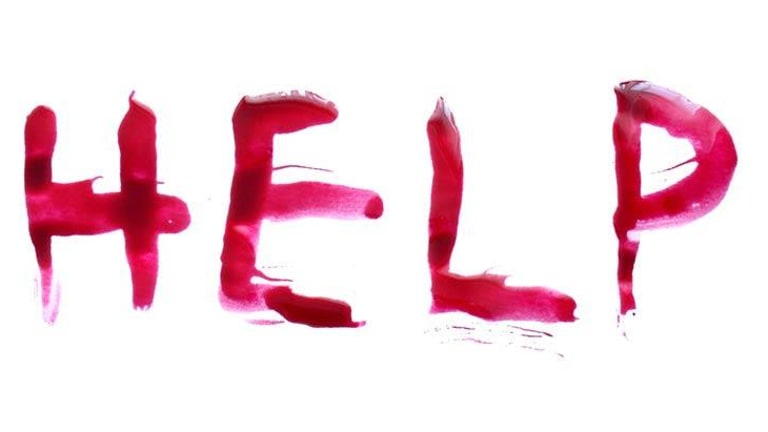 NOPD Cop Suspended After Being Accused of Writing With Victim's Blood At Crime Scene
A New Orleans police officer and artist has been suspended after he allegedly used a homicide victim's blood at a crime scene to scrawl out letters.
New Orleans, LA-- A New Orleans police officer and artist has been suspended for five days after a hearing regarding an incident where he allegedly used a homicide victim's blood at a crime scene to scrawl letters with his gloved fingers in May of 2014.
His supervisor, Sgt. Marc Amos has received a fifteen day suspension for failure to supervise, since he verbally reprimanded the officer, but filed no formal disciplinary action.
Officer Charles Hoffacker is quite well known for his political and violence fueled art which he describes as follows on his website:
"I use art to bring the violence I experience on a daily basis to the forefront of the more cultivated art world. Art to ignite reflection, and artistic creation to spur a dialogue of resolution is the underlying purpose of pursuing this career. I find solace in the tradition of painting to both memorialize and reason my subject matter."
The officer was sifting through coagulated blood looking for evidence and claims he was just wiping his fingers off on the sidewalk and did not mean to write anything.
"You have to physically go through (the blood) with rubber gloves and feel for any pellets or any evidence that might be concealed," said Hoffacker's defense attorney. "It's a disgusting job, but that's what he was doing."
Seeing this, another officer approached him and said "Look! Charlie's painting something." which Hoffacker admittedly went along with.
The officer claims his coworkers find him weird due to his artistic nature and this was likely just a jab at him.
The officer and his attorney maintain it was a coincidence that it appeared like hand writing and that he had not intended to write with the blood, yet "played along" at the scene by joking to the other officers that the blood he wiped off his rubber gloves resembled part of the word "help." The New Orleans Advocate reports.
His attorney also stated that Hoffacker doesn't "want anyone in the family of the deceased thinking that he was being disrespectful in any way, shape or form, or that he ever would have done anything to impugn the integrity of any investigation."
Vice interviewed Hoffacker back in September prior to his recent suspension hearing and reported that the officer often buys signs off the city's homeless population and uses the cardboard to paint their portraits and noted how Hoffacker is known for being more compassionate than most. He claims he joined the force to help people and is often the victim of "pot shots" by his co workers, describing them as jocks that he doesn't quite fit in with.
The officer spoke of his internal trouble's as he doesn't fit into the art world, either, due to his day job and many artist's distrust of the police. He spoke of losing friends over his career and how artists are actually less accepting of him than the police are, and his struggle with self loathing.
"I deal with a lot of self-loathing. I take some medicine for depression, whatever. And I never feel good about myself, except when I'm making art." the officer told them. "I would consider myself very nice and sweet. I don't like the feeling of arresting people; it's a terrible feeling taking someone's freedom away—even when it's deserved." Hoffacker also stated.
When asked if he understood the anger in Ferguson,
"I will never know what it's like to be a young black man in America. The way I hear people talk about [the police], I would say it's gotta be somewhat close to being a white police officer. I walk into a coffee shop in uniform and it's like I have leprosy. It's not the same—you can't take your skin off—but it's the same look of disgust. And I'm like, What did I do to deserve this? I would gladly take a bullet for you. It kinda makes me wanna embrace my art career 100 percent."
"For myself, the expressive nature of art presents the perfect medium to begin a path towards realization of our own value and the value of every member of our society." he wrote on his website.
Hoffacker has been reassigned out of the homicide division in response to the incident and said that his stress and anxiety have gone way down since being assigned to desk duty.
Looking into the artwork of Hoffacker, and the dates on his recent pieces, it seems that this cop is undergoing a transformation of sorts, waking up to the corruption that is so rife within the state. It's quite heartening to see this awakening materialize, in spite of the uniform.
A quick look at theHeads of State section on his art website shows that he is willing to call out government corruption through his artwork.
He's even gone so far as to paint a police officer as the devil, officer beelzebub. 
We hope that he decides to leave the force to further his career in art, as he is actually quite talented and perhaps too compassionate for a career that forces you to dehumanize people. If this man is the kind person he claims who just wants to help people, there are much better avenues than becoming the oppressor.
We also hope he lays off disrespecting the dead by joking around about finger painting with their blood.