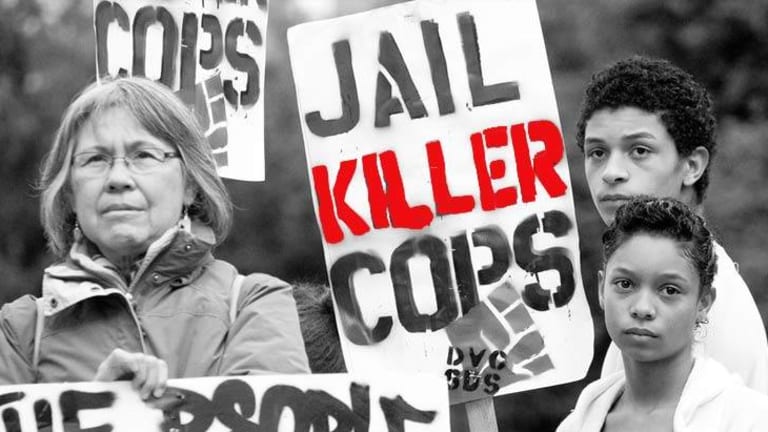 Because of People Taking Action, the Rate of Cops Being Charged for Murder Has Increased 5-Fold
In just the past five months, America has seen a sharp spike in the rate of cops being indicted for murder.
Cops in America can kill innocent people, even on camera, and not be charged. Not only will killer cops not be charged, but they can murder children while filming a reality TV show, and keep their jobs.
This disheartening lack of accountability has been increasingly becoming the norm in police state, USA. Cops in America are almost never indicted by grand juries, even after being caught on video and admitting to killing unarmed people.
Just a few years ago, officers Manuel Ramos and Jay Cincinelli were caught on surveillance footage beating an unarmed, non-violent, mentally ill man -- to death. Kelly Thomas cried out for help as these two sadistic peace officers, along with four of their comrades, killed him on camera. None of the officers involved were convicted of a crime.
After their acquittal in January 2014, the precedent had been set; cops can kill unarmed innocent people on video, and walk.
But thanks to citizens Policing the Police this paradigm of injustice is coming to an end.
On Tuesday, it was announced that the two Albuquerque cops who murdered James Boyd on camera would be charged with murder. The same day, "two former East Point police officers were indicted on charges that they murdered a 24-year-old father by repeatedly using their Tasers on him while he was handcuffed and sitting in a creek," The Atlanta Journal-Constitutionreported.
The day before that, TheWashington Postreported that "a former Fairfax County police officer was charged with second-degree murder, nearly two years after he shot an unarmed Springfield man who stood with his hands raised in the doorway of his home."
In July, Officer Ray Tensing was officially charged with murder after his body cam showed him kill an unarmed man who simply tried to drive away.
In June, Officer Michael Slager was indicted after he was captured on video shooting Walter Scott in the back over a broken tail light.
Those six cops being charged in just the past few months nearly exceeds the annual average of all cops being charged in recent history.
In fact, there have been 14 cops indicted in just the last five months, which works out to an annualized rate of 33.6 cops being charged for murder. Over the past five years, the average number of cops being charged per year was only 6.5. 
This new rate is a 5-fold increase in police being held accountable for their actions. 
To put that number into perspective, the number of U.S. cops arrested for killings in the last five months exceeds the total number of people shot and killed by cops in England going back five years.
With 741 people being killed by police this year, that number may seem small. However, it illustrates the power of the police accountability movement.
Had Feidin Santana not pulled out his camera as he was walking to work in April, the world would have never known that Michael Slager murdered Walter Scott.
Had Ray Tensing's body camera footage never been released to the public, the world would never have known that he murdered Samuel Dubose.
Had the millions of protesters who've taken to the streets over the past year never gotten the courage to stand up for what's right, the establishment would have continued to ignore these senseless killings.
Had readers of the Free Thought Project and other alternative media outlets likeThe Anti-Media, not read and shared these stories with their friends and families, the world would not be waking up to the police state.
The paradigm of complacency and inaction is crumbling. The people are fed up with the current state of affairs in this country, and they are taking action.
This action has forced the uncomfortable topic of police accountability into the mainstream conversation. It is no longer taboo to shun the government for their violent tendencies, and this is incredibly healthy.
This uphill battle for liberty is far from over, but evidence that freedom is winning is everywhere. From the mainstream being forced to cover real issues, to the government realizing the drug war is a failure, America has spoken -- we, the people, will not comply!
Matt Agorist is an honorably discharged veteran of the USMC and former intelligence operator directly tasked by the NSA. This prior experience gives him unique insight into the world of government corruption and the American police state. Agorist has been an independent journalist for over a decade and has been featured on mainstream networks around the world.