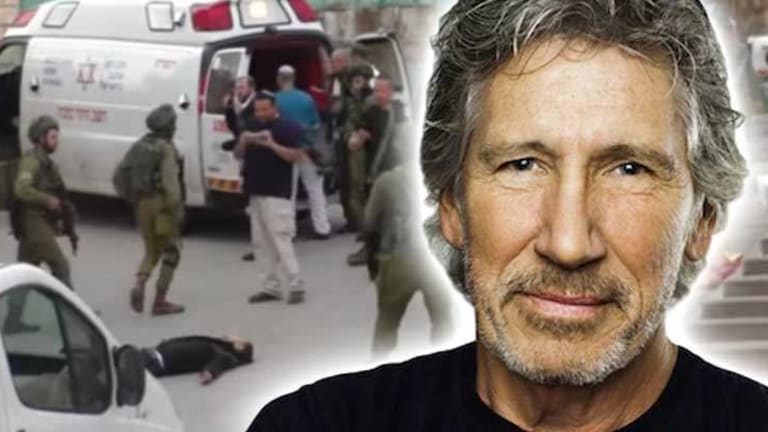 Pink Floyd Frontman: US Artists are "Scared Sh*tless" of Criticizing Israel's Crimes
Bravely risking his own career, Roger Waters is unafraid to talk about corruption -- no matter who it is.
In a bombshell interview with the Independent, Pink Floyd frontman, Roger Waters took a courageous stance. He pointed out how people in the industry are persecuted and labeled as antisemitic for merely calling out the many public crimes of Israel.
Even a top Israeli general, during the country's annual Holocaust Remembrance Day, addressed and exposed the controversy when he likened the atmosphere in modern day Israel to 1930's Nazi Germany.
"If there is anything that frightens me in the remembrance of the Holocaust, it is discerning nauseating processes that took place in Europe in general, and in Germany specifically back then, 70, 80 and 90 years ago, and seeing evidence of them here among us in the year 2016," Maj. Gen. Yair Golan, the Israeli army's deputy chief of staff said.
Golan referenced the Hebron incident, in which an IDF soldier was filmed executing an already incapacitated Palestinian assailant that was lying on the ground defenseless.
The soldier in question, Sgt. Elor Azaria, has been arrested and brought up on manslaughter charges by a military tribunal for the killing; a move that has been met with ferocious opposition by Zionists who claim that the brazen execution was somehow justified.
In yet another damning crime against humanity, IDF soldiers allegedly gunned down an innocent family. The brutal incident took place at the Qalandia terminal, north of occupied Jerusalem. IDF soldiers reportedly shot and killed the Palestinian mother of two, who was five months pregnant, and her 16-year-old brother. Then they prevented Palestinian medics on the scene from rendering aid.
Exposing the murder of a pregnant woman is hardly antisemitic, yet this label is often thrown around and used to chastise people who dare call out the crimes of the Israeli state.
Even Gen. Golan, who is Jewish, and a general in the Israeli army, was ridiculed for his comments.
Knowing these tactics of smearing individuals for speaking out, Waters bravely exposes them. In the interview, Waters explained how America artists are 'scared shitless' to call attention to Israeli crimes. However, he noted that we desperately need brave artists to begin speaking out as musicians did during the Vietnam war.
Here are some of Waters's statements to the Independent:
"The only response to BDS [] is that it is anti-Semitic," Waters told The Independent, in his first major UK interview about his commitment to Israeli activism. "I know this because I have been accused of being a Nazi and an anti-Semite for the past 10 years.

"My industry has been particularly recalcitrant in even raising a voice [against Israel]. There's me and Elvis Costello, Brian Eno, Manic Street Preachers, one or two others, but there's nobody in the United States where I live. I've talked to a lot of them, and they are scared s***less….

"If they say something in public they will no longer have a career. They will be destroyed. I'm hoping to encourage some of them to stop being frightened and to stand up and be counted, because we need them. We need them desperately in this conversation in the same way we needed musicians to join protesters over Vietnam."

"My father died fighting the Nazis, my mother [a strong Campaign for Nuclear Disarmament and Labour supporter] devoted her life to doing everything she could to create a more humane world.

"We are asking questions that have never been asked until the last couple of years, which are bringing the wrath of the Israeli lobby down on people like me and all the others who dare to question and criticise.

"[The Israeli lobby] is determined not to let that conversation develop into one that people can listen to and that is why they accuse us of being Nazis. This idea that BDS is the thin end of some kind of genocidal Nazi wedge that ends up in another Holocaust – well it isn't."
Waters' bravery is on full display in this recent interview and is a true testament to his character. Anyone who's listened to Pink Floyd's music knows that this band is awake and aware and unafraid to call out the establishment -- regardless of being chastised for it.
[author title="" image=""]Matt Agorist is an honorably discharged veteran of the USMC and former intelligence operator directly tasked by the NSA. This prior experience gives him unique insight into the world of government corruption and the American police state. Agorist has been an independent journalist for over a decade and has been featured on mainstream networks around the world. Follow @MattAgorist[/author]