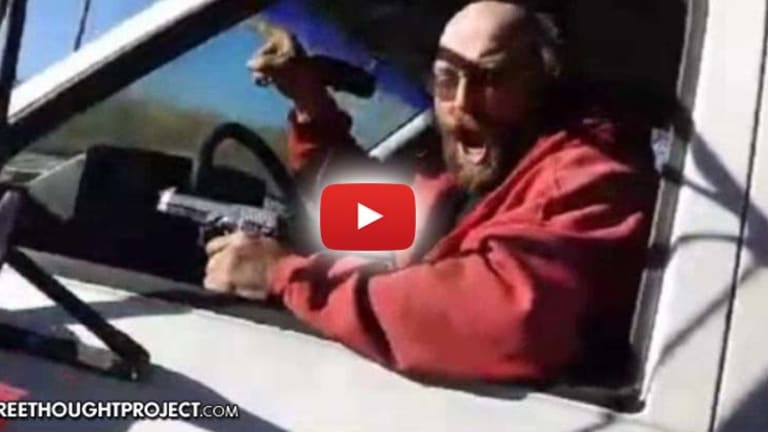 VIDEO: As Standing Rock Protesters Block the Road, Pipeline Worker Plows Through Them Firing Gun
Multiple people were injured as a pipeline worker in his company truck clashed with protesters at Standing Rock.
While the world is focused on the outcome of the US election, which will undoubtedly do very little to change anything about the status-quo, the water protectors of Standing Rock are still struggling to hold their ground against the US government and the pipeline crews that are attempting to build a dangerous project through their sacred lands.
This weekend, during a peaceful prayer ceremony, a truck driver working for the Dakota Access Pipeline plowed through the crowd firing his gun in the air. According to Native News Online, close to 500 people had gathered for the prayer service at the time of the attack.
Although no one was hit by the gunshots and they were not captured on the video below, multiple shell casings were recovered from the scene. There were, however, multiple injuries as a result of the worker's reckless driving.
Dallas Goldtooth, a Native American campaign organizer for the Indigenous Environmental Network, told reporters that"A concrete truck driver pulled a gun on water protectors while trying to ram his way thru a crowd! Our protectors were peacefully marching on a dirt road towards a DAPL operations base. And somehow WE are designated as the violent ones."
There were no initial reports of any pipeline workers being arrested or questioned by police, despite the fact that the incident was reported. However, peaceful protesters and journalists have been regularly assaulted, tased, pepper-sprayed and arrested for doing absolutely nothing.
Protesters are often criticized for blocking roadways and creating an inconvenience for people.
However, it is important to realize that when people protest, it is usually because circumstances in their lives have gotten so bad that they have no other choice. They see that other people around them in society don't seem to recognize or care to recognize something that is a very serious problem to them.
People in this position are often left with no option but to protest in a way that inconveniences people, and forces them to recognize the struggles of those around them.
As we reported last week, there is evidence that the Dakota Access Pipeline is even more dangerous than typical pipeline projects, because it is slated to run under a river that millions of people depend on for drinking water. The pipeline is also in the direct path of a landslide zone, which could cause obvious and disastrous complications.
Having the water supply of millions poisoned, and land stolen from natives who have suffered centuries of ongoing oppression and genocide is a huge deal when compared with someone getting home from work on time. Also, this truck driver is not an innocent bystander, as a worker on the pipeline, he is a part of the problem. This fact may upset some people in the industry, but regardless of our jobs, every individual is responsible for their own actions, and everyone has the ability to refuse orders if their job puts them against humanity.
[author title="" image="https://scontent-lax3-1.xx.fbcdn.net/v/t1.0-0/p206x206/11180635_10206767821827999_559224194627129346_n.jpg?oh=1629dfaa493cde9bde7d896161275ada&oe=58A44235"]John Vibes is an author and researcher who organizes a number of large events including the Free Your Mind Conference. He also has a publishing company where he offers a censorship free platform for both fiction and non-fiction writers. You can contact him and stay connected to his work at his Facebook page. John is currently battling cancer naturally, without any chemo or radiation, and will be working to help others through his experience, if you wish to contribute to his treatments please donate here.[/author]