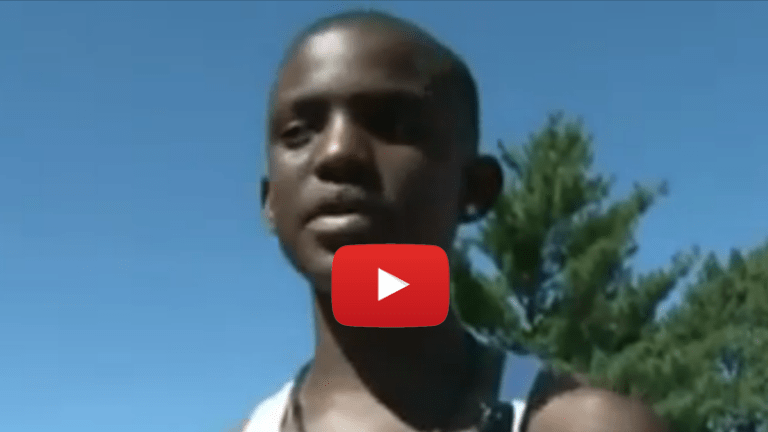 We Copwatch Donates Body Cameras To Ferguson Residents: Police Chief Likes the Idea
They are entitled to do that, and we have instructed our officers not to interfere with that right."
A group of police accountability activists from California called "We Copwatch" has donated 110 small body cameras to Ferguson residents and trained them how to use the devices as well. The group raised over $6,000 to purchase the cameras, in hopes of making police encounters safer in the area and to raise awareness about the right to film police.
David Whitt, a spokesman for the Canfield Watchmen, one of the local groups who coordinated the effort, said that the body cameras will allow the average person to "challenge the police narrative" and gather irrefutable evidence if they happen to become a victim of police aggression.
"Neighborhood watch sounds like you're targeting the people and that's what the police do, they target us, we wanted to change that kind of image to protecting the people," Whitt said.
The police department made a statement saying that officers have been ordered to allow the public to record them during encounters with residents.
"They are entitled to do that, and we have instructed our officers not to interfere with that right, and really, many members of the public have already been (taking videos of police) with cameras in their phones," Ferguson's police chief, Thomas Jackson told The Maryville Daily Forum. The chief also pointed out that 50 body cameras were recently donated to the Ferguson police department.
Some police in Ferguson may already be equipped with body cameras, but critics argue that police are able to turn the cameras off and on at any time, allowing them to "go dark" during situations like the one that Mike Brown found himself in.
"We knew the Ferguson police department was equipping themselves with 50 body cameras, so we thought it best to equip this neighborhood with 110 body cameras," We Copwatch co-founder, Jacob Crawford said.
While in town, members of We Copwatch gave seminars about how people can assert their rights in difficult situations, and how they can use their cellphone and body cameras to record police encounters.
John Vibes is an author, researcher and investigative journalist who takes a special interest in the counter culture and the drug war. In addition to his writing and activist work he is also the owner of a successful music promotion company. In 2013, he became one of the organizers of the Free Your Mind Conference, which features top caliber speakers and whistle-blowers from all over the world. You can contact him and stay connected to his work at his Facebook page. You can find his 65 chapter Book entitled "Alchemy of the Timeless Renaissance" at bookpatch.com.