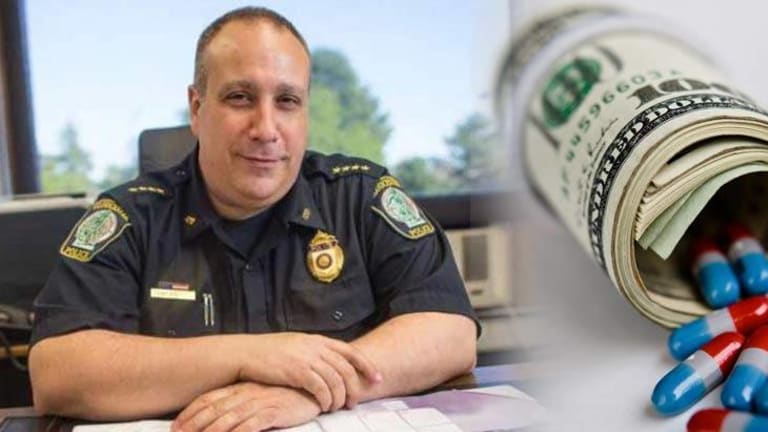 The Police Dept that Began Helping Drug Users Instead of Arresting Them, Just Called Out Big Pharma
And they won. Instead of using military force like the rest of the country, this department is using diplomacy and care to solve America's drug addiction problem.
Gloucester, MA – After making national headlines for instituting a policy of helping addicts rather than locking them up, the Gloucester Police Department is "calling out" big pharma executives as the real drug dealers in the U.S. Instead trying to arrest their way out of a problem, however, this department is seeking real solutions, without the use of any force.
As we previously reported, the department launched its "Angel" initiative over the summer, in an effort to allow people suffering from drug addiction to receive treatment for their addiction problems instead of criminal charges. The new program has been sent to nearly 200 people to treatment.
The Gloucester Police Department has now zeroed in on the fact that a massive amount of the addiction faced by their community stems not from "street" drugs, but from big pharmaceutical companies flooding the streets with opiates.
In a posting to their Facebook page, the department specifically called out five pharmaceutical CEOs, listing their names, email addresses and phone numbers. They encouraged their followers to contact the executives and ask them what they are doing about opiate pandemic on the streets of America.
The posting, which implored followers to contact the pharmaceutical execs read:
Gotta go make some calls.....

Top 5 Pharmaceutical CEO Salaries:

5. Eli Lilly - John Lechleiter $14.48 million
[email protected] 317-276-2000

4. Abbott Labs - Miles D. White $17.7 million
[email protected] 847-937-6100

3. Merck - Kenneth C. Frazier
$25 million + cool private jet.
[email protected] 908-423-1000

2. Johnson & Johnson - Alex Gorsky $20.38 million
[email protected] 732-524-0400

1. Pfizer - Ian Read $23.3 million
[email protected] 212-573-2323

They're all on Forbes Top 100 CEO salaries as well.

In 2013 The Huffington Post reported that the 11 largest pharmaceutical companies made $711 BILLION in profits in the last decade while their CEO's made a combined $1.57 BILLION in the same period.

Now...don't get mad. Just politely ask them what they are doing to address the opioid epidemic in the United States and if they realize that the latest data shows almost 80% of addicted persons start with a legally prescribed drug that they make. They can definitely be part of the solution here and I believe they will be....might need a little push.
Amazingly within 48 hours of the posting, Pfizer had already reached out to the department in an effort to set up a meeting and begin a much-needed dialogue.
Here is the Facebook post made less than 48 hours after the initial post:
Pssst....Pfizer called (honestly)...we are meeting with them. When you continue to make your calls, thank them because they could have ignored us all. Instead, within 48 hours..they responded. We've got Mass Assisted Health Plans at the table (MAHP). They're doing good things. Treatment Providers are removing barriers daily. More police agencies are signing onto to PAARI.

This is not because of us, this is because of YOU.
Addiction is a disease.
No way we are arresting someone who comes in for help.
No way are we judging anyone.
People with addiction are doing their part every day by walking into the police station and asking for help.

We've proved there are beds. We've facilitated nearly 200 people into treatment in 3 1/2 months. We are seeing a reduction of addiction related ancillary criminal complaints.

Now we've reached providers, insurance, and pharma is starting to come onboard.
Next up: Prescription Monitoring System interconnectivity between states, education and sanctions for MD's who would continue to blatantly overprescribe, and finding out the relationship between legislators and health care...hmmm. We've said it before...if law enforcement can step up and say "We're sorry...we should have done this years ago" then so should everyone else. There are entities who have to admit things were approached incorrectly and take part in correcting the system. If they do that, law enforcement has no issues with them. We don't want to be in the health care business...but we are really good at holding people accountable.

With your support...this is becoming a change in the conversation.

You all are truly pioneers in this and we are so proud to be part of your voice.

Chief C.
Regardless of how you feel about police in general, this department has been extremely proactive in their approach to treating addiction as a disease rather than as a simple tool to generate revenue for the state.
Campanello's initiative is undoubtedly revolutionary and is already leading to progress. But the fact remains, until Americans confront the fact that their government is owned and operated by criminals who operate in concert with these legal drug dealers, the pace of change will remain gruelingly slow.
Share this article with your friends and family to show them the power one good cop can have. Maybe you will open their eyes to the horrid reality that is the war on drugs.
Jay Syrmopoulos is an investigative journalist, free thinker, researcher, and ardent opponent of authoritarianism. He is currently a graduate student at University of Denver pursuing a masters in Global Affairs. Jay's work has been published on Ben Swann's Truth in Media, Truth-Out, AlterNet, InfoWars, MintPressNews and many other sites. You can follow him on Twitter @sirmetropolis, on Facebook at Sir Metropolis and now on tsu