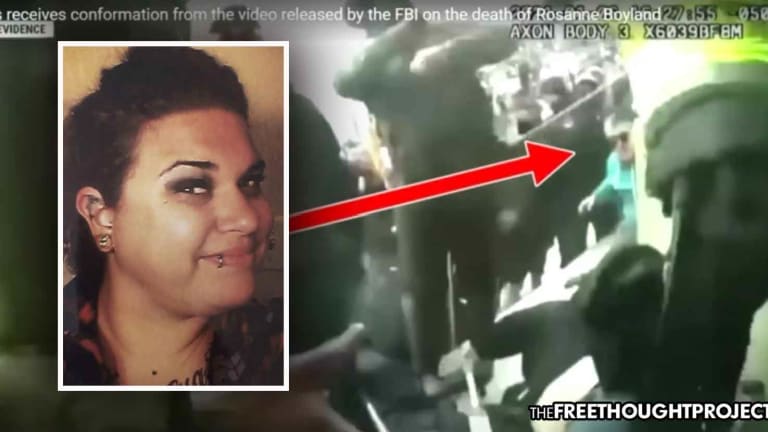 Police Investigate Themselves, Rule Beating Unconscious Woman with Baton Until She Died was 'Objectively Reasonable'
Ashli Babbitt wasn't the only unarmed woman to die at the hands of Capitol police on 1/6.
Washington, D.C. — According to the corporate press, January 6, 2021 was a day of infamy, comparable to that of 9/11 and Pearl Harbor, on which the nation's capitol was attacked and multiple brave police officers killed. Deranged MAGA protestors stormed the capitol and left bloody carnage in their wake. Anyone who cared to look into the actual facts, however, and not the mainstream's narrative, would have learned that no police officers were killed. Nevertheless, even a year after the incident, this false narrative is still being pushed.
Though no police officers were killed that day, several of the protesters actually did die. Most everyone has heard of the case of Ashli Babbitt who was shot by a Capitol police officer as she attempted to climb through a window, unarmed.
And others have likely heard the reports in the media of the protesters who died from medial complications. But, as the mainstream media chooses to ignore it, few have likely heard the details of the case of Rosanne Boyland.
Boyland was a 34-year-old woman, who — according to the official channels — died of an Adderall overdose during the protest. That ruling resulted in outrage from Boyland's family, who noted that she had been taking prescription Adderall for a decade with no problems. Nevertheless, this report was the official narrative, that is, until video surfaced of a police officer beating her unconscious body with a steel baton.
A man from Decatur, Texas gathered video evidence of Boyland's beating and filed a police brutality complaint with the department. On September 14, 2021, Gary McBride filed the complaint with the department and an Internal Affairs investigation unfolded.
Months later, he received a reply from the department, noting that the officer who was seen on video beating Boyland, DC Metro Police Officer Lila Morris, had been cleared of all wrongdoing.
"The use of force within this investigation was determined to be objectively reasonable," wrote Capt. David K. Augustine, director of the Risk Management Division of the MPD Internal Affairs Bureau, The Epoch Times reported.
"Officer Morris is still employed with the MPD and not facing criminal charges related to the use of force on Jan. 6."
McBride was shocked by the department's conclusion, The Epoch Times reported.
"It told me right there that it's OK for them to do what they do," McBride said. "They are doing exactly what they want to do. They don't care if you know or see.
"They just showed me that they're going to go beat somebody and kill them, but they have the power to say, 'That was objectively reasonable.' And we're supposed to accept that and say, OK."
According to the video, Morris is seen striking Boyland multiple times with her steal baton as Boyland lies unconscious on the steps. Before she was beaten, Boyland had fallen in the crowd of protesters attempting to flee the police response to the capitol tunnel as they responded with tear gas. She reportedly lost consciousness after being knocked over by the protesters and was in need of medical aid.
Instead of medical aid, however, Boyland was beaten by police. Boyland's boyfriend, Justin Winchell was seen on video begging police to help his girlfriend and was completely shocked when he saw baton blows to her head instead of help.
"She's gonna die! She's gonna die! … I need somebody! She's dead!" Winchell cried on the body camera footage.
Though other officers were later seen attempting to revive Boyland, she would die shortly after being beaten by the officer. A video later surfaced that had been heavily edited which was subsequently used to discredit the facts of the case. Multiple mainstream outlets "fact-checked" the doctored video and used the "Adderall overdose" report to claim Boyland's death was not a result of the beating.
But the real facts do not lie.
Imagine a scenario in which a police officer bashing in an unconscious woman's head with a steal baton, would be ruled "objectively reasonable" and then realize that no imagination in necessary.
"She had a choice; that officer had a choice," Bret Boyland, the victim's father told The Epoch Times. "She could have helped her right there at that point in time. But she chose to grab the stick and start hitting her."
Watch the Epoch Times video here.
https://rumble.com/embed/vpkba7/?pub=uiklr