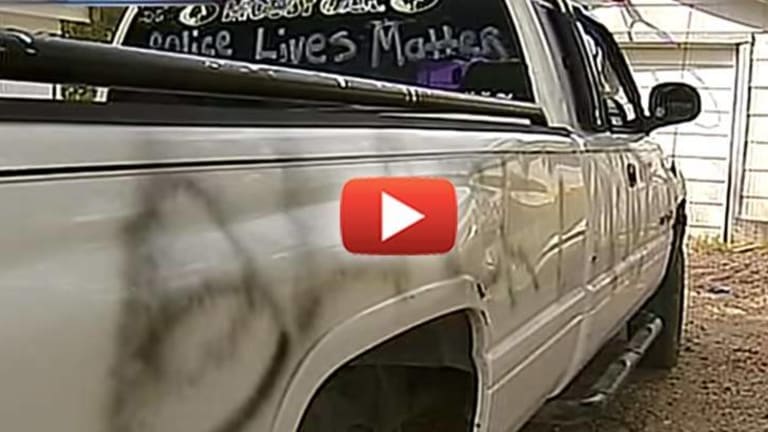 Police Supporter Arrested For Vandalizing Own Truck And Blaming It On "Black Lives Matter"
Americans were duped into helping a man who claimed Black Lives Matter supporters vandalized his truck. Turns out it was him.
Whitney, TX - A man who accused Black Lives Matter activists of vandalizing and spray-painting his car was recently arrested because police believe that he vandalized the car himself to stage a hoax and to scam his insurance company. Scott Lattin, a self-described supporter of police, reported earlier this month that his truck was torn apart and tagged with the phrase "Black Lives Matter." Lattin alleged that his vehicle was targeted because he had a number of pro-police stickers and symbols displayed.
Lattin's story received national press, and he even appeared on a number of news programs where he showed the damage that was done to his truck. But on Friday afternoon, Whitney police arrested Lattin on a misdemeanor charge of making a false police report.
"We had initial video when the officers took the report and then when we saw your story on Channel 4. When we looked at those two videos, there were some differences in those and that led us to take the investigation into a different direction," Whitney Police Chief Chris Bentley said, adding that the case was "very disturbing."
"We have so many groups that have participated and come to Whitney, Texas of all places to help these people-- and for them to have been deceived? It's just wrong!" Bentley said.
Lattin must have gotten caught up in his own hype, leading him to damaged his truck even further after making the police report. The damage that was shown on his truck during the news report was actually worse than the damage that the police initially documented.
Lattin denied the charges against him when asked by FOX4, and told them "That's absolutely not true! Absolutely not true."
However, according to police records, he actually admitted to damaging the inside of the vehicle "for insurance reasons," but still denies that he was responsible for the spray paint.
After the story first broke, the Lattin family began collecting money from a Go Fund Me account and were offered free body work from multiple local auto shops.
"One of the social media pages said 'My husband is an officer, I can give you $25 because that's all I can afford.' That just ripped at my heart," Bentley said.
" width="790" height="444" frameborder="0" allowfullscreen="allowfullscreen">
John Vibes is an author, researcher and investigative journalist who takes a special interest in the counter-culture and the drug war. In addition to his writing and activist work, he organizes a number of large events including the Free Your Mind Conference, which features top caliber speakers and whistle-blowers from all over the world. You can contact him and stay connected to his work at his Facebook page. You can find his 65 chapter Book entitled "Alchemy of the Timeless Renaissance" at bookpatch.com.