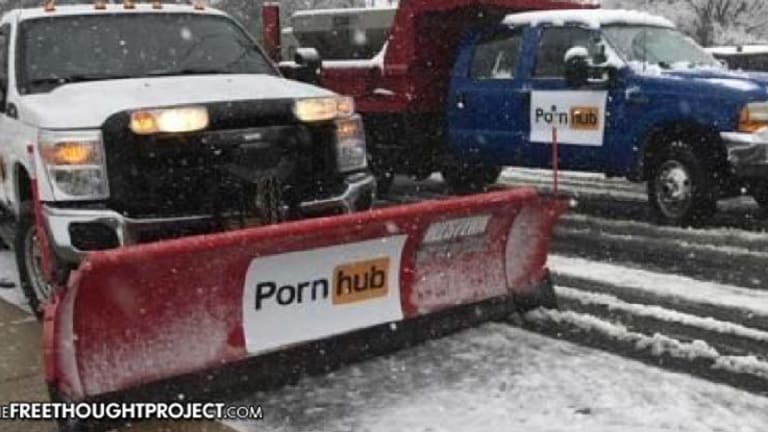 "Get Plowed": Pornhub Website Unleashes Fleet of Trucks to Plow Snow — for FREE
In a clever but not-so-clever pun, Pornhub, is helping with the snow storm by making good on their promise to help anyone who "wants to get plowed."
Love it or hate it, the porn industry is here to stay, and, in an apparent attempt at bolstering a positive image, the porn industry is upping their game. In a clever but not-so-clever pun, the online marketer of filmed sex, Pornhub, is making good on their promise to help anyone who "wants to get plowed."
With Stella, the massive snowstorm hitting the Northeast, millions of residents are waking up today to find themselves snowed in. But, if Pornhub has anything to do with it, some of those folks will find it much easier to travel as their fleet of branded trucks roll out to clean streets and parking lots — absolutely free.
"The Pornhub team understands that by this time of year, most cities have run up their budget in snow removal," Pornhub Vice President Corey Price tells Boston, "and we thought we'd lend a hand in getting our fans plowed."
The service began overnight in Boston and New Jersey, and the adult entertainment site says they will work through the duration of the storm.
As Boston Magazine reports, the trucks will also be available on demand to clear lots owned by small businesses, Price says. Requests for a plowing are being accepted via email at [email protected] They are not offering to plow driveways, he says.
While this is certainly a publicity stunt, the company doesn't plan on simply blowing their load in a single act. According to Price, they plan to put their trucks in other cities that find themselves at the end of their snow plow budgets.
"Our fans are important to us and we hope to plow any state in need," Price says, adding that people are encouraged to tweet with the hashtag #PornhubPlows.
Of course, there is no shortage of people who are in opposition to the decadent site touting its name all over cities.
God's curse on purveyors of filth. Woe to those whom through wicked things come. May your filthy money burn away and your souls be saved while you still draw breath. - Andrew Dodson wrote in the comment section of Boston Magazine.

Is this a joke? Satire? Please tell me this is satire. How can anyone seriously sit there and justify this? Absolutely degenerate and anyone with even a shred of decency should get this shut down. Pedophile trash.

Also in case you are still an untermensch: STOP WATCHING PORN. - neoCrusade wrote.
Personally, I applaud the company for giving back to the community in this move. However, it is important to use this moment to also point out the irony of the porn industry. In the United States (Nevada excluded), it is illegal to pay for sex unless that sex is filmed, taxed, and distributed on the internet and DVD.
One of the reasons the porn industry is so big is due to the fact that paying for consensual sex is illegal.
One of the least talked about systems of oppression in the US is that of persecuting prostitutes.
It is important to note when referencing prostitution, we are talking about the mutually beneficial exchange of sexual favors for money by two or more consenting partners — not forced human trafficking.
It's called the "oldest profession in the world" for a reason. Sex is a basic human need. One need only observe the explosive population growth of humans in the last 10,000 years to see that the desire to mate is inherent in each and every one one of us.
When one takes this into consideration, the notion of outlawing consensual sex is seen for what it is — sheer insanity. And, it leads to situations like we see in Michigan, where cops grant themselves special privileges to engage in it. It also leads to a dangerous black market in which women are traded like property, beaten, and pimped out. All of these atrocities would be drastically reduced if prostitution was simply legalized.
Hopefully, this move by Pornhub will force this issue into the national arena and this most important and long overdue conversation will begin.
[author title="" image="https://tftpstagingstg.wpengine.com/wp-content/uploads/2016/03/magorist-e1456948757204.jpg"]Matt Agorist is an honorably discharged veteran of the USMC and former intelligence operator directly tasked by the NSA. This prior experience gives him unique insight into the world of government corruption and the American police state. Agorist has been an independent journalist for over a decade and has been featured on mainstream networks around the world. Agorist is also the Editor at Large at the Free Thought Project. Follow @MattAgorist on Twitter, Steemit, and now on Facebook.[/author]