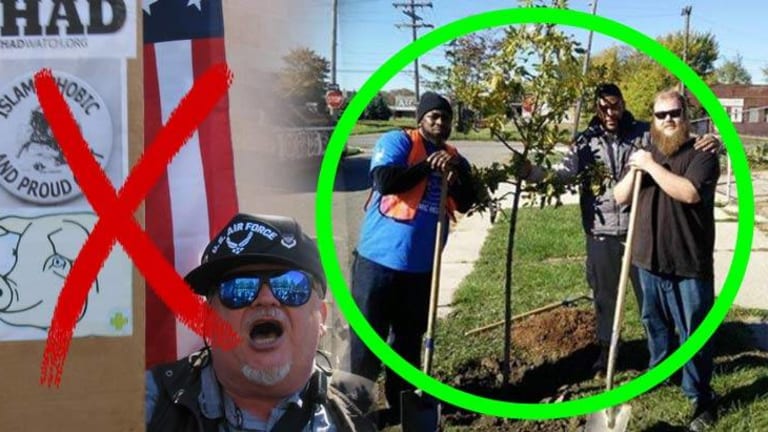 Weekend of Anti-Muslim Rallies Backfires, Inspires Acts of Peace, Love and Charity
A weekend of planned Anti-Muslim rallies across the nation failed miserably. What If They Threw a Pogrom, and Nobody Showed Up — Except for the Peacemakers?
Christopher Wilcox made an impression as he walked into Atlanta's Al-Farooq mosque on October 10. Conversations trailed away into silence, heads turned, and eyes were riveted on the 6'5", 280-pound bearded figure whose arms were decorated with patriotic tattoos.
Members of the mosque had been warned to expect hostile demonstrators outside their house of worship as part of the so-called "Rally for Humanity," a planned series of demonstrations to protest what some allege is the "Islamization of America." In some cities with "open carry" laws, some participants had expressed an intention to gather with firearms outside of mosques. This was supposedly an assertion of the right to self-defense, but to those targeted by the protests it was understandably seen as a form of intimidation and, perhaps, provocation.
Wilcox seemed to be someone dispatched by Central Casting to play the role of an angry "right-winger" spoiling for a fight. But he was actually at the Al-Faroqq mosque as part of a counter-protest organized in several states through a network of libertarian activists that was organized by Will Coley of the group Muslims4liberty.
A self-described Evangelical Christian anarchist, Wilcox was among dozens of Atlanta residents from all backgrounds who had gathered at the mosque to speak – and, if necessary, to act non-violently – in defense of the religious liberty of their Muslim neighbors.
"It was a `pin-drop moment' when I walked into the mosque, because I probably looked like the exact image of the anti-Muslim protesters they were expecting," Wilcox told The Free Thought Project. "I explained who I was and told them I was there to convey love, respect, and commitment to protecting their rights, and they were as kind and generous as I expected them to be. But even if I had been hostile, they would have treated me kindly.
Fortunately, few if any anti-Muslim demonstrators bothered to show up, which Wilcox considers a missed opportunity.
"I had been hoping for the chance to explain to them how, six or seven years ago, I would have been on their side," Wilcox told The Free Thought Project. "It would have been wonderful to explain to them what I've learned by listening to my Muslim neighbors and taking seriously what my faith teaches me about loving those neighbors, even when we disagree about some very important things."
A native of rural Kentucky who grew up as a conventional "Reagan conservative," Wilcox explains that while he was never a supporter of the ongoing U.S. wars in the Middle East, he long labored under "many of the same mistaken ideas about Muslims that we hear constantly on talk radio, in many Evangelical churches, and in most of the conservative media. I believed that these people were entirely alien to our way of live, that they harbored a desire to kill us, and that definitely influenced the way I thought about them." He admits that "hate" is not an inappropriate word to describe his feelings toward Muslims in general.
Wilcox's view of Muslims began to change several years ago as his own faith grew and matured.
"As a Christian believer, I disagree with my Muslim neighbors about who that Nazarene man was," he points out. "But as I began to study his teachings – the `red-letter' parts of the Bible – I got to know Him better, and not only to understand his message of love but to feel it filling me. The object of Christian faith, after all, is to give more and more of yourself, and to be filled with Christ's love for all of us."
Where he had once seen Muslims as incorrigible enemies, Wilcox relates, his faith taught him to see them as individuals wrought in the image of the same Creator. Rather than being satisfied with what others said about Islam, he began to talk to Muslims about what they believe, how they live, and what they consider important. This led him, eventually, to Will Coley and his Muslim libertarian group.
"God changed my view of Muslims and opened by heart to them – and I think He led me to Will," Wilcox relates. "He has a genuine `servant's heart,' and he did a great deal to teach me about the genuine teachings of the Islamic religion. We don't see God the same way, but we are all `People of the Book' and children of Abraham. We don't view the historic figure of Jesus the same way, but Will and his fellow Muslims revere and love him. I wish more of my fellow Christians would at least make a minimal effort to reach out to Muslims, as we are taught to do. Rather than gathering outside a mosque to revile Muslims, why not try walking in and talking with them?"
"Many Americans are being told that Muslims are here to invade our country and destroy its culture," Wilcox continues. "Many or most of them were born here, and are as American as any of the rest of us. Many of them who were born overseas fled from war, terror, and oppression, and they love this country."
Fellow Atlanta resident and libertarian activist Ben Smith reports that although the threat that precipitated the outreach to the mosque "never materialized … there was a brotherhood between the people who met inside that created great feelings of togetherness and understanding. Judaism, Christianity and Islamic faiths gathering as one to ward off this threat of fear and hatred."
The scores of demonstrators assembled to express support for their neighbors included people of goodwill from other faith traditions and from non-religious schools of thought as well. As an activist, Smith is particularly concerned about helping people understand the monetary system, particularly the role played by the Federal Reserve System.
"Most folks have no idea on how or who authorizes the printing [and] distribution of the currency and writing of policy regarding our economy," he points out. "Most think of the Federal Reserve as a government department solely in charge of keeping our nation moving, working and thriving but when I tell them it's a private banking cartel with shareholders they raise as an eyebrow."
Similar accounts were offered by activists from across the country.
Shannon Wallen Restaino of the Michigan Peace and Liberty Coalition describes how she was "horrified to see yet another group trying to espouse hate" in a diverse Detroit metro community which has long had a "huge Middle Eastern population."
To the relief of Restaino and her colleagues, the anti-Muslim demonstration that had been planned for one of the larger mosques was relocated to a library. No longer concerned about the possibility of harassment during worship services, the Coalition was able to devote its time to "participating in one of the many Muslim led community outreach initiatives in the area…. We joined in service with our Muslim sisters and brothers at The Muslim Center of Detroit and helped at the Islamic Relief Day of Dignity event and the DREAM of Detroit tree planting events."
James Weeks, who is also involved in the Peace and Liberty Coalition, "was asked to do security when I got there, after they saw how big I was." He was also gratified that the absence of hostile demonstrations allowed everyone to "focus on positive things that were happening that day," such as tree planting and "helping distribute clothing and food to people in need."
Members of the Oklahoma Libertarian Party assembled in Oklahoma City during the October 9-10 meeting of the dedication of a Mercy Mission and a conference of the Islamic Circle of North America. Concerns over potentially violent protests led the Oklahoma chapter of the Council on American-Islamic Relations (CAIR) to request additional security from the local police. As was the case elsewhere, supporters were present in abundance, and antagonists were notable for their absence.
Dax Ewbank, a libertarian activist and former Republican gubernatorial candidate, recounts on his Facebook page that the planned counter-demonstration turned into a welcoming committee" for the ICNA conference.
"You should have seen it," Ewbank continues. "We look like a bunch of right wing trouble-makers from a distance, what with our American flags and `Don't tread on me' shirts. So when the Muslim families drove up the way the expressions on their faces changed from worry to big smiles when they got close enough to read our signs that said `God Bless our Muslim Neighbors' was really moving. So many came over and took their pictures with us and we shared cookies and baklava with them."
Dannielle Alexndre, a former Libertarian Party Senate candidate from Florida, is one of the few who can report an authentic sighting of a real, live anti-Muslim protester.
While driving past the Islamic Center of Hernando County, Alexandre "saw one man out in front of it. He had on an offensive t-shirt and what looked like a military style hat. Nothing else. No one was even at the mosque and it's on a road that is not seriously all that busy."
"I thought about stopping but he looked so pathetic," she continues. "I thought it would make him look more `legitimate' if someone actually countered his pathetic attempt at a protest. I just laughed when we passed by."
Alexndre's experience aptly encapsulates a day on which a nation-wide pogrom could have broken out – but only the peacemakers showed up.