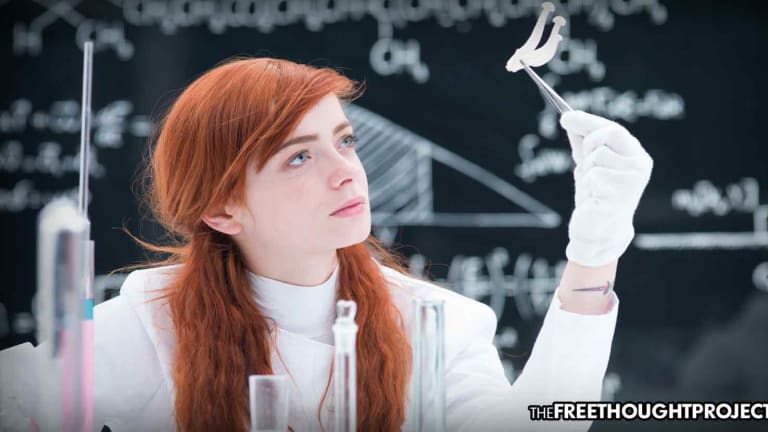 Times Are Changing: First Ever Center to Study Psychedelics Opening in the US
The Center for Psychedelic and Consciousness Research within John Hopkins Medicine will be studying medicine and fostering a new discipline of medical doctor for research in psychedelics.
In every single state in the country, most psychedelic drugs, including ones found to be extreme safe, will get you kidnapped, caged, or killed. For decades, the government has violently and outright disgracefully sought to throw people in cages for possessing these substances. However, as TFTP has stated on numerous occasions—no army can stop an idea whose time has come. And, the time for psychedelics is upon us.
Although they have been studying the benefits of psychedelics for nearly two decades, Johns Hopkins University is launching the first ever facility to be entirely devoted to studying these drugs. The Center for Psychedelic and Consciousness Research within John Hopkins Medicine is believed to be the first of its kind center in the United States and the largest center of its kind in the world. And, all of it, is being generously funded by private donors, so the unethical mind control experiments carried out by government using psychedelics, will not be taking place.
According to their press release, a group of private donors has given Johns Hopkins University $17 million to begin their research. Because the state has proven that they cannot ethically conduct such studies without the temptation to weaponize them, private funding is coming from the Steven & Alexandra Cohen Foundation and four philanthropists: Tim Ferriss, author and technology investor; Matt Mullenweg, co-founder of WordPress; Blake Mycoskie, founder of the shoe and accessory brand TOMS; and investor Craig Nerenberg.
"We have to take braver and bolder steps if we want to help those suffering from chronic illness, addiction, and mental health challenges," says Alex Cohen, president of the Steven & Alexandra Cohen Foundation. "By investing in the Johns Hopkins center, we are investing in the hope that researchers will keep proving the benefits of psychedelics—and people will have new ways to heal."
"The center's establishment reflects a new era of research in therapeutics and the mind through studying this unique and remarkable class of pharmacological compounds," says Roland Griffiths, the center's director and professor of behavioral biology in the Department of Psychiatry and Behavioral Sciences and the Department of Neuroscience at the Johns Hopkins University School of Medicine. "In addition to studies on new therapeutics, we plan to investigate creativity and well-being in healthy volunteers that we hope will open up new ways to support human thriving."
"Johns Hopkins is deeply committed to exploring innovative treatments for our patients," said Paul B. Rothman, dean of the medical faculty at the Johns Hopkins University School of Medicine, in a statement. "Our scientists have shown that psychedelics have real potential as medicine, and this new center will help us explore that potential."
According to the press release, the Center for Psychedelic and Consciousness Research within John Hopkins Medicine will provide support for a team of six faculty neuroscientists, experimental psychologists, and clinicians with expertise in psychedelic science, as well as five postdoctoral scientists.
"This very substantial level of funding should enable a quantum leap in psychedelic-focused research," said James Potash, director of the Department of Psychiatry and Behavioral Sciences, in a statement. "It will accelerate the process of sorting out what works and what doesn't. I am thrilled about this magnificent opportunity that has been provided by enlightened private funders. This center will allow our enormously talented faculty to focus extensively on psychedelic research, where their passions lie and where promising new horizons beckon."
According to Johns Hopkins, much of their early work with psychedelics has focused on psilocybin, the chemical found in so-called magic mushrooms. Further studies will determine the chemical's effectiveness as a new therapy for opioid addiction, Alzheimer's disease, post-traumatic stress disorder, post-treatment Lyme disease syndrome (formerly known as chronic Lyme disease), anorexia nervosa, and alcohol use in people with major depression. Researchers hope to create precision medicine treatments tailored to individual patients' specific needs.
Not only will the University be studying the use of psychedelics for medicine but they will be training and graduating medical students who want to pursue careers in psychedelic science. This is a landmark move in a field that has been shamed and even outlawed throughout recent American history.
"This represents the largest investment to date in psychedelic research, as well as in training the next generation of psychedelic researchers," says Ferriss, whose podcast occasionally explores topics related to psychedelics and their therapeutics properties. "I sincerely hope this ambitious Johns Hopkins center will inspire others to think big and establish more psychedelic research centers in the U.S. and overseas, as there's never been a better time to support such important work."
We agree.