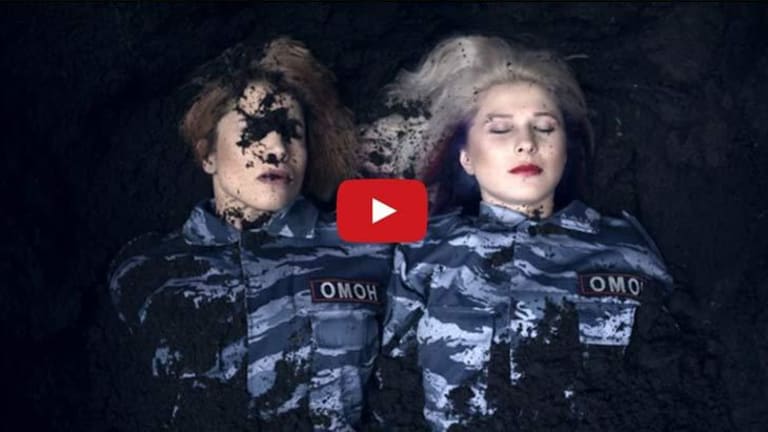 VIDEO: Pussy Riot Releases First Ever English Song, "I Can't Breathe" In Remembrance Of Eric Garner
The world famous Pussy Riot, shows their support for police brutality victim Eric Garner, in first ever English music video.
The globally infamous punk rock group "Pussy Riot" has released a new video called "I Can't Breathe" to speak out against police brutality and show their support for the case of Eric Garner.
In the new video, band members Masha Alekhina and Nadya Tolokonnikova appear shackled and in a grave wearing Russian riot police uniforms.
Throughout the video, dirt is being piled on top of them, and the video progresses as the grave is being filled. They released a second video for the song as well, featuring footage from the Eric Garner protests in New York City.
In a statement issued this week through Buzzfeed, the group said, "Illegal violence in the name of the state kills not only its victims, but those who are chosen to carry out these actions. Policemen, soldiers, agents, they become hostages and are buried with those they kill, both figuratively and literally. We really could not breathe for this whole last year. Our previous ideas did not speak to what was happening in the conflict zone in Ukraine as we were realizing that Russia is burying itself alive in terms of the rest of the world. Committing suicide. Daily."
"I Can't Breathe" is the group's first English single, and is dedicated to "all who suffer from state terror – killed, choked, perished because of war and police violence – to political prisoners and those on the streets fighting for change".
Nadya and Masha participated in the protests against the NYPD for Eric Garner in New York City and were inspired to write a song about the struggle against police brutality.
John Vibes is an author, researcher and investigative journalist who takes a special interest in the counter culture and the drug war. In addition to his writing and activist work he is also the owner of a successful music promotion company. In 2013, he became one of the organizers of the Free Your Mind Conference, which features top caliber speakers and whistle-blowers from all over the world. You can contact him and stay connected to his work at his Facebook page. You can find his 65 chapter Book entitled "Alchemy of the Timeless Renaissance" at bookpatch.com.