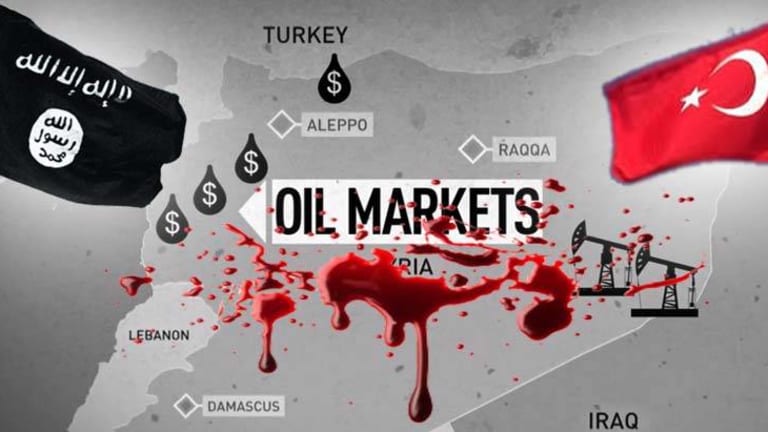 BREAKING: Putin Says 'Russia Has Proof ISIS Oil Flows Through Turkey on an Industrial Scale'
The 'How' and 'Why' ISIS has been growing financially is finally coming to the surface after Turkey downed a Russian jet.
Paris, France - After discussing recent geopolitical events with world leaders during the Paris climate talks, Russian President Vladimir Putin said the vast majority of leaders agree that Turkey's attack on a Russian bomber was unnecessary, as the aircraft was in no way threatening Turkey.
He went on to say that Russian authorities now have additional evidence that the aircraft was shot down with the express purpose of protecting Islamic State oil deliveries. The oil from IS-controlled fields is being exported to Turkey on an industrial scale, he said.
Moscow has grounds to suspect that the Su-24 was downed by Turkish jets on November 24 to secure illegal oil deliveries from Syria to Turkey, Putin said.
"At the moment we have received additional information confirming that that oil from the deposits controlled by Islamic State militants enters Turkish territory on an industrial scale," he said.
"We have every reason to believe that the decision to shoot down our aircraft was dictated by the desire to ensure the safety of supply routes of oil to Turkey, to the ports where they are shipped in tankers," Putin said.
The Turkish government's complicity in large-scale oil production by the Islamic State has been repeatedly documented by respected international security scholar Dr. Nafeez Ahmed.
In a report for Insurge Intelligence, Dr. Ahmed wrote:
Turkey has also played a key role in facilitating the life-blood of ISIS' expansion: black market oil sales. Senior political and intelligence sources in Turkey and Iraq confirm that Turkish authorities have actively facilitated ISIS oil sales through the country…

Last summer, Mehmet Ali Ediboglu, an MP from the main opposition, the Republican People's Party, estimated the quantity of ISIS oil sales in Turkey at about $800 million — that was over a year ago.

By now, this implies that Turkey has facilitated over $1 billion worth of black market ISIS oil sales to date.
According to the Russian President, terrorists have been abusing the visa-free regime between Russia and Turkey to move freely, adding that Ankara failed to address the issue after it was raised by Russia.
The Turkish government has repeatedly been accused of being one of the largest state sponsors of the Islamic State, as the Turks have been facilitating the growth of the jihadist movement – including ISIS.
After the downing of the Russian fighter jet, Russian President Vladimir Putin very succinctly laid out what has been taking place, placing blame directly on the Turkish government for the continued growth of the Islamic State.
"If Isis is making so much money – we are talking about tens or maybe even hundreds of millions, possibly billions of dollars – in oil trade and they are supported by the armed forces of an entire state, it is clear why they are being so daring and impudent, why they are killing people in such gruesome ways, why they are committing terrorist attacks all over the world, including in the heart of Europe," Putin said shortly after the Russian bomber was shot down by Turkey.
The fact that NATO continues to allow membership by Turkey, after their blatant support of the Islamic State, should raise serious questions as to whom the NATO alliance calls their "allies."
If the U.S. truly wants to stop the Islamic State then it would seem logical to call Turkey out for its immense and continued state support of ISIS/Daesh. The fact remains that Turkey is one of the biggest supporters of global terrorism. With them being a member of NATO, this is a dangerous recipe for every other member of NATO, as well as global peace.
Jay Syrmopoulos is an investigative journalist, free thinker, researcher, and ardent opponent of authoritarianism. He is currently a graduate student at University of Denver pursuing a masters in Global Affairs. Jay's work has been published on Ben Swann's Truth in Media, Truth-Out, AlterNet, InfoWars, MintPress News, as well as many other sites. You can follow him on Twitter @sirmetropolis, on Facebook at Sir Metropolis and now on tsu.