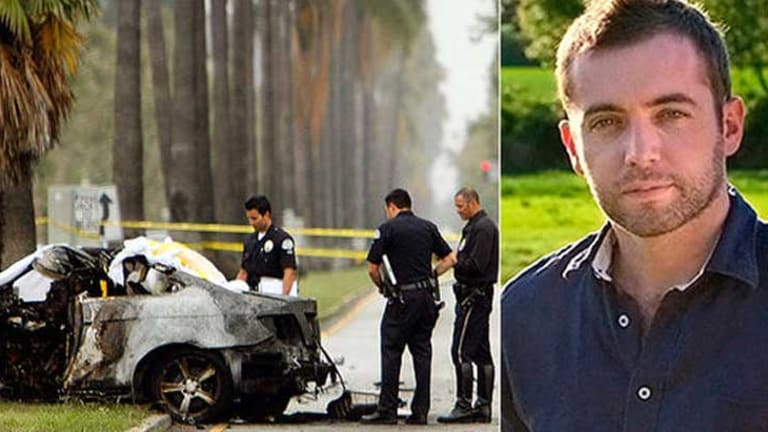 3 Years Ago Today, Rolling Stone's Editor "Conveniently" Died in Fiery Crash While Investigating CIA
On this day 3 years ago, Michael Hastings suspiciously died in a fiery explosion that left more questions than answers.
Notorious for ending the career of a four-star general, Rolling Stone contributing editor Michael Hastings suspiciously died in a fiery explosion three years ago on the streets of Los Angeles. Although the FBI eventually admitted to investigating his work while CIA Director John Brennan continued to lead "witch hunts" against investigative journalists, Hastings' death was immediately ruled an accident while unanswered questions remain years later.
">
Early on the morning of June 18, 2013, freelance cameraman Scott Lane recorded a ">dash cam video of Hastings' Mercedes C250 coupe speeding south on Highland Ave and running a red light. Down the street, a surveillance camera at Pizzeria Mozza recorded a brief video appearing to show ">two small explosions near the bottom of his car moments before hitting a tree and bursting into flames.
">
A day after Hastings' death, Robin Abcarian of the Los Angeles Times reported Hastings had been investigating CIA Director John Brennan at the time of his demise. Within hours, her colleague Brian Bennett contradicted her story claiming Hastings had been researching Florida socialite Jill Kelley instead.
A few days later, LA Times reporter Andrew Blankstein debunked Bennett's article and confirmed Hastings had been investigating CIA Director John Brennan at the time of his death. Although Bennett's article is full of false information, the editorial staff has refused to make any corrections.
Less than a year before Hastings' death, Wikileaks posted a series of hacked emails taken from the private intelligence firm Strategic Forecasting (Stratfor), including an email stating, "Brennan is behind the witch hunts of investigative journalists."
Following the tragic loss of her husband, Hastings' wife Elise Jordan later confirmed that he had been working on a profile of Brennan when he died. Although Rolling Stone was expected to publish his article posthumously, the editors have not released his final piece and refuse to answer why.
The day after Hastings' untimely demise, Wikileaks wrote on Twitter, "Michael Hastings contacted Wikileaks lawyer Jennifer Robinson just a few hours before he died, saying that the FBI was investigating him."
Two days after Hastings' crash, the LAPD ruled his death an accident without a thorough investigation into possible foul play. That same day, FBI spokeswoman Laura Eimiller suspiciously announced, "At no time was journalist Michael Hastings ever under investigation by the FBI."
A FOIA lawsuit later revealed the FBI had launched an investigation into Hastings' work in June 2012, following his controversial profile on Bowe Bergdahl. After acquiring the heavily redacted federal documents, investigative journalist Jason Leopold told Vice, "The FBI says Hastings was not a target of their investigation but his reporting was. How do you investigate someone's reporting without investigating them?"
Three days after Hastings' death, Staff Sgt. Joseph Biggs told KTLA that he had received an email from Hastings 15 hours before his fatal crash. With the subject line "FBI Investigation, re: NSA," Hastings wrote to his coworkers, "The Feds are interviewing my 'close friends and associates.' Perhaps if the authorities arrive 'Buzzfeed GQ', er HQ, may be wise to immediately request legal counsel before any conversations or interviews about our news-gathering practices or related journalism issues. Also: I'm onto a big story, and need to go off the radat for a bit. All the best, and hope to see you all soon."
A few days after Biggs revealed that email to the media, former U.S. National Coordinator for Security, Infrastructure Protection, and Counter-terrorism Richard Clarke suddenly told The Huffington Post that Hastings' crash was "consistent with a car cyber attack." Clarke also admitted that the LAPD lacked the expertise to adequately determine whether Hastings had been the victim of a cyber attack against his vehicle.
In 2011, computer scientists at UC San Diego and the University of Washington explained how hackers could maliciously harm drivers by taking control of their car's functions, including brakes, airbags, steering, and fire-suppression systems. Defense Advanced Research Projects Agency (">DARPA) Program Manager Dr. Kathleen Fisher also warned of the inherent vulnerability in modern cars that operate without basic firewalls.
">
In his infamous article that resulted in the forced resignation of Gen. Stanley McChrystal, Hastings wrote, "McChrystal was also open to new ways of killing. He systematically mapped out terrorist networks, targeting specific insurgents and hunting them down – often with the help of cyberfreaks traditionally shunned by the military."
A Special Forces commando who worked with McChrystal in Iraq and later served on his staff in Kabul told Hastings, "The Boss would find the 24-year-old kid with a nose ring, with some fucking brilliant degree from MIT, sitting in the corner with 16 computer monitors humming. He'd say, 'Hey – you fucking muscleheads couldn't find lunch without help. You got to work together with these guys.'"
Although the coroner's report mentioned that Hastings was wearing his seatbelt when he died, it did not disclose whether his airbag deployed. His autopsy revealed Hastings' arms, legs, ribs, hyoid bone, pelvis, and skull had been fractured in the crash. Despite the fact that his head, neck, and left side of his body were heavily charred, the rest of his body remained unburned until his remains were reportedly cremated against his family's wishes.
Instead of commenting on Hastings' death or why his C250 coupe burst into flames, Mercedes refuses to answer why their redundancy of flame-retardant systems failed to activate or if their on-board computer recorded anything significant before the impact. In a 2013 frontal ">crash test video, several Mercedes Benz C-class vehicles collide into a wall head-on, and none of them erupt into flames.
">
The FBI and NSA have also failed to disclose whether Hastings received any text messages, phone calls, or emails before getting into his car. Due to the fact that the FBI had been investigating Hastings for a year and the NSA possesses the metadata of every U.S. citizen, both agencies could easily access that information without a search warrant.
"When you have any high-profile person that dies in those circumstances, obviously there needs to be an investigation. And we need to see all of the facts as to how his car ended up hitting that tree," investigative journalist Jeremy Scahill told ">Buzzsaw a month after Hastings' death. "The public deserves to know. His family deserves to know exactly what led up to his car hitting that tree."
">
[author title="" image="https://"]Andrew Emett is a Los Angeles-based reporter exposing political and corporate corruption. His interests include national security, corporate abuse, and holding government officials accountable. Andrew's work has appeared on Raw Story, Alternet, Activist Post, and many other sites. You can follow him on Twitter @AndrewEmett and on Facebook at Andrew Emett.[/author]