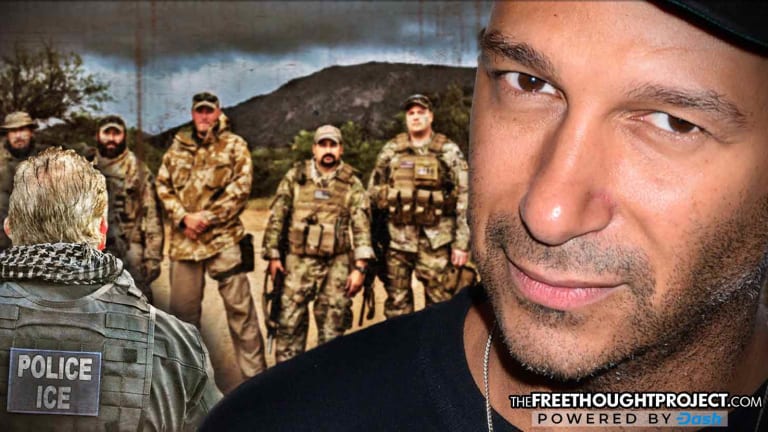 Rage Against the Machine's Tom Morello Calls For Army of Veterans to 'Take On ICE'
Rage Against the Machine guitarist Tom Morello is calling on U.S. veterans to create "a Children's Liberation Army to take on ICE."
Washington, D.C. – Never one to shy away from controversy, former Rage Against the Machine guitarist Tom Morello weighed in on the Trump Administration's policy of separating immigrant parents from their children with a provocative post on Twitter proposing the creation of a "Children's Liberation Army," made of "disgruntled vets" to "take on" U.S. Immigration and Customs Enforcement (ICE).
"Ok people of good conscience & disgruntled vets I'm thinking of putting together a Children's Liberation Army to take on ICE," he wrote. "WHOS IN?
The Tweet from the former Rage guitarist comes amid an ongoing crackdown on illegal immigration and undocumented immigrants, which has largely come to dominate the 24-hour news cycle.
It is important to note that the Trump Administration's "Zero-Tolerance" policy was announced on April 6, 2018, which changed the way in which the federal government handled these cases.
The Washington Post explained:
Undocumented immigrant families seeking asylum previously were released and went into the civil court system, but now the parents are being detained and sent to criminal courts while their kids are resettled in the United States as though they were unaccompanied minors…

After a holding period, DHS transfers children to the custody of the Office of Refugee Resettlement (ORR) in the Department of Health and Human Services. They spend an average 51 days at an ORR shelter before they're placed with a sponsor in the United States, according to HHS. The government is required to place these children with family members whenever possible, even if those family members might be undocumented immigrants.
The largely untold story of this crisis is that many of these children will not be reunited with family and will ultimately live in one of these detention centers or foster care until they age out of the system.
Morello is no stranger to using his celebrity for political activism, as back in June 2016, while wearing a baseball cap with the slogan, "Make America Rage Again," the former Rage Against the Machine guitarist told Bloomberg that the GOP's national convention "will be a perfect place for a band like Prophets of Rage to cause a ruckus, and we will be there on the streets, in the field." Prophets of Rage featured Rage Against the Machine members Morello, Tim Commerford and Brad Wilk, DJ Lord—along with rappers Chuck D from Public Enemy and B-Real from Cypress Hill.
A report from the New York Times notes:
Mr. Morello and his longtime Rage Against the Machine bandmates, the drummer Brad Wilk and the bassist Tim Commerford, have a colorful history at these events: Known for its guerrilla performance tactics, the group appeared at the 2000 Democratic convention and 2008 Republican convention. Each event ended in clashes with police.
While it's unclear exactly what Morello meant by "putting together a Children's Liberation Army to take on ICE," the idea of bringing veterans into the fold was successfully operationalized during the Standing Rock protests.
Sources estimated that nearly 5,000 U.S. military veterans traveled to Standing Rock to take part in the "Veterans Stand for Standing Rock" movement. The veterans' presence was almost immediately felt. Wes Clark Jr., a key organizer of the "Veterans for Standing Rock," met with various law enforcement representatives, while his fellow vets formed a human shield to hold space and stand between the police and the water protectors at a bridge that served as a strategic access point between the encampments and construction area.
As The Free Thought Project reported at the time, the veterans brought supplies such as gas masks, earplugs and body armor as a means of protecting themselves against rubber bullets and bean bag rounds—which are actually filled with lead pellets, not beans—while forming a protective line around protestors
Additionally, the veterans took a page out of international protest movements by bringing mirrors to Standing Rock in an effort to make law enforcement officers look at what they have become—nothing more than a militarized security force for billion-dollar energy corporations.
"The veterans are saying we can't stand for that," filmmaker Josh Fox, who documented the police force at Standing Rock, told RT.
"What you do to the water protectors you do to the United States Constitution. We are sworn to uphold and protect the United States Constitution against all enemies, foreign and domestic. And they're saying listen, if you wanna burn the United States Constitution, you have to go through us. It's quite a brave and amazing act that's never happened in the history of the United States, that two thousand veterans just said you know what? Shoot at us first."
Morello clearly understands that when push comes to shove, organized U.S. military veterans are a force multiplier that can drastically alter and level the playing field in any type of protest situation.