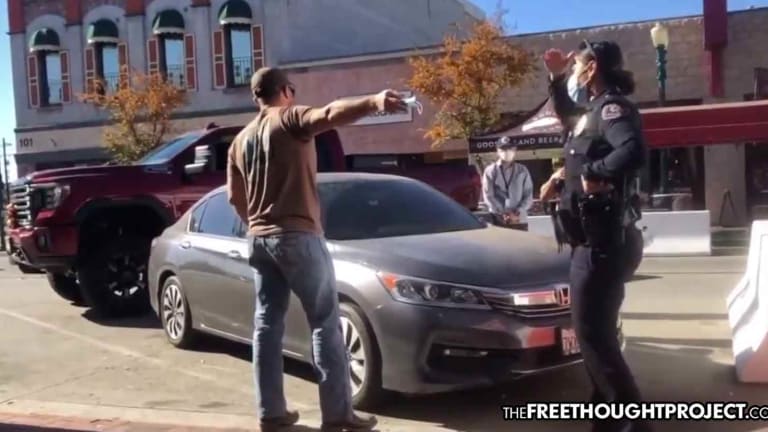 'If We Can't Work, You Can't Work' -- Restaurant Owner Blocks in Health Inspector Trying to Shut Him Down
When a health inspector attempted to shut him down, a California restaurant owner decided to take matters into his own hands
Covina, CA -- Thanks to hypocritical governor Gavin Newsom's tyrannical lockdown in the state of California, 1 in every 3 California restaurants will be permanently closing their doors this year. Other states, like New York, Michigan, Pennsylvania and Minnesota face similar fates while most states across America have suffered massive layoffs in the restaurant industry. As the video below illustrates, it has gotten to the point that now people are fighting back.
The latest Bureau of Labor Statistics report on December 4 showed employment in leisure and hospitality is down by 3.4 million jobs since February. About 17,000 jobs in "food services and drinking places" were cut in November alone.
In the meantime, the feds decided to collectively kick America in the teeth and are telling citizens that $600 should cover everyone's issues. As a result of the gross incompetence among those in power, food lines are growing longer by the day as Americans experience a food shortage akin to the great depression.
Despite massive unemployment, widespread homelessness, and the closure of thousands of small businesses in California, Newsom seems hellbent on continuing the tyrannical lockdown. After sitting idly by for months and complying, some restaurant owners are waging a campaign of resistance.
Carlos Roman, the owner of Bread & Barley in Covina, blocked in a Los Angeles County health inspector's car after he attempted to shut his business down accusing him of allowing outdoor dining, asserting that "if we can't work, you can't work."
A citation from the health department said the inspector found two customers dining outside, which goes against current protocols.
Roman says they were on a public bench, and not his property.
Nevertheless, Roman was cited and he is now facing two $500 fines for failure to comply and interfering with the health officer.
"You're just doing your job right, we're all in this together?" Roman asked the inspector. "When I go to the bank, can I tell the bank the health department said 'it's okay' and that I don't have to pay you?"
"What do I tell my employees?" Roman shouted.
"This is what happens when people get desperate. I'm desperate. Who is going to pay her car payment? Who is going to pay my cook's rent?" Roman was heard saying while his truck blocked the health inspector's car.
Roman's dedication to resistance was inspiring as he refused to back down, even after police arrived on the scene.
"He wants to come in here and say that no one can work, so he can't work either," Roman told the LAPD officer who showed up. "He decided to come today and take photos of the people outside and say that he was going to fine us," he explained.
Amazingly enough, the officer in the video below chose not to arrest or cite Roman and diffused the situation without force. For this, she deserves acclaim.
Roman is not some delusional pandemic denier, he is merely a business owner who is tired of watching the state lay waste to business. He told CBS2 that he's been working hard to comply with the county health order, especially during the pandemic, and was upset that his actions to stay safe were being misrepresented. "I think the pandemic is 100% real. My mom is recovering from covid right now," he said.
After video of Roman blocking in the health inspector was posted to Facebook, it subsequently went viral. Some supporters of Roman have pledged to help the Bread & Barley restaurant financially and donated to his GoFundMe account, which has collected more than $31,000 so far.
Roman now becomes a member of a growing movement of fed up business owners who have had enough of the state shutting them down.
As TFTP reported, after Los Angeles officials banned eating at restaurants last month — including outdoor dining — the California Restaurant Association, or CRA, has since joined a growing number of restaurant industry groups in cities and states across the country attempting legal action to overturn COVID-related dining restrictions.
Similar lawsuits have been filed in cities like Philadelphia and St. Louis, as well as states such as Michigan and Oregon in recent weeks — each in different ways attempting to get COVID-19-era dining bans overturned.
As government continues to prove its incompetence, those in the private industry are stepping in to help. Food Network personality Guy Fieri worked to raise more than $21.5 million over the last seven weeks to help unemployed restaurant workers.
Earlier this month, Fieri took it a step further and joined the resistance against the lockdowns. He announced his support from the CRA lawsuit mentioned above.
"We gotta keep Flavortown open for biz!" Fieri tweeted.
Fieri is obviously passionate about food but noted that restaurants are more than just food — they are the "heart and soul" of America.
"I've traveled coast to coast visiting thousands of restaurants across the country on Diners, Drive-Ins and Dives, and after all the time on the road, it's clear that restaurants are the heart and soul of their communities," Fieri said in a statement released through the Discovery Channel. "When the COVID-19 pandemic hit, the impact on the restaurant industry was immediate. Restaurant Hustle 2020: All On The Line provides a real and intimate first-hand look into the lives of four top restaurateurs [as they] navigate through it all."
As government employees continue to collect their paychecks, while failing the people who pay their exorbitant salaries, it is heartening to see the private industry step in to help. Sadly, however, because of the damage done by the lockdowns, $21.5 million is a drop in the bucket of what is actually needed. The only thing that will save the "heart and soul" of America now will be government reversing course — which is not at all likely — or massive resistance, which is already happening.