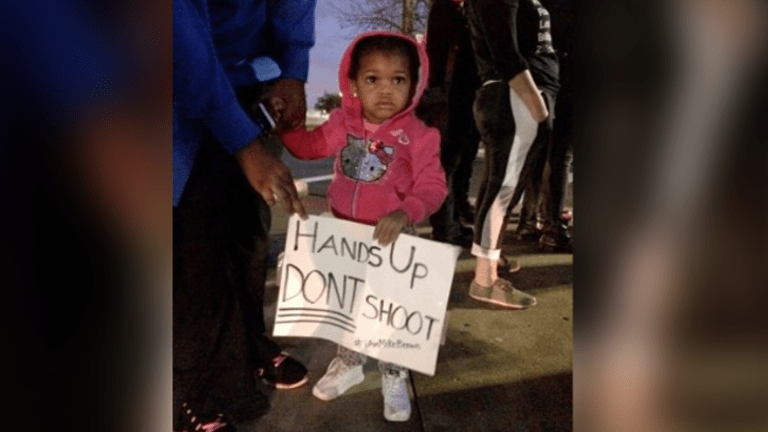 Retired Police Captain Addresses Ferguson Protesters: "You Are Called Here to Make a Difference"
I want to acknowledge that you are here in Ferguson but you are not alone. Millions of people across this nation and around the world stand with you in your commitment to justice. We have a higher purpose; let us not be diverted from it.
Dear Friends Called to the Tragedy in Ferguson,
You are called here to make a difference. You or someone you love and care about may even have been hurt personally in connection with some kind of past police action. There is no question that the tragedy of Michael Brown is unacceptable. We cannot reverse the tragedy that ended Michael Brown's life far too soon. However, I do believe the system can be transformed so that, as we move forward, we can honor the inherent worth of all human beings and build lives of dignity and respect for all.
I am one of those older white males, one who has had a privileged life, and has served for 25 years as a police officer and captain. I have seen the abuses and breakdowns in law enforcement and I continue to work to address those negative dynamics. I have an understanding of the justice system and its impact on people. I have personally witnessed that it can be changed with the help of committed people like you. In order for the system to change, we need to take chances and risks. Many of you have consciously chosen to take risks in the hope for change.
I am deeply concerned that riotous violence and arson may soon break out in Ferguson and the region, hurting countless innocent victims in the course of action. The rage expressed by citizen rioters is completely understandable and often meant to make a statement for change; however it usually only compounds the existing problems.
I am writing today to the authorities in Ferguson, as well as the area residents. In the adrenaline-filled trenches of a riot, police officers have a high probability of using excessive force, fueling further rioting and further loss of innocent life and local businesses. The authorities in any flawed justice system need to start with claiming their own portion of responsibility in creating the current deteriorated dynamics between the police and community residents. We must understand that when people are not heard, time and again, they will ultimately act to defend their rights. While it may be difficult to see from the authoritative point of view, revolutionaries have a value in the process of positive change. Police misuse of force can temporarily suppress advocacy for change, but it only briefly interrupts it. Ultimately, we cannot change the course of a tide of energy that is sweeping towards justice. I invite the authorities in Ferguson to practice non-violence wherever possible, to join in this evolutionary opportunity to help forge a new path for police and community relations around the country, and around the world. In the aftermath, in these coming weeks, months and years, it is imperative that Ferguson authorities take a step back and become compassionate regarding the roots of these serious problems, and open to change.
I am reminded of Martin Luther King's Great March on Washington in 1963, that gathered 250,000 activists in our Nation's capitol, wherein no violence occurred. It was one of the largest political rallies for human rights that has ever happened in the United States, that called for civil and economic rights for all. It was a demand for change that resounds through the decades. There were revolutionaries like you present that day, and their voices are still heard. I implore you to raise your voice and stand in our shared reverence for life.
Lastly, I want to acknowledge that you are here in Ferguson but you are not alone. Millions of people across this nation and around the world stand with you in your commitment to justice. We have a higher purpose; let us not be diverted from it. What happens in Ferguson will impact cities across the United States and could lead dramatic change in New York, LA, Chicago, Albuquerque, Miami, San Diego, and beyond. There are over 17,000 state and local law enforcement agencies in our country, all of which have their eyes on you.
The media could take this opportunity away from you if this tragedy melts down into uncurbed violence and riots. If it goes that route, the police would look justified as the destruction is captured on the 6 o'clock news. Don't let them have that. Please don't walk away from this critical moment in our nation's history. Honor the memory of Michael Brown and all others who have died or suffered unnecessarily and make the hardest choice right now: Non-violence.
I pray you all be safe and continue this important work. I believe forces beyond our imagination are at work to support the pursuit of justice in the world.
Bless you and your families,
John Mutz
John Mutz served in the Los Angeles Police Department for 25 years, 10 of which he served as a Police Captain. He was credited with implementing a new paradigm for police service in the Foothill, Van Nuys, and Wilshire stations, following the Rodney King beating and ensuing riots. He is currently working as a leadership coach, trained mediator, and advocate for excellent police service and community partnership. He has been a member of the Immaculate Heart Community (IHC) of Los Angeles for twelve years, a lay religious community dedicated to social justice.