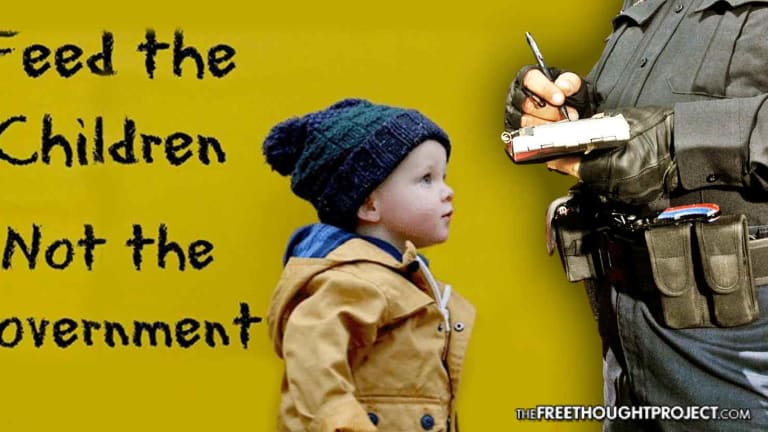 Revolutionary Bill Will Remove Incentive for Profiteering Cops By Giving ALL Fines to Charity
A proposed measure would require all fines from traffic tickets and forfeiture to be donated to charity, removing the incentive for police officers to issue tickets in order to generate revenue.
The fines collected from traffic tickets for offenses such as speeding, running a red light or being caught by a radar van in the state of Colorado, could soon go directly to charity if a new measure is passed.
Measure 53 was created by the Stop The Shakedowns campaign as a way to deal with the rampant problem of police departments benefitting from an abundance of traffic fines and civil asset forfeitures, at the expense of the general public. The initiative argues that:
"A conflict of interest exists when any entity of government enforces a law and at the same time receives the financial benefit via the activities of enforcement. These enforcement activities have created a mistrust of our law enforcement entities that must be corrected in order to restore a more peaceful and trusting relationship between the citizens of the state of Colorado and our enforcement entities. Some jurisdictions in our state routinely take advantage of laws strictly for the purpose of forcibly taking funds from the people for their own use. It is common practice for some regulatory entities within the state to fine businesses because they receive the benefit of the funds generated by these fines, forfeitures or other financial penalties."
Steve Kerbel, chairman of Stop The Shakedowns, told Fox Denver that he believes the initiative could solve a serious problem, while also helping local communities.
"The ballot measure is going to make it so that government cannot keep a penny out of fines, forfeitures or other financial penalties," Kerbel said. "If you get a speeding ticket and you want to give it to a homeless charity, that fully satisfies your fine. Once people understand this, they love it universally."
If the measure becomes law, ticketed fines would either be used as restitution to the victim of the act, or if there is no victim, they would be donated to "a registered and legitimate charity of the choice of the person ordered to pay fines, forfeitures or other financial penalties anywhere in the state of Colorado in which the person ordered to pay fines, forfeitures or other financial penalties has no financial self-interest, either directly or indirectly."
Just how much money would law enforcement and other state government entities lose from the measure? The Colorado Springs Independent reported that the initiative would take more than $256 million away from state entities in fiscal year 2018-19, and more than $332 million in fiscal year 2019-20, which would explain why it is being met with resistance.
Supporters of the measure, such as Stop The Shakedowns volunteer Regan Benson, told Fox Denver that he wants to raise awareness about the need for a change in communities like Mountain View, Colorado. The town of around 530 residents relied on traffic fines to produce 55 percent of its budget in 2015.
"Mountain View definitely has a history of being notorious for policing for profit," Benson said. "I don't think they've been shy in needing to drum up revenue to maintain city functions for a 12-square-block city."
Kerbel told the Colorado Springs Independent that he believes the success of this measure would benefit the state by reminding the public that they have a voice and can hold the government accountable, and by giving police officers the opportunity to actually serve the public and taking their focus away from generating revenue.
"The public will be reminded that the people still have a voice in how government is managed, instead of feeling helpless as most people do now. The people making ground rules for government is not something seen very often since the drafting of the bill of rights. Police officers will benefit, as the majority of police took their jobs to serve their communities. Today, their employers have required them to devote much of their time toward generation of revenue rather than community service."
Critics of the measure argue that it will also take money away from public schools in the state. However, it should be noted that Colorado schools have benefited greatly in recent years from cannabis legalization. For the second year in a row, $40 million from taxes on legal cannabis sales went to a program to repair and replace rundown schools in 2017.
Measure 53 requires more than 98,000 signatures from registered voters in Colorado by March 28, in order to appear on the November 2018 ballot.