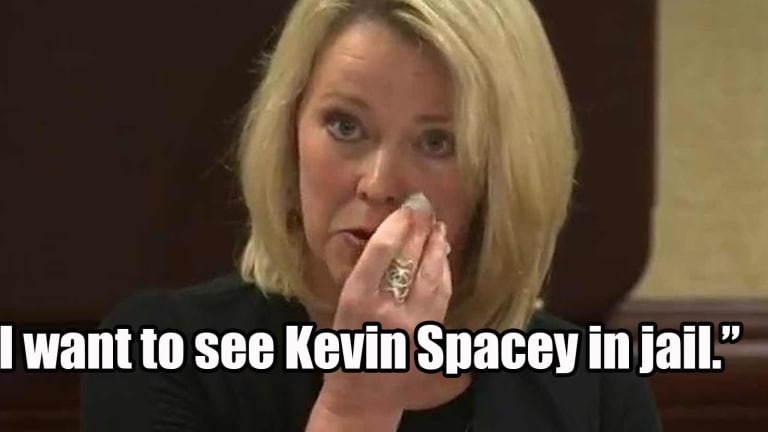 Kevin Spacey Now Under Criminal Investigation As Mom Details Sexual Assault of Her Teen Son
Academy award-winning actor and now accused sexual predator, Kevin Spacey, stands accused of sexually assaulting a teen. A criminal investigation has been launched.
Star Trek Discovery's Anthony Rapp was the first actor to come forward accusing Oscar-winning actor Kevin Spacey of attempted rape of a teenager. Following Rapp's accusation, others came forward. Calling him a "pedophile", an additional accuser, an unnamed man in his late forties, said Spacey tried to rape him when he was also a young teen. And on Wednesday, late-breaking news revealed a Nantucket, Massachusetts teenager has come forward alleging the A-list actor groped him, an allegation which could likely result in criminal charges being filed against one of Hollywood's most successful actors.
Heather Unruh, her lawyer, and her daughter held a press conference with reporters Wednesday morning and told reporters the actor, who won an Oscar for Best Actor in the film American Beauty, had molested her 18-year-old son. Unruh, who was a news anchor for many years with Channel 5 in Boston, said her son was "star struck" when he met Spacey at a local eatery in July of 2016. But all that changed very quickly. She told reporters:
Actor Kevin Spacey sexually assaulted my son...(he) had no idea that the famous actor was an alleged sexual predator or that he was about to become his next victim.
She says Spacey met her son at the Club Car restaurant in Nantucket, and even though he was not 21 at the time, she says Spacey got her son drunk.
Flanked by her lawyer Mitchell Garabedian, Unruh told reporters
whether he was over 21 or not, Kevin Spacey has no right to sexually assault him. There was no consent...Spacey stuck his hand inside my son's pants and grabbed his genitals...this was completely unexpected. My son's efforts to shift his body to remove Spacey's hands were only momentarily successful. The violation continued.
The unnamed teen attempted to push the actor away but was only granted space when the actor had to use the restroom. A concerned bystander told the boy to "run," and run he did, all the way to his grandmother's house where he woke up his sister and allegedly told her the story. They then called Unruh who was in Boston, and she joined the children and grandmother in Nantucket the next day.
Since the attack she says her son has been devastated:
Nothing could have prepared my son for how that sexual assault would make him feel as a man. It harmed him and it cannot be undone. He has tried his best to deal with it. As he says 'it's always there'.
She says her son has suffered from sleepless nights and anxiety since the attack but didn't report the crime until now because of "embarrassment and fear." She says all that has changed now that so many have come forward to accuse the actor of sexual abuse.
We are so proud of our son. And we are so proud of Anthony Rapp for revealing what Kevin Spacey did to him when he was only 14-years-old. To Kevin Spacey I want to say this. Shame on you for what you did to my son. And shame on you for using your apology to Anthony Rapp to come out as a gay man. That was an appalling attempt to deflect attention away from what you really are, a sexual predator. Your actions are criminal
The Unruh family has filed a police report and allege the touching was not at all consensual and was unwelcomed. They consider the act a violation of the law and are prepared to press charges. The family stated in the press conference a criminal investigation is being launched into the allegations.
Tara Miltimore, assistant district attorney and spokeswoman for the Cape & Islands District Attorney's Office, confirmed to USA TODAY that "an individual has provided information to the Nantucket Police regarding an allegation of an indecent assault and battery." She said the state statute of limitations for indecent assault and battery is six years.
Unruh says there are many more victims of Kevin Spacey and says she's been contacted by "many of them." She says they're still afraid to speak out but admitted to her, for the first time, they, too, are Spacey's victims.
I want to see Kevin Spacey go to jail. I want to see the hand of justice come down on him, not just for my son but for the many others that have yet to speak their truth. And I know that some of them probably will now.
She did not reveal their identities but did say that there is at least one other person living in Nantucket who was a Spacey "target" but has yet to come forward.
The Unruh family wants the lady who saw the attack last year to come forward and help the family and apparently serve as an eyewitness in the case against Spacey.
Spacey is currently in rehab in Phoenix, in the same center, reportedly, where Harvey Weinstein is being treated. Spacey's Netflix series, The House of Cards, will be ending after the show's sixth season. But even though the actor is not in the state, she wants to make it clear they're not letting the incident go.
We want to make it clear. This was a criminal act...shame on you for what you did to mmy son
Garabedian called the young man "brave" and said he is now 19-years-old. He explained the family is seeking to file a civil lawsuit against Spacey and that the "statute of limitations" has not run out for a "criminal" case to be brought against the celebrated actor.
The alleged unwanted groping by Spacey is not considered pedophilia as the young man was considered a legal adult at the time the groping was reported to have taken place. But rarely, in the opinion of TFTP, do pedophiles ever actually change. They seem to get better at victimizing their prey. More than likely there are many more child victims out there who have yet to come forward with their own story to tell. If there's ever been a good time to come forward it is now, apparently, as victims are opening up about their abuse.