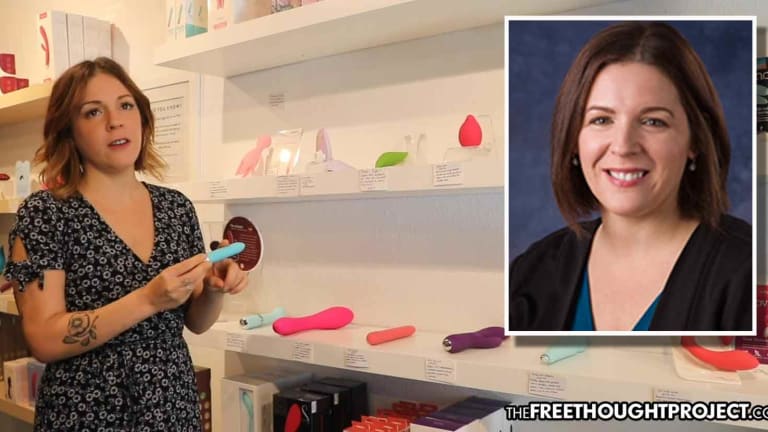 School Board Director Holding 'Queer Night' for Children '0-18' in Downtown Sex Shop
This overt force to sexualize young children is as creepy as it is detrimental to all the progress made by the LGBTQ community over the last several decades.
Bellingham, WA — There is no doubt that for decades the LGBTQ crowd, especially teens, have faced an uphill battle with discrimination and obstinance. The suicide rate for gay teens was through the roof and they were pressured by society into "staying in the closet." Luckily, however, thanks to a waning sense of bigotry and society's tendency to move toward more acceptance, the LGBTQ community is far more acknowledged and accepted than ever before.
No longer are gay couples unable to marry and no longer is there widespread societal stigma associated with being different, and in fact, it is celebrated — as it should be. People should be happy with who they are and no one should stand in their way to pursuing that happiness.
That being said, while people have the right to pursue their own interests, they have no right to push those interests on other people's children. In the same way that conversion therapy for gay youth is horrific and insidious, attempting to convince young children behind their parents' backs into thinking they are trans or gay is also repugnant.
Pursuing your own interests is freedom. Forcing your interests on others, however, becomes indoctrination. This is why states like Florida are passing legislation that disallows Kindergarten through 3rd grade teachers from influencing a child's sexuality in the classroom. Contrary to what Disney pushed about the bill, it has nothing to do with "Don't say gay" and everything to do with teachers indoctrinating children in the classroom.
What's more, contrary to what many of the "fact checkers" have claimed — it is indeed indoctrination and grooming. If parents want to have these discussions with children, it is their right. The state, on the other hand, has no right to do so. Just like it is wrong to discriminate against the LGBTQ community, it is wrong to claim that heterosexuality is somehow bigoted or wrong. Yet here we are.
When government officials actively exert these ideas on children — before they are able to make up their own mind — a problem arises. Moreover, when these adult government officials attempt to sexualize children, exposing them to information or content which parents would find inappropriate, or even illegal for children to see, a much larger problem arises. Yet here we are, again.
A school board director in Washington state is pushing the envelope in regard to child sexualization by holding an LGBTQ event for children aged "0-18" at an adult sex toy shop.
Jenn Mason, school board director for Bellingham Public Schools, owns WinkWink, described on its Facebook page as a "sex shop delighting in expertly curated sex and body products, lingerie, and books."
"We believe that normalizing, accepting, and affirming all bodies, identities, and gender experiences is an inherently political act. Pleasure is our revolution," reads WinkWink's website.
Fair enough, and we agree but she's inviting children into this sex shop for an "open mic" night.
"All queer youth (0 to 18 years old) are invited to share poetry, music, or a story at our open mic night," at Mason's adult sex toy shop, according to an event on Facebook. 
Mason sees nothing wrong with inviting young impressionable children into her business, filled with butt plugs, cock rings, dildos and lubes, to let them express their "young queer voices."
This should come as no surprise, however, given the fact that her adult sex shop also has a section for children's books. Seriously.
Again, nothing is wrong with consensual adults and even teenagers exploring these ideas and finding themselves, or even young children having these talks with their parents. But this overt force to sexualize young children is as creepy as it is detrimental to all the progress made by the LGBTQ community over the past several decades.
Going after children is only going to stoke divide and resentment toward LBGTQ folks and it will not end well. By all means, become an LBGTQ activist, hold events, and proudly stake your claim in this world but leave the children out of it and let them find their own way — in a world that won't judge them for being gay, trans.... or straight.
This is why rational trans people like Sophia Narwitz point out that this approach is essentially "ideological suicide of the highest order that will only cause backlash and fiery anger in return." In fact, it already has.
Narwitz says, "it is as if LGBT activists want to be hated, because this newfound push to convert people toward sexualities they don't otherwise identify with is only going to create resentment. Resentment which in the end will diminish the standing of trans people to the public at large."
On top of garnering ressentiment toward the LGBTQ crowd, this desire to target children may be having another effect as well. Liberal host of Real Time on HBO, Bill Maher recently made this point and how it may be driving an exponential increase in those who claim LGBTQ status.
Maher pointed out the steep rise in children being given puberty blockers and the very undesired and harmful effects of such measures.
"We're literally experimenting on children," Maher claimed, adding that we don't know about the long-term effects of that, "but logic tells you there's going to be problems," citing bone density and fertility, among other issues. "It's not a lifestyle decision," he added.
"Never forget children are impressionable and very, very stupid," Maher said. "A boy who thinks he's a girl maybe is just gay – or whatever "Frazier" was, noting that being a girl doesn't mean you have to act like a Kardashian. And maybe, if life makes you sad, "There are other solutions than hand me the dick saw."
"I understand that being trans is different, it's innate," Maher said. "But kids do have phases. Kids are fluid about everything. If they know at age 8 what they wanted to be, the world would be filled with cowboys and princesses." He recalled, "I wanted to be a pirate. Thank God no one scheduled me for eye removal and peg leg surgery."
For Maher's rational comedy schtick, pointing out a very serious issue, the liberal media hammered him.