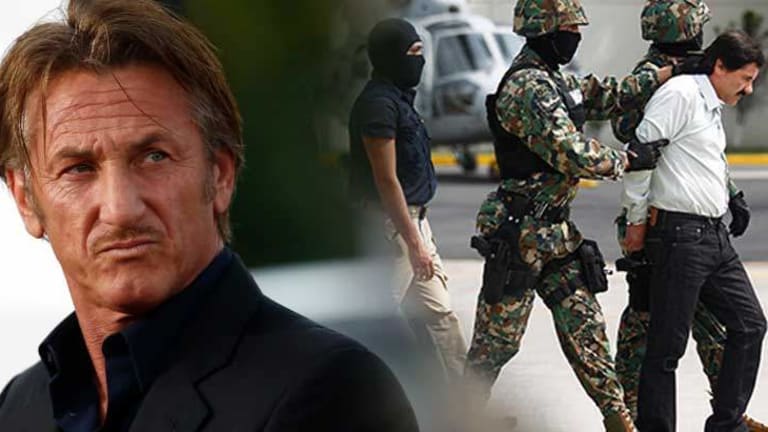 How Hollywood's Sean Penn Got the Most Wanted Drug Kingpin in the World Captured
After being interviewed by Sean Penn, the most wanted cartel leader in history, was arrested.
Recently captured in a firefight that ended with five of his men dead, Joaquín Guzmán Loera, also known as "El Chapo," reportedly fell under surveillance in October after Mexican law enforcement trailed actor Sean Penn to the drug lord's compound. Although Penn claims the DEA and Mexican authorities never contacted him, the controversial actor stated several times that he felt they had been followed on the way to their secret interview.
According to a recent Rolling Stone article written by Sean Penn, he chartered a flight down to Mexico in order to covertly interview Guzmán on October 2, 2015. Unaccustomed to the added security surrounding the cartel leader, Penn wrote, "My head is swimming, labeling TracPhones (burners), one per contact, one per day, destroy, burn, buy, balancing levels of encryption, mirroring through Blackphones, anonymous e-mail addresses, unsent messages accessed in draft form. It's a clandestine horror show for the single most technologically illiterate man left standing."
In his article, Penn questions the relativity of morality by examining the hypocrisy of condemning cartel violence while opiate addiction continues to rise in the U.S. Instead of directly addressing the causes of drug addiction, Penn points out that we have become complicit in the incarceration "of the tens of thousands of sick and suffering chemically addicted Americans, barbarically imprisoned for the crime of their illness."
"There is little dispute that the War on Drugs has failed: as many as 27,000 drug-related homicides in Mexico alone in a single year, and opiate addiction on the rise in the U.S.," Penn continued. "At an American taxpayer cost of $25 billion per year, this war's policies have significantly served to kill our children, drain our economies, overwhelm our cops and courts, pick our pockets, crowd our prisons and punch the clock. Another day's fight is lost. And lost with it, any possible vision of reform, or recognition of the proven benefits in so many other countries achieved through the regulated legalization of recreational drugs."
During his meeting with Penn, Guzmán admitted, "I supply more heroin, methamphetamine, cocaine and marijuana than anybody else in the world. I have a fleet of submarines, airplanes, trucks and boats."
When asked about presidential candidate Donald Trump, who El Chapo allegedly placed a $100 million bounty on his head, Guzmán smiled, ironically saying, "Ah! Mi amigo!"
Although Penn suspected they were under surveillance, a Mexican law enforcement official confirmed on Saturday that Penn's interview with Guzmán led them directly to El Chapo's compound. According to the official, a strike team decided to abort the raid that night because two women and a child were present. But in his article, Penn only mentions one woman with him and does not observe any children at the compound.
Accompanying Penn on his trip was Mexican actress Kate del Castillo, who played a drug kingpin in the telenovela "La Reina del Sur." In January 2012, she wrote on Twitter that in a question of trust between the cartels and the corrupt Mexican government, she would trust El Chapo.
"Mr. Chapo, wouldn't it be cool that you started trafficking with love?" she asked Guzmán on Twitter. "With cures for diseases, with food for the homeless children, with alcohol for the retirement homes that don't let the elderly spend the rest of the days doing whatever the fuck they want. Imagine trafficking with corrupt politicians instead of women and children who end up as slaves. Why don't you burn all those whorehouses where women are worth less than a pack of cigarettes. Without offer, there's no demand. Come on, Don! You would be the hero of heroes. Let's traffic with love. You know how to. Life is a business and the only thing that changes is the merchandise. Don't you agree?"
During their 7-hour interview, Guzmán asked Penn about his friendship with former Venezuelan President Hugo Chavez. While defending the Venezuelan president in 2010, Penn called for the imprisonment of journalists accusing Chavez of running a dictatorship. Penn asked if Guzmán had ever met Pablo Escobar, and El Chapo confirmed that had met the notorious crime lord once at Escobar's mansion.
When asked if he visits his mother often, Guzmán responded, "All the time. I hoped we would meet at my ranch and you could meet my mother. She knows me better than I do. But something came up and we had to change the plan."
Leader of the Sinaloa cartel, Guzmán first escaped prison in 2001 after bribing the guards and escaping in a laundry cart. On July 11, 2015, El Chapo escaped from prison again through a tunnel leading from the shower area to a construction site nearly a mile away. After receiving specialized training in Germany, his engineers built the tunnel with a motorcycle on rails modified to operate in the low-oxygen environment.
Early on Friday, Guzmán was captured in his home state of Culiacan after five of his men were killed in a gunfight with the Mexican navy. Following El Chapo's arrest, Mexico Attorney General Arely Gomez stated, "Another important aspect that allowed us to pinpoint his location was having discovered Guzmán Loera's intention to film a biographical movie through establishing communication with actors and producers, which formed a new line of investigation."
Although Gomez did not confirm whether he was referring to Penn and his companions, a Mexican law enforcement official, who spoke Saturday on condition of anonymity, told the Associated Press that the Penn interview led them directly to El Chapo's compound in October. While denying any involvement with government agencies, Penn wrote, "There is no question in my mind but that DEA and the Mexican government are tracking our movements."
Previously unwilling to extradite Guzmán, the Mexican government is now willing to hand over El Chapo to the U.S. Although Guzmán's attorney has argued that his client deserves Mexican justice, the Mexican government and the rest of the world no longer have any faith in their corrupt judicial system. If extradited to the U.S., Guzmán will be transferred to Brooklyn, where he's charged with 12 murders and the laundering of $14 billion in drug money.
When asked about the death of Pablo Escobar at the hands of law enforcement and whether he believed the Mexican government would kill him next time instead of arresting him again, Guzmán accurately predicted, "No, I think that if they find me, they'll arrest me, of course."