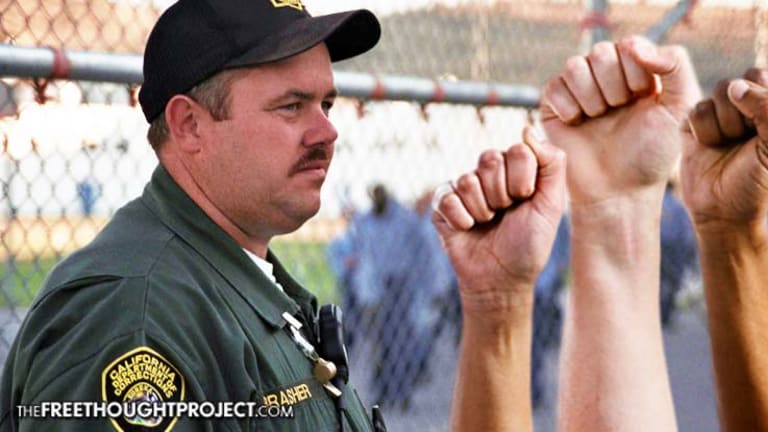 Sheriff's Union Makes Unprecedented Stand -- Sides With Inmates During Hunger Strike
Sheriff's deputies put their pride aside and actually expressed their support for the demands of prisoners on a hunger strike.
San Jose, CA - The Santa Clara County sheriff deputies union has made an unprecedented statement in support of inmates who recently took part in a hunger strike to air grievances about their housing and treatment. The inmates are hoping to improve living conditions, and their demands are very reasonable.
Just before the hunger strike began, the inmates published a list of 5 demands, which read as follows:
l. End: Meaningless classification reviews and biased appeal process.
Solution:
A. Incorporate classification practices of other jurisdictions (CDCR, Alameda County,
etc.)
B. Establish independent oversight and review of inmate appeal process, jail conditions,
practices and policies.
C. Safeguard all due process protections.
2. End: Placement in solitary confinement when there exists no serious rule
violation to merit such placement.
a. Prohibit the use of long-term/indefinite solitary confinement.
b. Prohibit the use of solitary confinement based solely on gang allegations,
affiliation, validation, etc.
Solution:
A. Follow the classification and housing practice of other jurisdictions (CDCR, Alameda
County, etc.)
B. Allow all inmates a genuine opportunity to be downclassed and properly integrated
into the general population.
C. Determine classification/housing of all inmates based on individual behavior.
3. End: Policy/practice of denying inmates adequate clothing.
Solution:
A. Establish policy that promotes proper hygiene.
B. Provide two sets of tops. and bottoms, three sets of underclothes, and sufficient
clothing exchange.
4. End: Jail profiteering and exploitation of prisoners and their families through
contract bidding of commissary vendors based on kick-backs and political
incentives for campaign contributions.
Solution:
A. Set commissary prices equal to or cheaper than those set in CDCR.
B. Approve more packaging vendors to create a competitive and fair market.
5. End: Recidivism and misappropriation of Inmate Welfare Funds.
Solution:
A. Expand and provide constructive programming and privileges for all inmates
regardless of classification status.
B. Create opportunity to engage in meaningful self-help treatment, work,education,
and other activities related to having a sense of being a part of a community in
preparation for re-entering society for all inmates.
C. Reallocate Inmate Welfare Funds toward education and rehabilitation programs
Surprisingly, the Santa Clara County sheriff deputies union has come out in support of the hunger strike.
Dep. Roger Winslow, vice president of the Santa Clara County Deputy Sheriff's Association told San Jose inside that "We find ourselves in agreement with the striking inmates."
"Despite these calls for reform from a range of voices, the sheriff refuses to implement commonsense policies that would help officers better serve and protect our community. Her lackluster response to the serious hunger strike at hand is yet another example of her incompetence," Winslow said.
The hunger strike ended earlier this week, when jail officials agreed to negotiate with the inmates about their demands.
Larry Lucero, one of the solitary confinement inmates involved in the strike, told reporters that the protest was a success.
"I feel like it was worth our effort and the pain that I'm feeling right now," he said.
"I understand that not everybody's going to understand our plight … We're not saying to abolish solitary confinement. If we deserve to come back here based on disciplinary action, then put us back here. But not indefinitely," Lucero explained.
"I believe he was there in good faith and wasn't there to try to manipulate. I told him I need to trust him and he needs to trust me. … I liked his approach and I believe he was sincere," Lucero said of the officials that he negotiated with.
Sheriff spokesman Sgt. Richard Glennon said that his office will continue to work with the inmates to improve conditions in the prison.
[author title="" image="https://scontent-lax3-1.xx.fbcdn.net/v/t1.0-0/p206x206/11180635_10206767821827999_559224194627129346_n.jpg?oh=1629dfaa493cde9bde7d896161275ada&oe=58A44235"]John Vibes is an author and researcher who organizes a number of large events including the Free Your Mind Conference. He also has a publishing company where he offers a censorship free platform for both fiction and non-fiction writers. You can contact him and stay connected to his work at his Facebook page. John is currently battling cancer naturally, without any chemo or radiation, and will be working to help others through his experience, if you wish to contribute to his treatments please donate here.[/author]