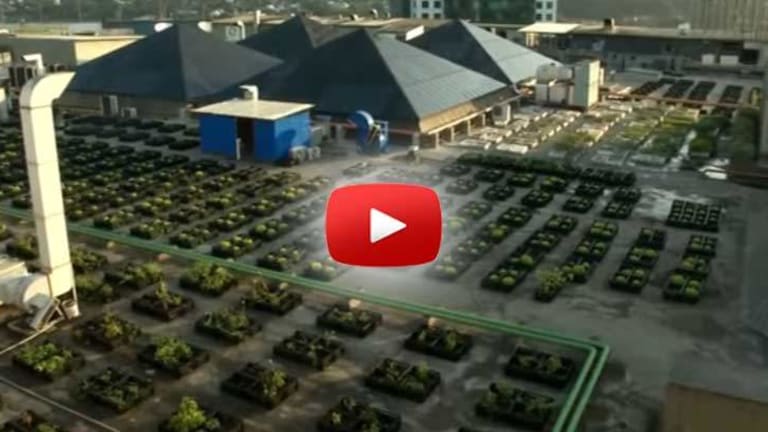 Shopping Mall Recycling all their Food Waste into Thriving Rooftop Garden for Employees
One mall in Brazil is turning garbage into gold.
San Paulo, Brazil -- A shopping mall in Sao Paulo, Brazil, is showing how these hubs of consumerism can be turned into a force for sustainability.
They are taking all of the organic waste generated from the mall's food court and turning it into compost for growing vegetables and herbs on the rooftop. Almost 900 pounds of food waste is generated there every day, and it's all being turned into new food on location.
Employees at the mall are the main beneficiaries of this novel program. They pitch in by tending to the garden, and in return they can harvest the pesticide-free produce to take home.
That's 900 pounds of waste not being trucked off to a dump site, instead being used to create food for employees while reducing the environmental impact.
"We notice that people waste a huge amount of food. So beyond our objective of creating organic compost, we use this to create new food. It is a cycle in which we make food out of food. This is what it means to be sustainable," said Cicero Evangelista, in charge of recycling at the shopping mall.
Employees separate food waste from inorganic waste, and then send it to the recycling center where it is weighed. Cicero's team adds enzymes that eliminate harmful bacteria, reduce humidity and accelerate decomposition.
The finished "black gold" is the basis for a large, thriving garden that grows in the heart of this megacity. Produce includes lettuce, eggplant, onions, peppers, tomatoes, basil and mint. Some of it is used at eateries in the mall.
This project should be an inspiring example for other shopping malls that seek to reduce, reuse and recycle. If sustainable practices such as the Sao Paulo food waste to rooftop garden were to become the norm, we could really begin to tackle these real problems such as excess waste.