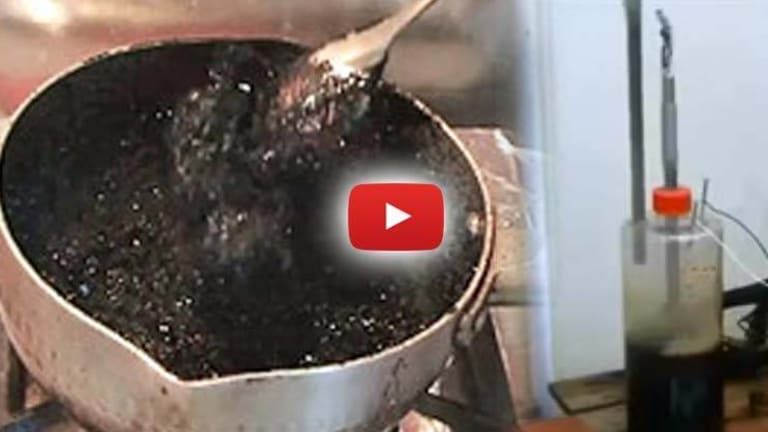 If You Smoke, Or Know Someone Who Does, You Need to Watch This Video
What does smoking 200 cigarettes look like? Well, it's quite frightening.
It is no question that "cancer sticks" are bad for your health. Aside from the police potentially killing you over them (re: Eric Garner), the negative health effects of smoking are horrendous. They certainly don't call them "lung darts" because they help you breathe better.
What if you took a bunch of these "stogies" and were able to see the cumulative effects of smoking multiple "looseys" at one time? It would probably be disgustingly eye-opening right? Well, this short experiment shows us exactly what smoking too many "joes" looks like.
Here are some not-so-fun-filled facts about these "fatalistic fags" that will make you cringe:
Over 3,000 teens and preteens are sucked in daily:
Every day, approximately 3,450 teens in the U.S. try their first cigarette. About 25% will become daily smokers.
One in eight teens smokes cigarettes daily.
Smoking addiction starts at a young age. More than 80% of adult smokers began smoking before 18 years of age.
Bad for your looks:
Smoking ages your skin faster. It's second only to sun exposure for giving you wrinkles.
Tar, the sticky brown substance in tobacco products, stains smokers' fingers and teeth.
Smoking makes you stink! Your hair, breath and clothes smell bad.
Bad for your health:
Smoking is linked to slowed growth of lung function in teens. They cannot run as fast or far. Smokers suffer from shortness of breath three times more than nonsmokers.
Tobacco abuse harms every organ in the body. It has been linked to leukemia, cataracts and pneumonia, and accounts for about one-third of all cancer deaths.
People who smoke cigarettes are 20 times more likely to develop lung cancer than nonsmokers.
Cigarette smoke is toxic and poisonous to the human body. It contains about 7,000 chemical agents, including almost 70 that cause cancer.
Some of the toxins found in cigarette smoke are found in items such as rat poison, toilet cleaners and formaldehyde, which is used to preserve dead animals.
Not feeling good (and your parents smoke)? Every year, secondhand smoke causes more than 202,000 asthma episodes and 790,000 doctor visits due to ear infections.
It's a killer:
Every hour, more than 50 Americans die from smoking cigarettes. That's about 440,000 people a year.
Smoking kills babies. Every year in the U.S., about 2,000 deaths from SIDS (Sudden Infant Death Syndrome) are linked to secondhand tobacco smoke.
Of kids now under 18 who live in Maryland, 108,000 will ultimately die prematurely from smoking.
More deaths are caused each year by tobacco use than by HIV, illegal drug use, alcohol use, motor vehicle injuries, suicides, and murders combined.
On average, smokers die 13 to 14 years earlier than nonsmokers.
The bad news about addiction:
Nicotine is a drug found naturally in tobacco. It's as addictive as heroin and cocaine.
It takes only 8 seconds for nicotine to reach the brain.
Teens can experience tobacco dependence within a day of first inhaling, including strong urges to smoke, and anxiety or irritability.
It's hard to quit: only 12% of teen smokers who tried to quit were able to do so successfully.
Some people smoke because they think it helps them relax. A new study suggests otherwise – smoking actually triggers stress. The truth is that smokers are addicted to the nicotine in tobacco; as the nicotine from one cigarette wears off, they start to crave another and become nervous and tense. Doesn't sound very relaxing!
Reference: https://www.smokingstinks-aaco.org/fastfacts.htm
[author title="" image="https://tftpstagingstg.wpengine.com/wp-content/uploads/2016/03/magorist-e1456948757204.jpg"]Matt Agorist is an honorably discharged veteran of the USMC and former intelligence operator directly tasked by the NSA. This prior experience gives him unique insight into the world of government corruption and the American police state. Agorist has been an independent journalist for over a decade and has been featured on mainstream networks around the world. Follow @MattAgorist[/author]