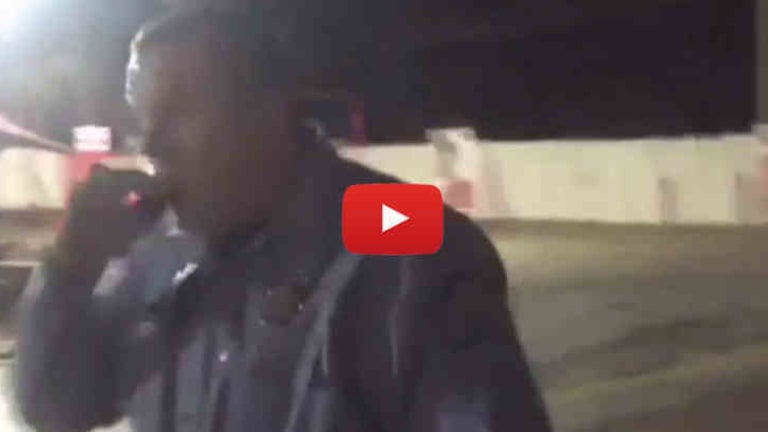 St. Louis Metropolitan Police Caught on Cam Illegally Detaining Man - Then Lying About It
St. Louis, MO-- A well known livestreamer and activist for 
My livestream just stopped me from being illegally detained by @SLMPD#FilmThePolice
— Anon Cop Watch (@AnonCopWatch) December 14, 2014
" target="_blank">Anon Cop Watch was seemingly targeted on Saturday as St. Louis Police decided to do a "random pedestrian check" and illegally detain and run him for warrants, while he was simply trying to walk to the store for cigarettes. The man is best known for his activism and streaming of Ferguson and St. Louis protests, however, he was not at or covering a protest at this time. Luckily he knows the importance and value in filming the police and immediately turned on his camera to capture what was happening. In the video, we see the officer aggressively and repeatedly demanding ID and the streamer exercising his rights and asking if he is being detained.

You are only required to produce your actual physical driver's license in two separate scenarios. 1. You are the driver in a motor vehicle that is pulled over in a checkpoint that comports with Brown v Texas 443 U.S. 47 (1979) and more specifically State vs Deskins, 234 Kan. 529 (Kan. 1983) 2. If you are driving a motor vehicle and you are pulled over by a law enforcement officer and there is at least articulable and reasonable suspicion to believe that the driver or a passenger in the motor vehicle was engaged or had engaged in criminal conduct. Brown v Texas 443 U.S. 47 (1979) This instance is better explained in Delaware vs. Prouse 99 S. Ct 1391. (1979)
The officer responds, "yes, you are right now. Give me your identification." The streamer asks the officer why, and he explains that it is for standing in the parking lot, yelling and causing a disturbance. All of which happened after the officer began demanding his identification. The Free Thought Project spoke with this live streamer and asked him if the officer's gave him any reason for why he was detained, he told us;

"The disturbance that the cops said I was causing was me getting pissed off about him asking for my ID."
Eventually another officer approaches and returns the identification claiming he was never detained and could have walked away at any time, completely contradicting the first officer who claimed he was detained to get his ID out of him. Did these cops happen to notice the camera and change their tune? Unfortunately, had he not have been filming, its very likely that this could have gone very differently.

Know your rights, and always film the police to protect yourself and others.