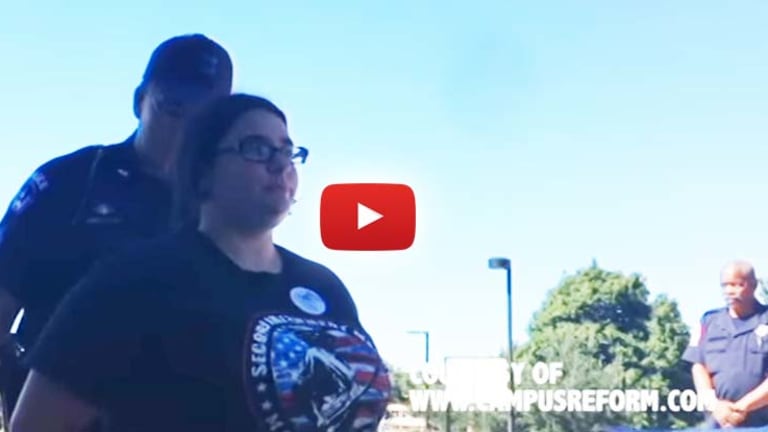 WATCH: Students ARRESTED for Passing Out Copies of the Constitution
College students are fighting back in a lawsuit after being arrested by their college police for passing out to fellow students, copies of the U.S. constitution.
The list of things someone can go to jail for is now growing as several college students were arrested for passing out pocket-sized copies of the U.S. Constitution and signing students up for membership in their conservative student organization. The incident occurred at Kellogg Community College in Battle Creek, Michigan and involved members of the Young Americans for Liberty who were arrested September 20th, 2015 and charged with trespassing. Brandon Withers and Michelle Gregoire were arrested and spent nearly 7 hours in jail for their unapproved distribution of the U.S. Constitution and for allegedly attempting to recruit others to their club.
The 'offenses' resulted in demands the students remove themselves from campus property. The students refused to leave and were arrested by campus police and charged with trespassing.
According to The Washington Times, Scottsdale, AZ based, "Alliance Defending Freedom, a nonprofit legal organization that "advocates for the right of people to freely live out their faith," filed a lawsuit on their behalf Wednesday in the U.S. District Court for the Western District of Michigan." Senior ADF counsel Casey Mattox issued a statement wherein ADF claims their clients' constitutional rights supersede any unlawful school rules denying them such freedoms.
Kellogg Community College had established several rules regarding the exercise of free speech and has established a free speech zone. Additionally, the distribution of materials, according to the college, must be approved first by the department known as Student Life. In other words, the exercise of students' first amendment rights according to the U.S. Constitution is regulated by the public school's Student Life department. And the school defines free speech as "solicitation", another activity which must be pre-approved.
Here's their definition from the KCC website, "Solicitation is defined as activities or events, normally in short duration, as the carrying or displaying of signs or placards, leafleting, campaigning, marches, rallies, parades, demonstrations, protests, assemblies, speeches, circulation of petitions, and/or any public demonstration on the grounds." Yep. There it is. "Speeches" is defined as "solicitation" and not free speech. Also at issue is the need to have a permit to express one's free speech at an assigned table, where participants cannot even "call out to" passersby.
ADF is representing the students in the case, Young Americans for Liberty at Kellogg Community College v. Kellogg Community College. 
"The policy is unconstitutional…because it grants college officials too much discretion to restrict the content and viewpoint of student speech if it does not 'support the mission of Kellogg Community College' (KCC) or the mission of a recognized college entity or activity," reads the ADF's statement. ADF Legal Counsel Travis Barham said, "All public colleges—which are supposed to be the 'marketplace of ideas'—have the duty to protect and promote the First Amendment's guarantee of free speech." Barham added, "Ignoring this duty, KCC arrested these club supporters for exercising this freedom, and, ironically, for handing out copies of the very document—the Constitution—that protects what they were doing."
ADF says, "The lawsuit seeks to have the school's "speech permit" and "speech zone" policies ruled a violation of First and Fourteenth Amendment rights. "Compensatory and nominal damages" are also sought over Ms. Gregoire's arrest." Here's what ADF says took place on the day the students were arrested;
On Sept. 20 of last year, KCC students Brandon Withers and Michelle Gregoire, along with three other YAL supporters were on a large, open walkway in front of the Binda Performing Arts Center on KCC's campus talking with students about the club and handing out pocket-sized copies of the U.S. Constitution. Withers, Gregoire, and the other supporters were not blocking access to buildings or pedestrian traffic and were not interfering with any KCC activities or other planned events on campus.

KCC administrators and campus security eventually approached them and said that they were violating the Solicitation Policy because they had not obtained prior permission from KCC, and that they were not allowed to conduct expressive activity in this location on campus.

One of the administrators told the supporters that "engaging [students] in conversation on their way to educational places" is a violation of the Solicitation Policy because it is an "obstruction to their education" to ask them questions like, "Do you like freedom and liberty?," adding that he was concerned that the students from "rural farm areas…might not feel like they have the choice to ignore the question."

The officials instructed Withers, Gregoire, and the others that they must immediately stop engaging in their speech activities and leave campus. When Gregoire and two of the other club supporters politely informed KCC's chief of public safety that they were going to continue exercising their First Amendment freedoms by talking with students and handing out copies of the Constitution, he arrested them and charged them with trespass.

"Today's college students will be tomorrow's legislators, judges, commissioners, and voters," said ADF Senior Counsel Casey Mattox. "That's why it's so important that public universities model the First Amendment values they are supposed to be teaching to students, and why it should disturb everyone that KCC and many other colleges are communicating to a generation that the Constitution doesn't matter."

Attorney Jeshua T. Lauka of the Grand Rapids law firm David & Wierenga, P.C. is serving as local counsel in the case, filed in the U.S. District Court for the Western District of Michigan.
Members of the YAL club at Kellogg say that the school's solicitation policy plays favorites with other groups on campus, often allowing liberal-leaning groups to "solicit" (which actually means to speak out in public according to KCC's own definition) without having to obtain prior permission. So, the group decided to give to the students what they already possess, their constitutional rights, and call into question KCC's questionable treatment of students' first amendment rights.
We applaud the YAL for their ability to challenge so-called authorities and exercise their God-given unalienable rights which KCC feels compelled to control. Even if KCC were a private college, they would not have any right to tell anyone they could not speak their minds in public. But since KCC is a public college, and every space on the campus is public space, the school has very little legal grounds to tell anyone they cannot distribute literature, hold rallies, engage in speeches, or sign-up anyone to any club at any time.
The school also has no rights to impose its apparently socialist agenda upon the student body to the detriment of their rights to life, liberty and the pursuit of happiness.
This case will be an easy win for ADF and hopefully will establish a precedent for free thinkers everywhere on every campus who'd like to speak their minds without interference from an institution which endeavors to silence and control them and their access to being able to think for themselves.
Discouragingly enough, this incident is hardly an isolated one. Just last October, according to Campus Reform, an activist was forced to leave another campus, Middlesex County College, because he did not get prior approval to practice free speech.
Then, in November, students at Grand Valley State University in Allendale, Michigan were threatened with arrest by police who told them that they immediately needed to stop handing out the pocket constitutions because it violated the school's policy.
Also, the Free Thought Project reported on an eerily similar case last year out of Glen Ellyn, IL. In that infuriating video, two students at the College of DuPage, a public university, were on campus exercising their First Amendment rights by passing out pocket Constitutions and fliers that read "America is a free speech zone," when approached by a police officer and threatened with arrest.