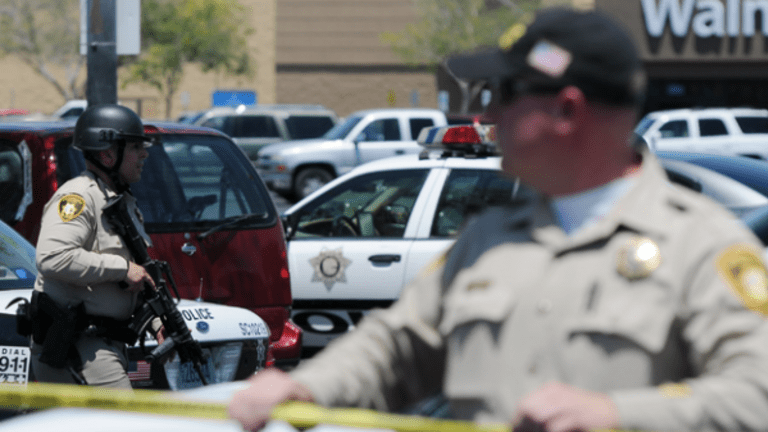 Suspect Yells "Tell The Police, The Revolution Has Started" Before Shooting Spree In Vegas
Suspect Yells "Tell The Police, The Revolution Has Started" Before Shooting Spree In Las Vegas WalMart
June 9, 2014
UPDATE: Las Vegas Review reports 5 dead: 2 cops, 1 civilian, 2 suspects
Multiple shootings and at least one death has been reported after two people (a man and a woman) shot two Law Vegas police officers, stole their gear, and entered a nearby Wal-Mart. As KLAS-TV reports, police say witnesses told them the suspects took the police officers' gear and, as they were walking out of the restaurant after the shooting, they said, "tell the police the revolution has begun."
A police source reports one Metro officer is dead following a double shooting at a pizza restaurant Sunday near Nellis Boulevard and Stewart Avenue.

According to police, two people walked into a Cici Pizza restaurant at 309 North Nellis and appeared to target two Metro officers who were eating at the restaurant. One person shot one officer in the head. The second person shot the second officer. There is no word on the officers' conditions.

…

The two suspects then left the restaurant and went into the Wal-Mart store across the street. Police have surrounded the Wal-Mart.
The officers' conditions were not immediately available. The shooters were still at large as of noon.

Metro's SWAT team is there. Police have cordoned off most of the store parking lot.

Both shooters were reportedly carring large bags, and a bomb squad was called to the scene. It's unclear at this time what, if anything, was found in the bags.
By Noon, Metro SWAT team entered the Wal-Mart and by 12:02 claimed to have seen one body in aisle 11 at Walmart.

Las Vegas Metropolitan Police Department said it is to hold a news conference shortly.