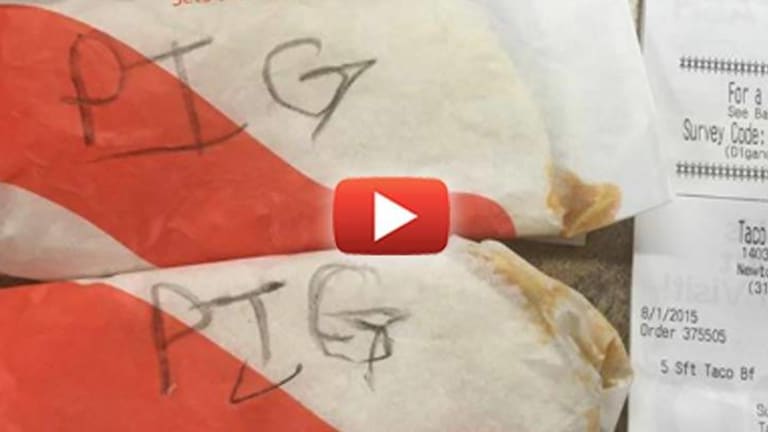 Taco Bell Employee Fired for Writing "PIG" On a Cop's Tacos
A Taco Bell employee was recently fired for writing the word "PIG" on a food order that was intended for a police officer.
An unnamed police officer reportedly stopped through a Taco Bell with his fiance to order food, and was given tacos with the derogatory message written on the wrapper.
The officer did not seem to think that the joke was funny.
The couple immediately reported the incident and were told that they would be given a refund for the order. The management at the Taco Bell then began tripping over themselves to apologize and express their undying love and support for law enforcement.
"We do not share the same belief or view as the employee whatsoever. Our company, Taco Bell, has always been pro-law enforcement, military. We've always supported the police in our community. Many of our restaurants give police discounts when they come in and eat,"Taco Bell's senior director of operations Jeff Graves said in a statement.
"In fact, I've even met with the lieutenant with the Newton Police Department this morning, and we're even going to plan a community event working with the Newton Police officers within the next week just to show our support for the officers and the community," the statement continued.
It is interesting that there is so much outrage over a word, when there is very little outrage about the violence and theft that police engage in on a daily basis.
The chances are very good that this employee made their decision with full expectation of getting fired, sending a firm reminder to law enforcement that the people who they are out there harassing, are the same people who will eventually be cooking their food.
Of course, resorting to derogatory name calling and insults is hardly the way to achieve peaceful change. The old adage, honey attracts more flies than vinegar, is true. But all people express themselves differently.
Perhaps that this person is no longer an employee with Taco Bell, he can use this new opportunity to educate others about the horrible reality of the police state instead of writing words on a cop's food.
John Vibes is an author, researcher and investigative journalist who takes a special interest in the counter culture and the drug war. In addition to his writing and activist work he organizes a number of large events including the Free Your Mind Conference, which features top caliber speakers and whistle-blowers from all over the world. You can contact him and stay connected to his work at his Facebook page. You can find his 65 chapter Book entitled "Alchemy of the Timeless Renaissance" at bookpatch.com.