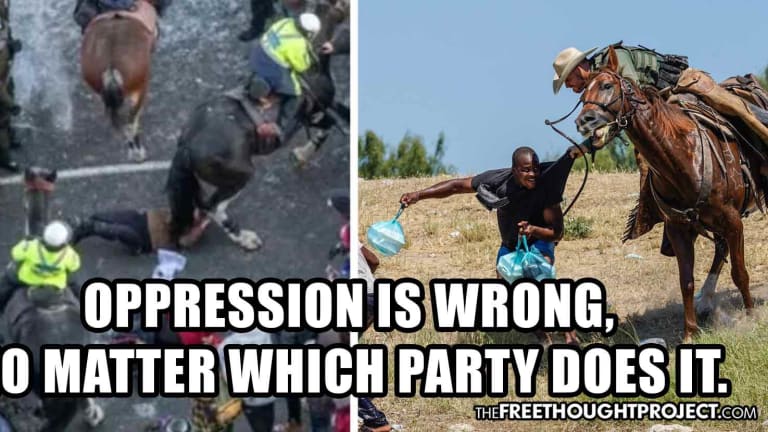 The Left's Support of the Persecution of Ottawa Protesters Ensures That It Will Be Used Against Them Next
It is not okay to support the persecution of peaceful protesters because you disagree with them politically. This persecution will eventually come for you.
First they came for the socialists, and I did not speak out—because I was not a socialist.

Then they came for the trade unionists, and I did not speak out— because I was not a trade unionist.

Then they came for the Jews, and I did not speak out—because I was not a Jew.

Then they came for me—and there was no one left to speak for me.

-Martin Niemöller (1892–1984)
A Western democracy is currently being toppled from within and turned into a fascist police state in which members of the political opposition to the ruling elite are being hunted down by the state. The Canadian government has viciously persecuted citizens, not just for protesting the vaccine mandates, but anyone who provided monetary support to them. This level of tyranny in the West should be raising alarm bells and red flags — especially among supposed advocates of civil liberties — but it's not. Instead, many folks are supporting it.
The left has not only chosen to look the other way in regard to the treatment of the protesters and their supporters, but they have embraced the state's tyrannical response. Even Anonymous has gone full fascist shill, and is applauding the abuse and subsequent response by the Trudeau regime.
This narrative that the trucker convoy is made up of Qanon far right white supremacist fascist men is entirely bogus. It was merely a false talking point pushed by Trudeau himself. This has been debunked multiple times as the protest made up of truckers who are largely Indigenous and Sikh.
In fact, the woman who was trampled by a police horse on Friday and hospitalized, was a First Nation woman. 
The folks expressing disdain for the peaceful protest in Canada are playing a disturbing game of identity politics. This is the same thing that the right has done for years as many on the left took to the streets to protest police brutality. And because the right supported "running over protesters" and silencing their political rivals, these tactics are now being used on all sides.
In early 2018, the Free Thought Project spoke out about the censorship of Alex Jones. We predicted, with extreme accuracy, that this censorship of Jones would then expand to other folks for their peaceful anti-establishment views, and we were right.
Since the left cheered on this censorship, they have since become the victims of it. Make no mistake, the same thing is going to happen with police brutality and other left wing protests.
Once you remain silent on government overreach because it supports your political bias, you become a tool for state oppression in the future.
Because someone's political view is different than yours, is no reason to condone state violence, frozen assets, or any type of persecution against them. When you begin praising these tactics because they help to silence your political opposition, it is time to re-examine what it is you claim to stand for.
Those willing to condone — and, in this case, relish in — state sponsored violence and authoritarianism against their fellow citizen for the sole act of peacefully expressing their point of view, are enemies to freedom. Sadly, because so many people ascribe to the two-party mind-numbing system, they often turn a blind eye to oppression, so long as it is their side doing it.
The speed with which Canada has transformed into a despotic state is shocking and it should worry everyone — even if you disagree with what the protest was about. To think that you'll be safe from the same action when it is your protest is not only naive but incredibly dangerous. Humanity has to break free from this perpetual state of cognitive dissonance if we are expected to survive.