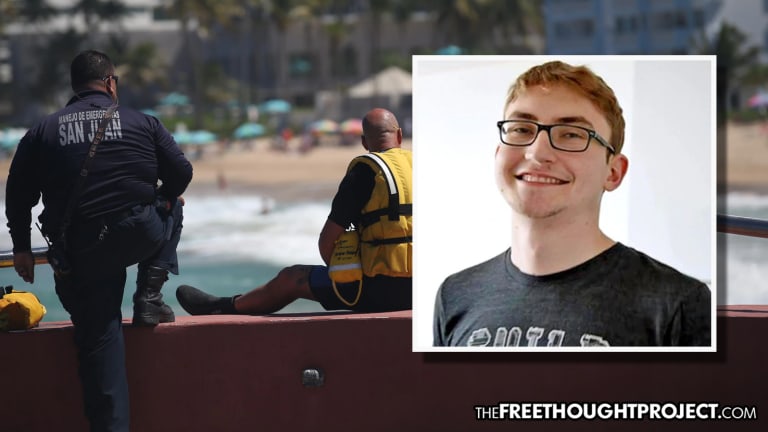 'They Will Torture Me to Death': Crypto Pioneer 'Drowns' Hours After Tweet on Discovering CIA Pedo Ring
"CIA and Mossad and pedo elite are running some kind of sex trafficking entrapment blackmail ring out of Puerto Rico"
Puerto Rico — "CIA and Mossad and pedo elite are running some kind of sex trafficking entrapment blackmail ring out of Puerto Rico and Caribbean islands. They are going to frame me with a laptop planted by my ex gf who was a spy. They will torture me to death." These were the last words put on the internet by Nikolai Mushegian, the co-founder of the highly successful cryptocurrency lending platform MakerDAO and a major player in the cryptocurrency community.
After throwing this shocking statement out there into the digital ether, Mushegian would die a horrible death. His body would be discovered at Condado beach in San Juan after being dragged over the rocks and sand by strong undercurrents.
To be clear, Condado beach is one of the world's most dangerous beaches and known for its strong undercurrents. Just last year, eight people died while swimming at this picturesque San Juan location. None of those eight people, however, predicted they were about to be tortured to death by the CIA.
As well as being the co-founder of the cryptocurrency lending platform MakerDAO, Mushegian also founded the decentralized Dai stablecoin. According to Cointelegraph, Mushegian was an important figure in the cryptocurrency community, contributing to multiple industry projects, with some referring to him as a "Dai architect." The 29-year-old crypto developer is known for his work with MakerDAO forks Rico and Rai, as well as the proof-of-stake blockchain network BitShares. Mushegian is also a co-founder of the automated market maker Balancer.
Mushegian was also a charitable figure, donating over $1 million to his alma mater Carnegie Mellon in 2020 to support research into decentralized technology.
MakerDAO co-founder, Rune Christensen took to Twitter after his passing, saying that Mushegian "was one of the only people in the early days of Ethereum and smart contracts who was able to predict the possibility of smart contract hacks and invented the security-oriented approach to smart contract design we know today. Maker would have been toast without him."
Just days before his death, Coinbase announced a $1.6 billion partnership with MakerDAO to become a custodian of the stablecoin USD Coin, of which MakerDAO is the largest single holder in the world.
Known as a "genius" in the industry, Mushegian was not one to delve into conspiracy theories. Outside of this single tweet about child trafficking on the day he died, a search of his Twitter page revealed that Mushegian had never tweeted about elite pedophilia before — making this tweet especially credible.
As for the claims of CIA and Mossad child sex trafficking, it's not very far-fetched. According to recent analyses, almost 30 percent of the gross domestic product of Puerto Rico is generated from its "clandestine economy" of organized crime. One of the main products of this underground market is child sex trafficking.
According to a study by the Encyclopedia of Puerto Rico, child exploitation in Puerto Rico takes on many forms like prostitution and other forms of sexual exploitation, such as pornography, sex tourism, arranged marriages, begging and even sales of organs.
Given the CIA's very recent history of covering up child rape in their own ranks, the idea of them working with another organization like Mossad — with alleged ties to Jeffrey Epstein — to traffic in children, is not some outlandish thought.
Unfortunately, however, the "investigation" carried out by the San Juan Homicide Division has already ruled Mushegian's death an accidental drowning. There will be no further inquiry as to why this frequent beachgoer, who could swim, suddenly drowned one morning, hours after claiming he discovered a CIA child sex trafficking ring in his own backyard.