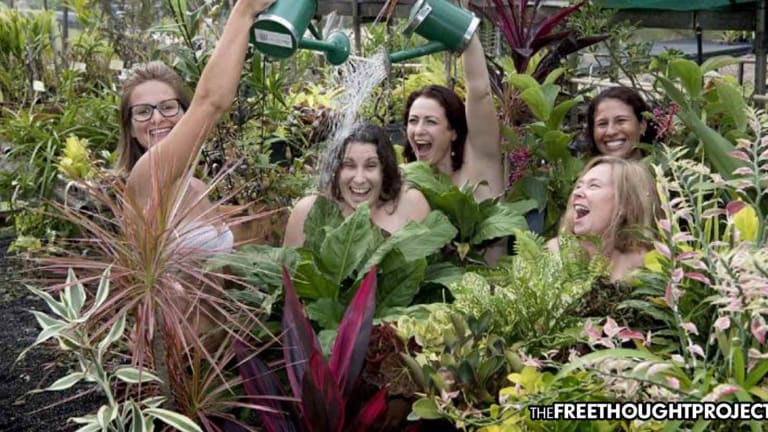 Today is World Naked Gardening Day—17th Year of Putting Humans Back in Touch with Nature
As mainstream media will attempt to keep you in fear of Russia, Covid, and Roe V. Wade, ignore them, do some gardening naked, and reclaim your humanity.
"Sweet, sane, still Nakedness in Nature! --ah if poor, sick, prurient humanity in cities might really know you once more! Is not nakedness then indecent? No, not inherently. It is your thought, your sophistication, your fear, your respectability that is indecent. There come moods when these clothes of ours are not only too irksome to wear, but are themselves indecent. Perhaps indeed he or she to whom the free exhilarating ecstasy of nakedness in Nature has never been eligible (and how many thousands there are!) has not really known what purity is--nor what faith or art or health really is."

- Walt Whitman, Specimen Day
World Naked Gardening Day (WNGD) is an annual international event celebrated on the first Saturday of May by gardeners and non-gardeners alike. WNGD has become a growing annual tradition that celebrates weeding, planting flowers and trimming hedges in the buff.
This year's naked day of planting is on May 7th, and it is the 17th annual celebration. As the news of this unique celebration spreads, it has left many people wondering, why garden naked?
Well, according to the group who founded WNGD, first of all, it's fun! Second only to swimming, gardening is at the top of the list of family-friendly activities people are most ready to consider doing nude. Moreover, our culture needs to move toward a healthy sense of both body acceptance and our relation to the natural environment. Gardening naked is not only a simple joy, it reminds us--even if only for those few sunkissed minutes--that we can be honest with who we are as humans and as part of this planet.
WNGD has no political agenda and is not owned by any particular group. It is a loose-knit group of people all over the world who encourage others to garden in the buff as a way of getting back in touch with our humanity and planetary ties.
All too often, we humans get caught up in our day to day lives and forget where we came from and how to live in harmony with the rest of the life on this planet. The results of humans detaching themselves from nature are evident everywhere.
If one feels their ancestral ties to the earth and all of the life on it, one seeks out how to live in harmony with that life rather than exploit or destroy it. What better way to reboot those spiritual bonds with mother earth than to remove your clothing and nurture and interact with plants that provide us with so much beauty and sustenance?
"When you're out there with a gentle breeze on you, every last hair on your body feels it," the WNGD site reads. "You feel completely connected with the natural world in a way you just can't in clothes."
As mainstream media will attempt to paint this holiday in a silly and shameful light while reminding you to stay in fear of Russia, Covid, and Roe V. Wade, it is important to approach it with an open mind. Releasing our societal bondage and reclaiming our ancient roots is nothing to be ashamed of or kept hidden away -- and it will inevitably lead to a better understanding of one's self.
In case you are left wondering how to start your sacred bond with the planet Saturday, the kind folks at WNGD have some tips. First of all, on the first Saturday of May, find an opportunity to get naked and do some gardening. Do so alone, with friends, with family, with your gardening club, or with any other group collected for that purpose. Do it inside your house, in your backyard, on a hiking trail, at a city park, or on the streets. Stay private or go public. Make it a quiet time or make it a public splash. Just get naked and make your part of the botanical world a healthier and more attractive place.
Secondly, the group encourages you to tell someone about your experience. No one owns this event, so it does not matter whom you tell, but tell someone. Tell your friends about your day of naked gardening; write down what you thought of it and email it to your local newspaper; post your thoughts and images on social media and let the world know -- you are connected and unafraid.
I will go to the bank by the wood and become undisguised and naked; I am mad for it to be in contact with me.

- Walt Whitman: From Song of Myself (1855)