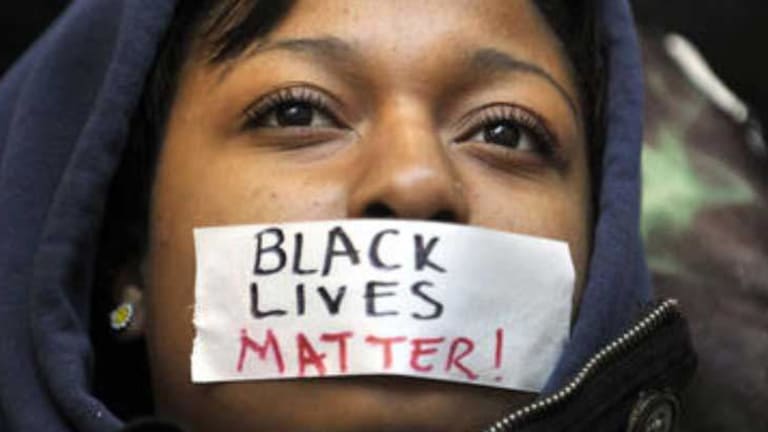 The Truth about Police Violence Against Minorities, What #BlackLivesMatter isn't Talking About
One simple step could get rid of most hostile police interactions, and #BlackLivesMatter, just like the government, doesn't talk about it.
On a daily basis, we hear about how if the #BlackLivesMatter movement really cared about black lives then they would say something about the black on black crime in poverty-stricken neighborhoods across the United States. This assertion comes from opponents of the #BlackLivesMatter movement and is usually made by police apologists who ignore the fact that police kill black men at a much higher rate than whites.
African-Americans make up only 13 percent of the population, yet they are the victims in 26 percent of all police shootings. That is nearly 3 times the rate of whites.
The outrage by the #Black Lives Matter movement is founded in statistical evidence which shows that the system inherently and with extreme bias disproportionately targets blacks.
However, these two things, police killing black men and black men killing black men, are not mutually exclusive. They are closely tied together, and the reason they are tied together is something that the #BlackLivesMatter movement and its opponents continue to ignore.
America has a dirty secret, and that secret is that black lives do not matter; at least not to the state they don't. Black on black violence in poor communities doesn't even meet the Mother Jones standard for mass shootings, even in instances of a single person killing multiple individuals. Black lives lost to black lives are simply tallied up as numerical entries in crime statistics databases and nothing more is said. This is horrible.
Democrats blame guns for the violence while Republicans blame gun control. Meanwhile, both sides are missing the giant pink elephant in the living room.
At the center of this tragic violence plaguing American streets is a giant Leviathan which lays waste to all lives it comes across, it's called the American Drug War.
According to the website, BlackLivesMatter.com, the movement's list of demands (which has since been removed) for "Black men, women, trans and gender-nonconforming people," includes the following:
We demand an end to all forms of discrimination and the full recognition of our human rights.
We demand an immediate end to police brutality and the murder of Black people and all oppressed people.
We demand full, living wage employment for our people.
We demand decent housing fit for the shelter of human beings and an end to gentrification.
We demand an end to the school to prison pipeline & quality education for all.
We demand freedom from mass incarceration and an end to the prison industrial complex.
We demand a racial justice agenda from the White House that is inclusive of our shared fate as Black men, women, trans and gender-nonconforming people. Not My Brother's Keeper, but Our Children's Keeper.
We demand access to affordable healthy food for our neighborhoods.
We demand an aggressive attack against all laws, policies, and entities that disenfranchise any community from expressing themselves at the ballot.
We demand a public education system that teaches the rich history of Black people and celebrates the contributions we have made to this country and the world.
We demand the release of all U.S. political prisoners.
We demand an end to the military industrial complex that incentivizes private corporations to profit off of the death and destruction of Black and Brown communities across the globe.
Nowhere in that list of demands do they mention anything about the war on drugs.
America has the largest prison population in the world. It is estimated that victimless crime constitutes 86% of the federal prison population. That means the only reason that these individuals are incarcerated is because the state deemed their non-violent personal choices, "illegal." The majority of that 86% is for illegal drugs only.
Most of the people who are thrown in prison are non-violent. However, when they are locked in cages with society's worst and treated like cattle in a factory farm, they come out forever changed. America is breeding a torturous and violent environment, and they have the audacity to call this the "justice system."
As former Congressman Ron Paul pointed out on national television on Jan 16, 2012;
[Black peope] are tried and imprisoned disproportionately. They suffer the consequence of the death penalty disproportionately. Rich white people don't get the death penalty very often. And most of these are victimless crimes. Sometimes people can use drugs and get arrested three times and never committed a violent act and they can go to prison for life. I think there's discrimination in the system, but you have to address the drug war. I would say the judicial system is probably one of the worst places where prejudice and discrimination still exists in this country.
If you honestly believe that black lives matter, it is your duty to call for an end to the drug war.
When the government makes certain substances illegal, it does not remove the demand. Instead, the state creates crime by pushing the sale and control of these substances into the illegal black markets. All the while, demand remains constant.
We can look at the prohibition of alcohol and the subsequent mafia crime wave that ensued as a result as an example. The year 1930, at the peak of prohibition, happened to be the deadliest year for police in American history. 300 police officers were killed, and innumerable poor people slaughtered as the state cracked down on drinkers.
Outlawing substances does not work.
Criminal gangs form to protect sales territory and supply lines. They then monopolize the control of the constant demand. Their entire operation is dependent upon police arresting people for drugs because this grants them a monopoly on their sale.
However, the illegality of drug possession and use is what keeps the low-level users and dealers in and out of the court systems, and most of these people are poor black men. As Dr. Paul pointed out, black people are more likely to receive a harsher punishment for the same drug crime as a white person.
This revolving door of creating and processing criminals fosters the phenomenon known as Recidivism. Recidivism is a fundamental concept of criminal justice that shows the tendency of those who are processed into the system and the likelihood of future criminal behavior.
The War on Drugs takes good people and turns them into criminals every single minute of every single day. The system is setup in such a way that it fans the flames of violent crime by essentially building a factory that turns out violent criminals.
The system knows this too!
When drugs are legalized, gang violence drops -- drastically. Not only does it have a huge effect on the localized gangs in America, but the legalization of drugs is crippling to the violent foreign drug cartels too. 
Until Americans educate themselves on the cause of this violence, uninformed and corrupt lawmakers will continue to focus on controlling the symptoms. 
We will see more senseless killings and more innocent lives stripped of opportunity by getting entangled in the system.
Shout it from the rooftops, from the streets, from any pulpit you can find, "Black Lives Matter!" Shout it out loud, Black lives do matter!
But until the root cause of the police state is defined and removed, all that shouting will fall on deaf ears.