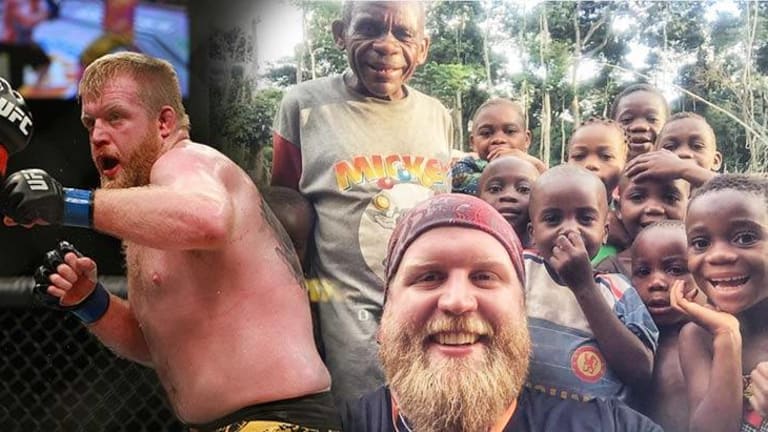 UFC Fighter Stopped Fighting in the MMA to Start Fighting Modern Slavery in Africa
MMA Fighter, Justin Wren put his career on hold and has been fighting slavery, rape, torture, and cannibalism in the most dangerous place on the planet.
Temecula, CA -- Most fight fans probably know Justin Wren from his heavy hitting in the octagon and his spot on season ten of The Ultimate Fighter. However, a lesser known fact about this fighter is that he doesn't stop fighting when he gets out of the cage.
Surprising the MMA community and his fans four years ago, Wren said that he got a calling from God to head to one of Africa's most war-torn nations.
"I was walking down a small path and there was green on every side of me and I heard drumming and when I got closer I heard this beautiful singing," Wren said of his vision leading up to his spiritual awakening. "And then when I got in, everything shifted and changed. Because everyone there was hurting."
Upon further contemplation of this ayahuasca-like vision, Wren decided he need to go to the Eastern Congo, one of, if not the most, dangerous places on Earth.
Prior to this awakening, Wren was in a dark spot in his life and career.
"I was drinking, depressed, using drugs. I was an alcoholic, and I was suicidal, so I wasn't too pleasant to be around," Wren explained.
Somehow, he broke free from his addictions and Wren, who used to be openly hostile to spirituality, listened to this calling. In August of 2011, Wren packed his bags and left the United States and headed for the Democratic Republic of the Congo.
The Democratic Republic of the Congo, until recently, has been at the center of what some refer to as "Africa's world war." The war, which lasted nearly a decade, claimed over 6,000,000 lives and led to unimaginable human suffering on a massive scale.
Wren's plan was to bring aid to one of the hardest hit groups in the region which were the local Pigmy tribes who've been plagued by murder, rape, slavery, and even cannibalism. They are quite literally preyed upon like animals by armed rebels.
"It sounds like they're living in hell on earth," Wren said to MMA Fighting Magazine, just prior to departing. "And that needs to change."
While the US was concerned with turning Libya into a war zone, and starting a perpetual war by helping to create ISIS, a handful of heroic missionaries, without the backing of US taxpayers, headed into the deadliest place on the planet.
According to MMA Fighting.com:
When Wren arrived in the Congo, he was almost certain it was the place and people -- the enslaved, hunted Pygmies -- he saw in his dream. One of the ethnic group's leaders told him he referred to the Pygmies as "the forgotten people" and that sealed it.

"When they told me 'forgotten,' I was like, 'This thing came true,'" Wren said.

Wren knows the whole thing -- visions and dreams of faraway forests -- sounds kooky. It doesn't really matter to him, though, because it has led to what has become his life's work.
After Wren left in 2011, he would spend the next four years of his life fighting for the Pygmies in the Congo on multiple occasions. And after returning to fight in the states again, Wren says that his fight in Africa is far from over.
Almost immediately after returning to the United States, Wren was in the octagon again. Two weeks ago, Wren beat Josh Burns in a bloody three-round battle. But his winnings are no longer what he fights for -- he is fighting for them.
"My goals in MMA would be, I want to be the Bellator champ, but I would say that my heart isn't wrapped up in that," Wren said. "That's not my identity and purpose. My purpose is to be their voice."
Wren has come back to the MMA to give a voice to the voiceless. This true hero is being the change that he wants to see in this world, and it is working. After his fight against Burns, he gave 100% of his sponsorship money to the Pygmies and plans to keep this money flowing as he continues to fight here in America.
The money goes to digging wells for clean water, growing and harvesting food, and to buy back the land that was stolen from the Pygmy people. Wren's organization also works to replant trees in areas that have been deforested by companies exploiting the natural resources.
"I can't tell people to give if I'm not giving everything I can," Wren said. "I know I'm giving my time and my health, but I don't want to be one of those dudes to give to their cause and not give it everything I've got."
In a time where the word 'hero' is thrown around by anyone wanting their government position to look good, it is high time we see a story like Justin Wren's. If Wren's story inspires you, please share it with your friends and family so that they may see the true power of humanity.
"My life-long goal and dream and plans are to fight for the forgotten," Wren said. "That's life long. That will never fade."
For more information about Wren's Fight for the Forgotten or to donate, visit FightForTheForgotten.org.