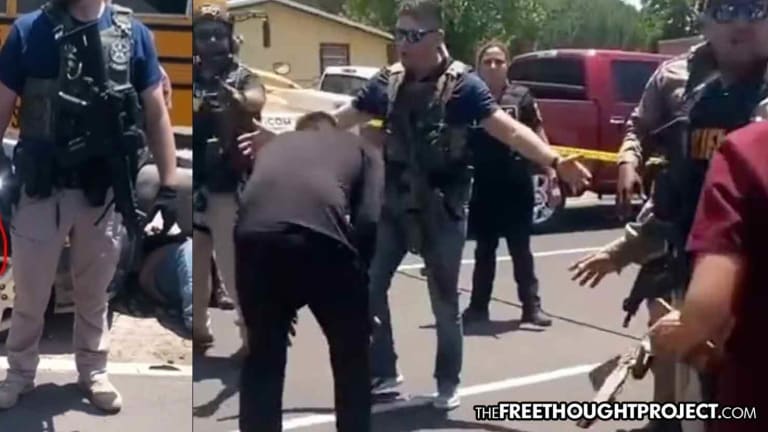 Uvalde Mom Cuffed for Trying to Save Her Kids, Gets Free, Runs Into School, Saves Them as Cops Tasered Parents Outside
As heavily armed cops with AR-15s and body armor twiddled their thumbs as a mass shooter murdered children she jumped a fence and rushed into the school.
Uvalde, TX — As we reported on Thursday, multiple reports and videos have surfaced of law enforcement's response, or rather lack thereof, to the mass school shooting at Robb Elementary. Instead of rushing in to stop the shooter from murdering children inside, officers set up a blockade and perimeter to stop parents from trying to save their own children. 
In the meantime, the shooter had over an hour to have his way with the 19 children and 2 teachers who he slaughtered inside.
Now, as more details emerge, the police response to the situation looks even more disgusting. According to the most recent information, the shooter was able to fire off rounds outside the school building for 12 minutes, unobstructed and unchallenged by law enforcement before he entered the school and murdered children.
This new information, released Thursday evening by Texas Ranger Victor Escalon contradicts earlier statements from officials which said that the shooter was confronted by a heroic officer who shot and killed the shooter.
It also contradicts claims by Texas Gov. Greg Abbott, who earlier this week hailed the "quick response" of "valiant local officials" who he said had engaged the gunman before he entered the school. "They showed amazing courage by running toward gunfire," he said.
But this never happened.
According to the timeline released Thursday evening, the shooter crashed his car at 11:28 and began shooting at members of the public outside the school. At 11:40, he walked unobstructed into the school where he began killing people. Police would not arrive on the scene until 4 minutes after the shooter entered the school.
For the next 1 hour and 5 minutes, the shooter remained inside the school, unchallenged by law enforcement as they waited outside for a tactical unit from Border Patrol to show up and take him out.
As police fumbled the response outside, a crowd of angry parents demanded to be let in to save their children. As any parent would do, many of them tried to rush past police to go into the school but were tackled, pepper sprayed and even handcuffed.
"They [police] say they rushed in," Javier Cazares, whose daughter Jacklyn was killed in the attack, told the Associated Press. "We didn't see that."
"A lot of us were arguing with the police, 'You all need to go in there. You all need to do your jobs'. Their response was, 'We can't do our jobs because you guys are interfering.'"
Angeli Rose Gomez told the Wall Street Journal that she saw one father thrown to the ground by an officer, another pepper-sprayed and a third who was later tasered.
Gomez witnessed all this after she was handcuffed by police, accused of "impeding their investigation." Eventually, however, Gomez would convince one of the Uvalde police officers to uncuff her and she snuck away.
"The police were doing nothing," said Gomez. "They [the police] were just standing outside the fence. They weren't going in there or running anywhere."
As heavily armed cops with AR-15s and body armor twiddled their thumbs as a mass shooter murdered children inside the school, Gomez — unarmed and wearing no body armor at all — jumped a fence and rushed into the school.
Mustering more courage than any of the militarized police officers in front of the school, Gomez ran through the hallways of Robb Elementary with a shooter inside before finding her children and rushing them to safety.
Had police simply let other parents do the same, perhaps many more lives could've been saved.
What's more, the apparent delay in entering the building flies in the face of all guidance that became standard police practice after the 1999 Columbine High School massacre. According to the policy which was adopted by all law enforcement, the first officers on the scene should do whatever they can to stop an attack without waiting for backup.
Clearly, this did not happen.
Adding to the controversy over the utterly worthless response by police is the fact that these same officers held a mass shooting drill just 2 months prior on March 22 at Uvalde High School — where the Robb Elementary murderer was a student.
As the NY Post reported, Ruben Ruiz, a Uvalde school district cop and husband of slain Robb Elementary School fourth-grade teacher Eva Mireles, held the drill and posted photos on Facebook showing him and fellow officers posing as active shooters.
Students are seen in the photos lying on the ground, pretending to be dead.
In this simulation, officers confronted the shooters and ended the threat. Why weren't these tactics — for which officers trained just weeks prior — deployed in the instance of Robb Elementary?
Why train to stop a mass shooter only to refuse to stop the shooter when the chance arises? How many of those 19 children could be alive if just one of the dozens of heavily armed cops who stood outside the school would have decided to go in?
While we've seen disgraceful responses by law enforcement to similar incidents before, their response to the Uvalde shooting will forever be written into the shameful pages of history as the day America's security force let 19 children and 2 teachers die as they attacked parents for trying to save their kids.