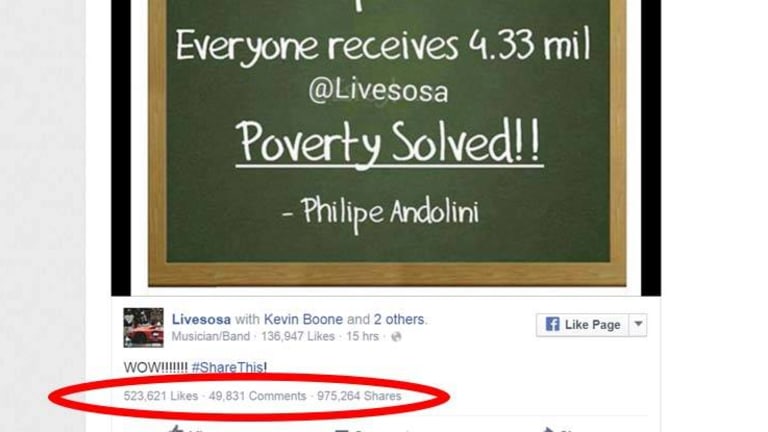 Viral Meme About Redistributing $1.3 Billion Powerball Winnings Makes Fools Out of Millions
A little fact checking could've shared millions the embarrassment of sharing this meme.
The phrase "don't believe everything you read on the internet" seems applicable in this situation.
A meme spreading virally on social media claims that if the current Powerball Lottery jackpot of $1.3 billion were distributed evenly to 300 million Americans poverty would be solved as every person would receive $4.3 million dollars.
The meme has been shared almost 1 million times from just one Facebook account. The meme has quickly spread across the internet, however, and duped millions.
The problem with this rapidly spreading meme is that the numbers simply don't add up. Aside from the fact that there are closer to 310 million Americans, the math shown on the "chalkboard" is totally wrong.
A few clicks of a calculator or a little long division quickly reveals that actual amount each American would receive is $4.33- a far cry from $4.3 million.
While the meme attempts to make an appeal to legitimacy by using a schoolhouse "chalkboard," it seems as though 'Philipe Andolini' would do well to hit the books a little harder next time -- also the millions of people who shared it.
Jay Syrmopoulos is a political analyst, free thinker, researcher, and ardent opponent of authoritarianism. He is currently a graduate student at University of Denver pursuing a masters in Global Affairs. Jay's work has been published on Ben Swann's Truth in Media, Truth-Out, Raw Story, MintPress News, as well as many other sites. You can follow him on Twitter @sirmetropolis, on Facebook at Sir Metropolis and now on tsu.