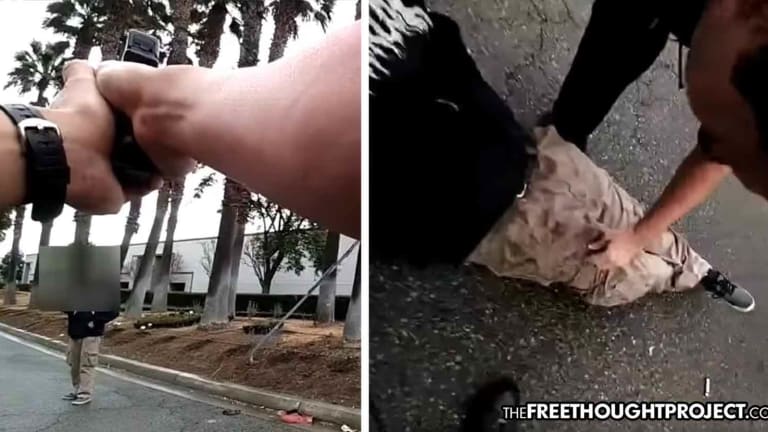 WATCH: Heroic Cop Inadvertently Makes Instructional Video on How NOT to Kill Mentally Ill Man
A Fontana police officer inadvertently made an instruction video on how not to kill when he talked down a man intent on dying in a death by cop scenario.
Fontana, CA — A Fontana police officer expertly demonstrated how to deescalate and peacefully resolve what could have been a disastrous encounter with a citizen in the throws of a mental health crisis. Officer Josh MacMillan diffused the situation with a suicidal man and allowed both men to safely return home to their families. His heroic act should serve as a standard for the rest of police across the country.
In November, MacMillan got a call from dispatch saying a citizen had a run-in with a strange man who brandished a firearm and appeared "disgruntled." The citizen identified himself but the 911 call was forced to redact his name out of privacy concerns. Responding to the call, the officer approached the man fitting the description, who was wearing a black hoodie with tan pants.
Following his routine training the officer called for the man to take his hands out of his pockets and declared he would shoot the suspect if he did not comply. Dozens upon dozens of times, MacMillan told the man to take his left hand out of his pocket and to do so without holding onto the gun he saw through his hoodie. In other words, the officer wanted the man to show him his hands.
"Just shoot me," the man stated as he began to weep. Repeatedly the man asked the Fontana officer to shoot him, but MacMillan wasn't taking the psychotic bait to kill the man in a death by cop scenario. The same cannot be said of other officers on which TFTP has reported. In fact, we have reported more times than we can count it seems when police officers make contact with the mentally ill, often times, the outcome is tragic. Not only have cops shot and killed unarmed mentally ill individuals but do so without impunity.
While we at the Free Thought Project are a police accountability news organization, we must give credit where credit is due and this officer definitely deserves the credit.
Not only was officer MacMillian able to talk the man down, give the man more than adequate time to remove his hands from his pockets, but he and his fellow officers were able to place the man in handcuffs without even escalating the use of force such as applying closed hand strikes, elbows, and kicks.
As it turns out the mentally ill man, who was ultimately placed in custody, also is the same man who made the call to 911.
He set up his own death by cop scenario claiming he felt threatened by a man with a gun. Such a scene nearly removes all liability from officers who would then seek to shoot a non-compliant man who reportedly possessed a firearm. Not only did MacMillan follow through with his promise not to shoot the man, but we also believe he likely kept his word and made sure the man got mental health treatment as well.
Fontana Police Chief Billy Greene took over as chief in 2018. It was Green's honor to release the body camera footage to the public recently showcasing the heroic actions of Officer MacMillan.
"The man in crisis captured on video is the same person that had just called 9-1-1. He placed the call to facilitate our response in an attempt to commit suicide by cop. Had the man not responded to the tireless de-escalation tactics employed by Officer MacMillan, the outcome could have been tragic for the individual in crisis and our officers," Green said.
Officer MacMillan, from all of us at the Free Thought Project, thank you for doing your sworn duty to protect and serve the public and not killing a man when you could have done so and been exonerated for it. We hope that the video below inspires other cops to exhibit the same bravery in similar situations.
https://m.youtube.com/watch?feature=youtu.be&v=YOM5TQw_sYE&noapp=1&client=mv-google&has_verified=1