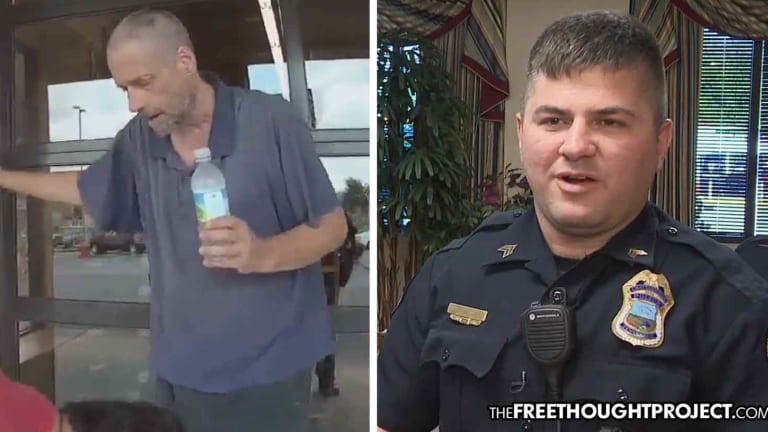 WATCH: Instead of Arresting Homeless Man, Police Bought Him Shoes and Food
A store owner called police to report a loitering homeless man and the cops showed up and bought him shoes to help get him on his way.
Chattanooga, TN — In case after horrifying case, TFTP has reported on countless instances of police officers showing up to a situation involving a homeless person only to kill them moments later. When it plays out differently, however, and police help that homeless person out, we feel that it deserves recognition as it can set an example for other departments to follow.
Body camera footage was released on Tuesday showing officers responding to a 911 call about a homeless man refusing to leave the front of a store. In most instances we've reported on, this is where things turn violent. However, in this case, the opposite happened.
Emma Baldwin is the district manager of Elliott's Boots, where the incident took place. She told News Channel 9 that she was the one who called police after the homeless man had been sitting in front of her store for hours.
When police showed up to Elliott's Boots last Wednesday, instead of seeing a vile criminal, they saw a man in need. In a post on their Facebook page, the Chattanooga police department explained how the rest of the stop unfolded.
A man down on his luck wearing shoes that were not fit for walking recently got some much needed assistance from a couple CPD Officers and employees at Elliott's Boots in Hixson.

On August 9, 2019, Sgt. Wood responded to a call regarding a Suspicious Person. Once the man was located, Sgt. Wood determined he just needed a helping hand. Seeing the man's shredded shoes, Sgt. Wood went in to nearby Elliott's Boots to purchase a new pair for him. The staff would not accept payment and gave the man a new pair of shoes and bottled water...it was 91 degrees at the time. CPD Inv. Collins who was also on scene bought the man some pizza.

Sometimes it takes collaboration across a community to let people know they're not alone.
As the video shows, the scene was quite inspirational.
"Hey buddy, how ya doing?" the officer asks.
"Oh just a little tired," said the man, whose name is Pete.
"You're tired? Where ya coming from?"
Pete explained that he'd been trying to make it to a place that is five miles away but had to stop after becoming too tired.
Immediately, Wood knew at least one of the reasons this man was having a hard time finishing the walk.
"His shoes are falling off his feet. I mean they're barely holding together," said Wood over his body cam video.
"We went out and realized his shoes were probably the reason he was sitting here and not able to move on, so Sergeant Wood said we'd like to buy him a pair," said Baldwin.
Elliott's employees and police then joined forces to help this man out.
"I'd like to measure his feet," the employee said.
"Well they're kinda filthy right now," Pete replied.
"That's alright brother, I've seen a lot of filth in my day. Put all your weight on that right there."
The Elliott's employee then measured his feet and went inside to find him a pair of shoes.
"This is the shoe we chose. It's not slick on the bottom and got a real cushy insole, laces up good and again, it comes in extra wide and he needed an extra wide so this was a perfect choice for him," said Baldwin.
When officer Wood attempted to pay for the shoes, the store refused and instead gave them to him.
Despite the store paying for the shoes, the other officers in the video were seen pulling out their wallets to get this man some new kicks.
After the store paid for the shoes, the officers got together and bought him pizza. Wood took to Facebook to describe the situation.
I want to provide a huge shout out to Elliotts Boots of Hixson. Their staff are top-notch and care about the community they serve. They assisted a needy community member today whose shoes were literally falling apart. This person was homeless and had no way to pay for the shoes but they took care of them anyways. This kind gesture may seem little or insignificant to many but it truly warmed my heart to see the compassion and respect they showed this person. I know where I will purchase my next pair of shoes from for sure. I think you should come to check them out as well!
Pizza and shoes are a far better option than a lawsuit stemming from beating a homeless man or a press release about how police had to kill him because he "went for their gun." Instances like this one prove that not all interactions require escalation of force and that helping someone goes much farther than kidnapping and caging them. In fact, the shoes were such a good help, Baldwin says she hasn't seen Pete since he got them. Problem solved.