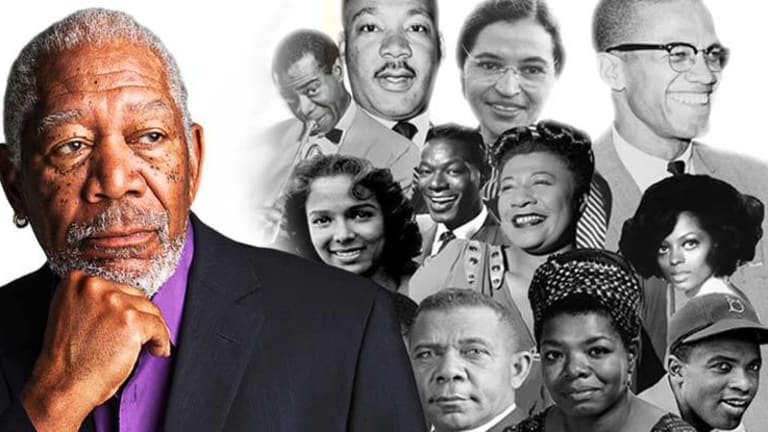 VIDEO: Morgan Freeman Explains What's Wrong With Black History Month in Under 2 Minutes
"I don't want a Black History Month. Black history is American history."
In a past interview with Mike Wallace of 60 Minutes, Morgan Freeman dropped a bombshell that sent ripples through the race-focused crowd everywhere.
As Wallace attempted to paint him as a radical for his views, in only a few brief moments, Morgan Freeman laid waste to stereotypes, and worked wonders for bridging the racial divide in America. This compelling part of the interview began as Wallace asked Freeman,
"Black History Month, you find?"
Freeman said, "Ridiculous."
When Wallace asked, "Why?" Freeman said, "You're going to relegate my history to a month?"
Wallace: "Oh, come on."
Freeman: "What do you do with yours? Which month is white history month? No, Come on, tell me."
Wallace: "Well, I'm Jewish."
Freeman: "Okay. Which month is Jewish history month?"
Wallace: "There isn't one."
Freeman: " Oh. Oh, why not? Do you want one?"
Wallace: "No. No."
Freeman: "I don't either. I don't want a Black History Month. Black history is American history."
Wallace: "How are we going to get rid of racism and …."
Freeman: "Stop talking about it. I'm going to stop calling you a white man, and I'm going to ask you to stop calling me a black man. I know you as Mike Wallace. You know me as Morgan Freeman. You want to say, `Well, I know this white guy named Mike Wallace.' You know what I'm saying?"
"Mm-hmm," uttered Mike Wallace after having the divisive talking point blown out of the water.
This is how we end racism.
Matt Agorist is an honorably discharged veteran of the USMC and former intelligence operator directly tasked by the NSA. This prior experience gives him unique insight into the world of government corruption and the American police state. Agorist has been an independent journalist for over a decade and has been featured on mainstream networks around the world.