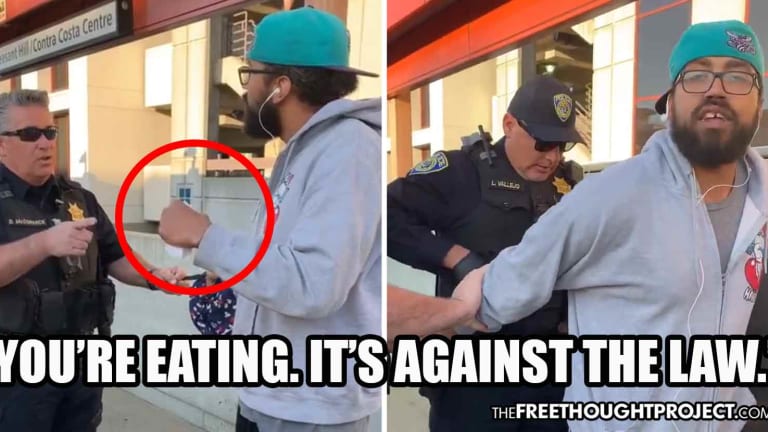 WATCH: What Eating a Sandwich While Black Looks Like in a Police State
An innocent man was placed under arrest because he was eating a sandwich while waiting for his train. Seriously.
A man whose last name is reportedly Foster but who goes by Bill Gluckman on Facebook, posted a video he and his friend recorded purportedly showing Bart (California's metro system) cops arresting him for eating a sandwich while waiting for his train. In the end, Foster is apparently given the choice to receive a ticket for eating a breakfast sandwich on the subway platform or go to jail for resisting the shakedown style extortion scheme.
It depends on Mr. Foster...If Mr. Foster wants to cooperate he'll get a citation and be on his way. If he doesn't want to cooperate he's gonna go to jail today.
Foster was already being detained by officer D. McCormick for eating a sandwich in the Bart station. The officer had a death grip on Foster's backpack. Foster questioned at the beginning how he could possibly go to jail for eating a sandwich. McCormick told Foster he wasn't going to jail for eating a sandwich but for resisting arrest.
When foster asked the tyrant cop why he was being arrested, the cop replied that Foster was eating a sandwich. In the land of the free, eating a sandwich is apparently grounds for kidnapping and caging.
"You're eating. It's against the law," says the cop whose job consisted of extorting people for sustenance.
Foster and McCormick kept up with the rope pulling contest as each man was unwilling to let go of the backpack. Foster's girlfriend questioned how it could possibly be illegal to eat on the platform when there were restaurants downstairs selling breakfast sandwiches. The officer responded there were signs posted there is no eating on Bart.
However, when Foster asked the cop to point to a sign saying they couldn't eat while waiting for a train, there were none to be found.
The young, hungry, man is lucky. Other officers would not have tolerated anyone questioning their so called authority. Law enforcement personnel with short fuses would have already slammed the young man to the ground and used the fact Foster would not let go of his backpack as impetus to abuse a citizen.
At one point in the confrontation the scene turned rather comical. Foster made it hilariously personal. He said;
You ain't getting no p**sy at home! I know you ain't! When's the last time you got your d**k sucked? It's been a while!...Do you like my bag that much. Do you like Mickey Mouse? I can tell you where to get one!
When backup arrived, again Foster was lucky he was being recorded because it could have drastically taken a turn for the worse. One of the arriving officers then claimed Foster "fit the description," an apparent lie because McCormick already stated the call to the platform was for a drunk female.
The officers then placed Foster in handcuffs. They started the psychological operation of claiming Foster was "resisting" by repeatedly saying "stop resisting." This action is done to plant the doubt in bystanders and potential witnesses minds Foster was somehow resisting arrest. That way if he did get taken to the ground the witnesses would testify on the side of the police.
Foster was led out of the Bart platform, across the street, to what appears to be a police substation where he was again threatened with arrest.
In the end, Foster signed the ticket, now has to go to court, but apparently avoided going to jail for eating a sandwich in public. Whichever politician would sign off on allowing eating in public to become illegal is a tyrant in the highest form.
Yes, America. The time has come where one cannot even eat their breakfast sandwich while waiting for their train. This is little more than the indiscriminate criminalizing of all Americans. To people of color it will most certainly be identified as arrested for eating while Black.
Posted by Bill Gluckman on Friday, November 8, 2019