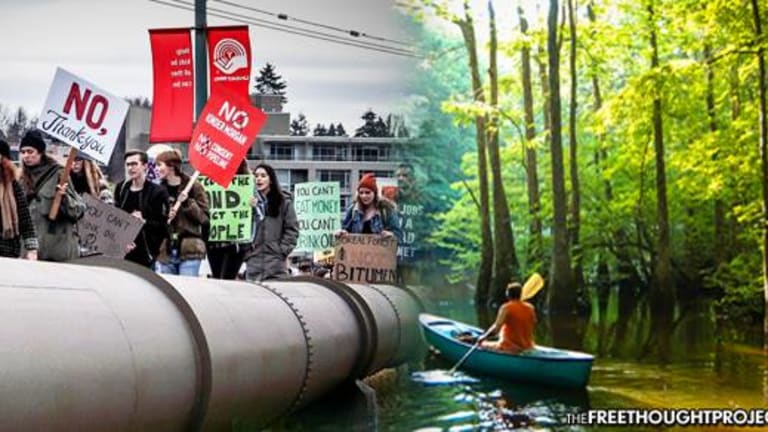 NODAPL 2.0 — Water Protectors Take Stand in Louisiana to Resist 'Tail End' of DAPL
The 162-mile Bayou Bridge Pipeline would threaten the drinking water of 300,000 people while crossing 700 bodies of water and 600 acres of fragile wetlands.
With the executive order signed by President Trump to override the Corps of Engineers, it appears the Dakota Access Pipeline (DAPL) is more likely to be bored underneath Lake Oahe, the water source of the Standing Rock Sioux. It's a final insult in the violation of property rights and Native American treaties, all for a high-risk investment by oil tycoons.
Regardless of the outcome, the massive protests and brave actions of water protectors showed the world that informed citizens will no longer stand idly by as fossil fuel exploitation needlessly threatens natural resources and civil rights. It exposed the police state for violent mercenaries protecting corporate interests, as militarized cops poured in from multiple states and the National Guard even manned checkpoints.
North Dakota isn't the only state where the business venture of Energy Transfer Partners (ETP) is threatening vast swaths of water resources and property rights. In Louisiana, the tail-end of DAPL is set to be installed across 162 miles of the state – crossing 700 bodies of water, 600 acres of fragile wetlands, and "wells that reportedly provide drinking water for some 300,000 families."
Water protectors from North Dakota and elsewhere are already preparing to join Louisiana natives in resisting the Bayou Bridge Pipeline. The 24-inch diameter pipeline would carry up to 480,000 barrels of oil per day – originating in the Bakken oilfields of North Dakota and going through the controversial DAPL -- to refineries and ports in Louisiana.
Farmers and crawfishermen showed up at a packed public hearing to speak about the threat to their livelihood and health posed by the Bayou Bridge Pipeline. Conservationists and local residents of all stripes protested the destruction the pipeline would bring to the treasured natural habitats of south Louisiana.
Jody Meche, president of the state Crawfish Producers' Association, described how careless actions of prior oil companies have ruined natural water flow in the Atchafalaya Basin, creating spoil banks (piled up sediment from trench excavation) and zones where crawfish and other aquatic life cannot thrive.
"The best way to determine the future is to look at the past," said Anne Rolfes of the Louisiana Bucket Brigade. "And you can see how honest they were about filling the old canals: there's not a single example of them fixing the existing spoil banks."
The Atchafalaya Basin – a national heritage area and American's largest wetland – is threatened by both pipeline construction and the potential for large oil spills. 77 acres of wetlands would be permanently lost and 171 acres would be temporarily affected.
An oil spill from the large diameter pipeline could do catastrophic damage to the Basin ecosystem, which hosts a rich, diverse array of life and several endangered species. It is a significant ecotourism destination and is loved by countless Louisiana sportsmen for fishing and hunting.
Last year alone there were 144 pipeline accidents in Louisiana, including 85 oil spills. Residents and water protectors are not confident the Bayou Bridge Pipeline would somehow escape the propensity for pipelines to leak.
According to the permit application, the Bayou Bridge Pipeline would create just 12 permanent jobs, but the health and livelihoods of many more who depend on these waters would be at risk. The oil will likely be exported, meaning even less benefit to state residents.
More than 400 people attended the permit hearing, with most of them protesting the pipeline.
"This new pipeline adds an additional threat to my rice and crawfish crops because it threatens a major source for irrigation. It threatens the drinking water for my family, my neighbors and my livestock," Rachel Roche testified.
Former U.S. Sen. Mary Landrieu, a long-time ally of the oil and gas industry and recipient of ETP campaign donations, testified in favor of the pipeline. She claimed pipelines are the safest transportation method for oil, but as we reported in September, that is not actually the case.
Retired U.S. Lt. Gen. Russel Honoré described how Louisiana legislators are notoriously indifferent to the impact of oil and gas on natural resources and property rights. State and federal regulators don't have the resources to enforce permit requirements; the Corps of Engineers doesn't even have a boat to inspect construction activity in the vast Atchafalaya Basin.
This writer, residing in Acadiana and having worked in the industry, is intimately familiar with the laissez-faire attitude of Louisiana government toward oil and gas. Industry representatives routinely grease the skids with paid dinners and all sorts of other gifts to legislators and regulators.
The Atchafalaya Basin and most other wetlands in south Louisiana are riddled with the scars of previous oil and gas activities. Spoil banks disrupt the natural flow of water through the freshwater swamps, while rig channels in coastal marshes have caused monumental destruction by allowing saltwater intrusion.
Water protectors are ready to bring the energy of the North Dakota DAPL resistance down to the bayou. Local activists professed their intent to stand in the way of machinery, and others described how networks are already forming to join Louisianans in the fight against the tail-end of DAPL.
"We are connected with people the country — heck across the world — who won't blink from your tear gas, duck from your rubber bullets, or cringe from your sound cannons," said Emma Yip, a California resident who went to Standing Rock.
Protests are also growing against major pipeline projects in Texas, Alabama and Florida, where natural resources and property rights are also being violated. Yesterday we reported on a couple in Alabama served with a restraining order prohibiting them from parts of their own property -- so an oil company could drill there.
On the opposite side of the country from North Dakota, the same company is threatening major water resources to drop off DAPL oil for export. Louisiana, long in the pocket of big oil, is going to have a new experience when water protectors amass in the bayou state.