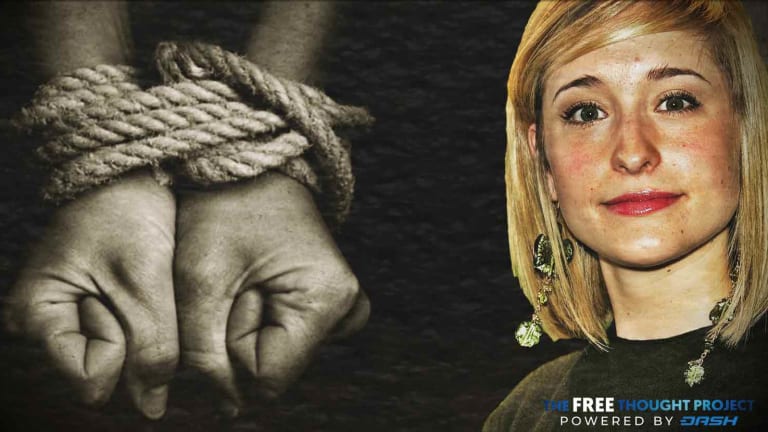 As Arrest of Smallville Star Dominates Media, 5 Celebrities are Fighting To Stop Human Trafficking
There are a number of celebrities who are using their influence to combat slavery and human trafficking through technology and education.
As police arrest former Smallville Actress Allison Mack on charges of sex trafficking and forced labor for her role in a Hollywood sex cult that was used to abuse thousands of women, it serves as a reminder that sex slavery runs rampant in the entertainment industry and some of the abuse that has been exposed recently has been ongoing for years.
However, it appears that Hollywood is not completely corrupt, and there are a number of actors and musicians who are using their large following on social media and their celebrity status to speak out against human trafficking and sex slavery.
Here are five celebrities who are taking a stand:
1. Actor Ashton Kutcher
As an actor who has been a regular face on TV since he debuted on "That '70s Show" in the late 1990s, Ashton Kutcher co-founded a nonprofit organization in 2010 with the mission to fight back against exploitation of children around the world. Thorn: Digital Defenders of Children is described as an organization that is working "to stop the spread of child sexual abuse material and stand up to child traffickers."
Kutcher made headlines in February 2017 when he testified before the Senate Foreign Relations Committee about his efforts to combat sex slavery, and he called on Congress to study and to pursue the types of new software his organization is using to fight human trafficking.
"As part of my anti-trafficking work, I've met victims in Russia, I've met victims in India, I've met victims that have been trafficked from Mexico, victims from New York and New Jersey and all across our country. I've been on FBI raids where I've seen things that no person should ever see," Kutcher said. "I've seen video content of a child that's the same age as mine being raped by an American man that was a sex tourist in Cambodia. And this child was so conditioned by her environment that she thought she was engaging in play."
2. Actress Demi Moore
As an actress who has been appeared in movies and on television since the 1980s, Demi Moore is also a co-founder of Thorn: Digital Defenders of Children. The foundation's efforts have resulted in the arrests of more than 6,500 child sex traffickers and the identification of nearly 6,000 child sex victims.
Moore was recognized for her efforts to combat human trafficking when she was given the Visionary Woman Award last month. During her acceptance speech, she said, "We don't have to fight much, we just need to unite. The power of our collective is only going to bring the light and the success to an even greater level."
3. Singer Ricky Martin
While he is known as a Puerto Rican singer whose albums have sold millions of copies since he rose to fame in the 1990s, Ricky Martin is also an activist and his work to combat human trafficking began when he saved three young girls from becoming victims during a trip to India in 2002. Martin then founded the Ricky Martin Foundation with the mission to "denounce human trafficking and educate about its existence through research and community initiatives, anchored in the defense of children and youth rights." The foundation has held more than 500 conferences to educate the public on sex trafficking, and it is also using technology to further campaigns to raise awareness about sex crimes around the world.

4. Actress Kristen Bell
As an actress and a mother of two young daughters, Kristen Bell has been a vocal advocate for the END IT movement, which is a coalition of organizations, celebrities and activists who are working to raise awareness about the men, women, and children who are trapped in various forms of sex slavery around the world.
The movement is described as "a global phenomenon, inspiring people from all walks of life to raise their voices and show their passion in the fight against slavery … Laws are changing, bills are being passed, and more resources are becoming available thanks to Freedom Fighters who continue to charge forward and shine a light on slavery."
"There are over 20 million people who are still in slavery. Let's raise awareness to help ‪#EndIt," Bell wrote on Twitter, in recognition of "Shine a Light on Slavery Day" in February 2017.
5. Actress Julia Ormond
As an actress who frequently filmed movies in eastern Europe in the 1990s, Julia Ormond said she was shocked by how prevalent human trafficking was, and she decided to do her part to stand up against it by founding the Alliance to Stop Slavery and End Trafficking (ASSET) in 2007. The organization works with corporations, NGOs, government officials, and individuals in an attempt to end human trafficking and to stop it before it starts.
In addition to working with the United Nations as a Goodwill Ambassador, Ormond also worked to introduce the first piece of legislation to link business to human-trafficking by calling on retail outlets and manufacturers in the state of California to publicly disclose efforts to eliminate slavery and human trafficking.
"In the human body if you were to take humanity, the slavery – which is the most extreme [human rights issue]—or the enslavement is like cancer in the body," Ormond said. "So we have to take a laser-like approach that gets right to the tumor of it."