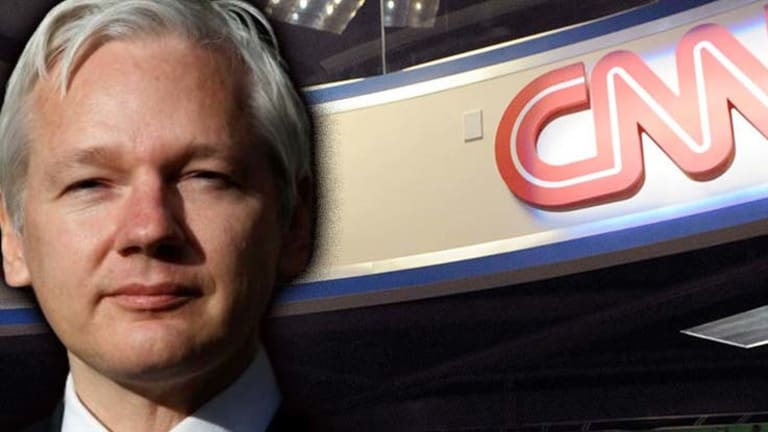 WikiLeaks Issues Ultimatum to CNN — Air 1-hour Exposé on Plot to Defame Assange — Or Be Sued
WikiLeaks has issued an ultimatum to CNN for labeling Julian Assange a pedophile -- air a one-hour exposé on the matter or face our lawyers.
In a tweet on Wednesday, WikiLeaks announced the whistleblower outfit intends to sue CNN after a counter-terrorism analyst slanderously labeled Assange a pedophile.
WikiLeaks issued an ultimatum to the behemoth corporate media giant to either air a 'one hour expose of the plot' or be sued for defamation.
The segment in question was an interview during which CNN had Phil Mudd, the ex-Deputy-Director of the CIA, "falsely calling Assange a 'pedophile'."

On CNN's New Day program, Chris Cuomo asked Mudd why he disagreed with Assange's denial that Russia was the source of the DNC leaks and Podesta documents.
Mudd responded claiming Sean Hannity's interview of Assange "skirted the bottom line [of] do you know if the Russian's were involved?… not 'where did you get the information'."
He then went on to attempt to discredit Assange through defaming his character in a bold-faced lie. Mudd referred to Assange as a "pedophile who lives in the Ecuadorian embassy in London."
The piece was aired to millions and was then published on the program's Twitter page. However, after apparently getting word of the suit, that tweet has since been deleted.
WikiLeaks' threat of a lawsuit also makes reference to the bizarre 'plot' which took place last year, involving an apparently fake online dating site that levied entirely false accusations of pedophilia at Assange.
In the midst of the Podesta leaks, multiple sites on the left began running with the narrative put out by the Daily Kos that Assange's internet was cut because he was using it to sexually communicate with an 8-year-old girl.
The Clinton-loving Daily Kos cited a bogus report from the UN.
According to a widely shared Oct. 4 "United Nations Report" by a "United Nations Global Compact member organization" called T&C Network Solutions, the Royal Bahamas Police Force conducted a "criminal child sex offenses investigation" of Assange. The report, which is written in the style of a criminal indictment, goes on to state that Assange used a dating site called Toddandclare.com, which is owned by T&C Network Solutions, to send an "8-year-old juvenile (i) unlawful, indecent images and video media of himself performing lewd sex acts on a mobile camera device, and (ii) unlawful obscenity materials of a child pornographic nature."
These bogus accusations were quickly retracted after they were found out to be false and were traced back to the dating website ToddandClaire.com, owned by T&C Network Solutions.
According to a WikiLeaks report, T&C Network Solutions was investigated to identify business filings and the entity's directors, with negative results.
T&C Network Solutions is listed as the owner of www.ToddAndClare.com. A search of the ICANN WHOIS database results in a Registrant, Admin and Tech contact, which are all identical. The name of the contact is Julia Phillips. The organization is T&C Network Solutions. The mailing address is listed as 10685-B Hazelhurst Dr., Houston Texas 77043. The phone number is listed as 1.713.091.6111. The email address is listed as [email protected] The domain was registered on 20 September 2015.3 Google Streetview of the address shows a large anonymous warehouse or storage depot, with no references to the company.4 2 See Appendix 1 3 See Appendix 2 4 https://www.google.com/maps/@29.797081,­95.5615
When an investigation, conducted by a legal team representing Assange, attempted to verify the business using multiple sources, they could not.
A search of business organizations in Texas was conducted with the Texas Secretary of State.7 Searches for T&C Network Solutions, T & C Network Solutions, ToddandClare, Todd and Clare, Todd & Clare, and toddandclare.com resulted in no identified matches.
A search of Texas taxable business entities was conducted with the Texas Comptroller of Public Accounts,8 with no matching results.
A search was conducted with the Better Business Bureau in the Houston and South Texas areas,9 with no matching results.
Searches were conducted with Texas' Harris County Clerk for civil, probate, real property, Uniform Commercial Code, and assumed business name records,10 11 with no matching results.
ToddAndClare.com's homepage currently states that they are "The Leading SMS Dating Network" and that "This online dating site is a United Nations Global Compact member, with 100,000+ female singles in the US, Canada, UK, Europe, Australia, and RSA, seeking men." 12 The homepage has a few pictures of women and a brief description of ToddAndClare.com, including "We're a real couple who started this in Indianapolis". At the bottom of the homepage is a link to customer service with the email address [email protected] At the bottom of the homepage, there is the disclaimer "TM & © Todd and Clare. All Rights Reserved."
A random selection of photos of the women on Toddandclare.com website were investigated to see if they correspond to legitimate users of the site. The investigation revealed that the photos have been obtained from other sites on the Internet, have been slightly cropped, and have been mirrored left to right, a known technique to prevent reverse image search services, such as Google's Reverse Image Search, from locating the true origin of an image.
While the request for a one-hour exposé on the plot may seem like a lot, this conspiracy to smear Assange goes so deep that it could take even longer.
Until then, however, WikiLeaks plans to follow through with the lawsuit to clear his name. The clock is ticking, CNN.