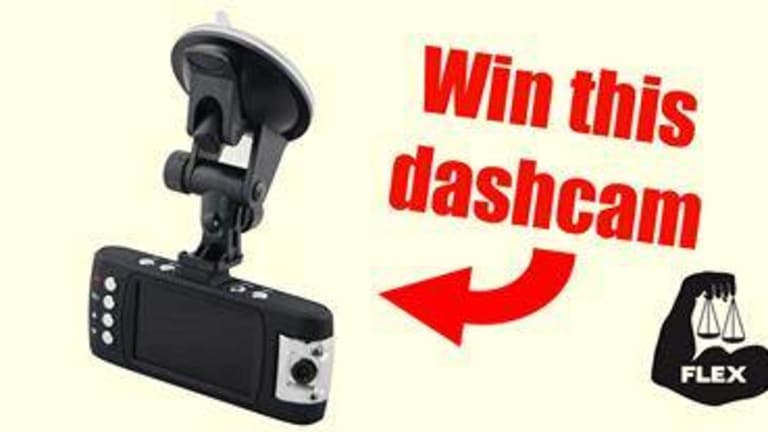 Win a Dashcam Contest (enter by March 21, 2014)
Flex Your Rights is an amazing organization; they have selflessly promoted civil rights for well over a decade. Now they are doing something really awesome!
Flex Your Rights is giving away 10 free HD dashcams to 10 aspiring Dashcam Heroes!
You probably already know why it's important to film the police. If you follow Flex on Facebook and Twitter, you've seen stories where dashcam footage reveals police covering up abuse or falsifying charges against innocent people.
Long story short, there's nothing in the world that can cut through a web of police lies like video can. That's why our dear friend and supporter Mark Wood has donated 10 top-of-the-line dashcams for this contest.
The Prize
Mark and I did our homework, and in our opinion the dual-view dashcam from DashcamDiaries.com is the best device on the market for under $200. (Enter FLEX10 promotional code to get $10.00 off your order at DashcamDiaries.com.)
Its killer feature is the dual-camera action. One camera captures the view through your windshield. The second camera simultaneously covers you, the driver.
How to Enter & Win
To qualify to win this dashcam, I need you to do 2 things before the March 21, 2014 entry deadline.
STEP 1: Written Essay
Describe the following in 1700 characters (about 300 words) or less.
Why do you need a dashcam? For example, do you get pulled over a lot? Do you think police are profiling you? Tell us your story.
Be sure to include what you think is the most important rights-flexing tip if you get pulled over.
STEP 2: YouTube Video Essay
Please share a brief (90 seconds max) YouTube version of your essay. (Include link to your video in entry form below.)
Title your video "[Your First & Last Name]: Dashcam Hero Contestant" For example, I'd title my YouTube entry "Steve Silverman: Dashcam Hero Contestant"
Your video doesn't have to be fancy. A basic webcam video is perfectly fine.
All I need to see is that you're comfortable talking to a camera. Because if you do capture dashcam footage of police abusing your rights — you've got to be willing to look into a local news camera and tell your story to the world. That's what being a Dashcam Hero is all about!
Dashcam Entry Form
First & Last Name*
City & State*
Contact Email (enter twice to confirm)*


Enter EmailConfirm Email

Why do you need a dashcam?*

0 of 1700 max characters

Submission Tip: Use paragraph breaks to make it more readable.

YouTube Video Essay Link*

Submission Tip: Don't forget to properly title your YouTube video. (See above.)

Do we have permission to share your story on FlexYourRights.org?*

Yes!

Box must be checked to complete form.
Contest Rules & Eligibility
Eligibility
The contest is open to legal residents of the United States and Canada. Entrants must be able to prove that they have a current license to operate a motor vehicle. Entrants may also be asked to prove that they have car insurance.
Entry period
The contest entry period begins Wednesday, March 12, 2014 and ends midnight (EST) Friday, March 21, 2014. Winners will be announced by April 1, 2014.
How to enter
Complete all the above fields using the entry form above. After you hit "Enter" you should receive an email confirming your entry. If you don't receive a confirmation email, check your spam filter to make sure it didn't end up there. After submitting the required information on the entry form, you'll receive one (1) entry into the drawing.
How winners will be selected
Winners will be selected by Flex Your Rights staff.
Prize information
Winners will be contacted by email. Cameras will be mailed via USPS once we receive your address and confirm your eligibility (see above). The camera kit will include a complimentary SD card, so you won't need to purchase any additional items to use it.
How we'll use your personal information
By entering the contest you grant Flex Your Rights permission to share your YouTube and written essays on the Flex Your Rights website and future marketing materials. We will not share your email or other personal information. However your email will be automatically subscribed to receive the Flex Your Rights newsletter. (You, of course, may unsubscribe anytime.)
Visit Flex Your Rights.org for more information.