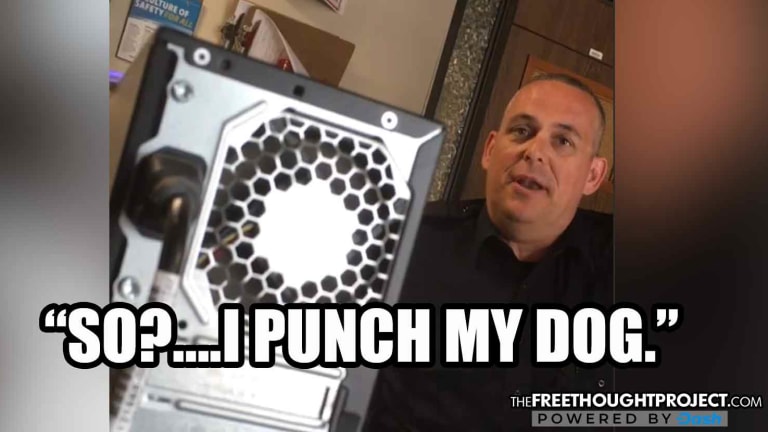 WATCH: Woman Asks For Help Saving Dog From Abuse—Cop Refuses, Admits He Beats His Own Dog
When a woman attempted to report animal abuse to the police, she was turned away by an officer who admitted that he also beats his dog.
When a woman witnessed a neighbor hitting his dog in the face repeatedly, she reported it to the police—but instead of helping the dog, an officer admitted on camera that he also beats his dog, and he believes there is nothing wrong with abusing animals.
Susan Mulvaney said she and her friend Vivian Muska witnessed a neighbor hitting his dog in the face four times. She called the authorities who dispatched a few police officers to the scene of the alleged abuse. When she felt like she was getting nowhere with the officers on the scene, Mulvaney took her concerns to the Hartford Station where the officer on desk duty took her information.
After explaining that she had witnessed her neighbor beating his dog, the police officer, whose badge number is 2181, told her that he, too, beats his own dog.
"I punch my own dog. Sometimes you have to discipline an animal," the officer said.
The shocking admission was too much for the citizen with a complaint to handle, apparently. She then asked to speak to the officer's supervisor, and when she received no help, she took to social media to
Please read!Just left District 3 Police Station. The case regarding our complaint about neighbour punching his dog repeatedly in the face with a closed fist is CLOSED. Officers dispatched to the scene observed both dogs through the window and decided that they were in "good health". I wish I had magic hematoma and x-ray eyes, too.One of the officers we talked to at Hartford Station, Badge # 2181, says that two people observing the beating is not "proof". He also said that punching a dog in the head to "discipline" it is reasonable. He, in fact, admitted that he punches his own dog in the head to discipline it.We asked to speak to a supervisor and he refused. As we left, Officer #2181 was rocking back in his chair with his hands clasped on his belly laughing at us.I am sorry I did not go in there with my video running and captured it all, but I did capture this clip below. Please watch. Please share. We are contacting headquarters to lodge a complaint against officer 2181. Any help in terms of useful contacts or resources would be greatly appreciated.This is a Winnipeg Police Service officer in uniform, on duty condoning a criminal act.UPDATE: The FULL video of this encounter is available from the City of Winnipeg Clerk's Office through FIPPA. We are making a request for the full video. Trust me, it does not help the officer. My wife, Vivian M Muska, and I have nothing to hide.UPDATE: An application through FIPPA has been made. In the meantime, this video has gone viral. It has had 7.3 k views at this point. Vivian and I think that the officer's behaviour was despicable, but we do not encourage or condone any action against this officer that may cause him harm. Reprimanded? Yes. Reassigned? Yes. Penalized? Yes. But not harmed in any way. Let's take the high road.UPDATE: (Courtesy of "Sheila"): A sergeant has been assigned to investigate the incident: The investigating officer is B. Hawes #2138 (Professional Standards Unit): 204-986-7242.Let's not forget about the poor dog that was originally observed being punched in the face four times as he cowered on the ground helpless and terrified. As far as I have observed, he has not been examined yet for skull fracture (hairline?), hematoma, brain damage (due to long term abuse), etc. And there is a second dog in that home and a cat. Certainly what goes on in public view also goes on in private. Those poor animals need help.UPDATE (June 15): Badge# 2181 is under investigation. However, despite WPS claims that the animal(s) are being attended to, THEY ARE NOT.UPDATE: June 18: Many people are coming forward with terrible stories about the officer who works the desk at Hartford Station. If he has mistreated you or prevented you from getting access to law enforcement, please, please, call Sargeant Brandy Hawes at 204-986-7242. She is in charge of the Professional Standards Unit who are dealing with this officer. The more complaints, the more likely he is to fired!

Posted by Susan Mulvaney on Wednesday, June 13, 2018
" target="_blank" rel="noopener">share her encounter.
While only a small portion of the encounter was recorded, and the video is amateur at best, one can clearly hear the officer admit he beats his own dog. Watch the video below:
Please read!Just left District 3 Police Station. The case regarding our complaint about neighbour punching his dog repeatedly in the face with a closed fist is CLOSED. Officers dispatched to the scene observed both dogs through the window and decided that they were in "good health". I wish I had magic hematoma and x-ray eyes, too.One of the officers we talked to at Hartford Station, Badge # 2181, says that two people observing the beating is not "proof". He also said that punching a dog in the head to "discipline" it is reasonable. He, in fact, admitted that he punches his own dog in the head to discipline it.We asked to speak to a supervisor and he refused. As we left, Officer #2181 was rocking back in his chair with his hands clasped on his belly laughing at us.I am sorry I did not go in there with my video running and captured it all, but I did capture this clip below. Please watch. Please share. We are contacting headquarters to lodge a complaint against officer 2181. Any help in terms of useful contacts or resources would be greatly appreciated.This is a Winnipeg Police Service officer in uniform, on duty condoning a criminal act.UPDATE: The FULL video of this encounter is available from the City of Winnipeg Clerk's Office through FIPPA. We are making a request for the full video. Trust me, it does not help the officer. My wife, Vivian M Muska, and I have nothing to hide.UPDATE: An application through FIPPA has been made. In the meantime, this video has gone viral. It has had 7.3 k views at this point. Vivian and I think that the officer's behaviour was despicable, but we do not encourage or condone any action against this officer that may cause him harm. Reprimanded? Yes. Reassigned? Yes. Penalized? Yes. But not harmed in any way. Let's take the high road.UPDATE: (Courtesy of "Sheila"): A sergeant has been assigned to investigate the incident: The investigating officer is B. Hawes #2138 (Professional Standards Unit): 204-986-7242.Let's not forget about the poor dog that was originally observed being punched in the face four times as he cowered on the ground helpless and terrified. As far as I have observed, he has not been examined yet for skull fracture (hairline?), hematoma, brain damage (due to long term abuse), etc. And there is a second dog in that home and a cat. Certainly what goes on in public view also goes on in private. Those poor animals need help.UPDATE (June 15): Badge# 2181 is under investigation. However, despite WPS claims that the animal(s) are being attended to, THEY ARE NOT.UPDATE: June 18: Many people are coming forward with terrible stories about the officer who works the desk at Hartford Station. If he has mistreated you or prevented you from getting access to law enforcement, please, please, call Sargeant Brandy Hawes at 204-986-7242. She is in charge of the Professional Standards Unit who are dealing with this officer. The more complaints, the more likely he is to fired!

Posted by Susan Mulvaney on Wednesday, June 13, 2018
Mulvaney said the officer laughed at her and rocked back and forth in his chair as if to show he was unmoved by the complaint.
The incident serves to illustrate several disturbing issues at work in society. First, when citizens see others abusing animals, there is a moral duty to act. Mulvaney not only addressed her concerns with her neighbor but involved police. When officers arrived, they reportedly said the dog was in "good health" and left the scene. Then when citizens are upset with the response they receive from police, little is done if they file a complaint with the department.
The two friends wanted the abuse to stop, the citizen to be held accountable, and for police to do their jobs to either cite the neighbor with an infraction of the law or arrest such a person. When that didn't happen, they chose to go above the street-level officers' heads.
In this case, when they approached the precinct, the officer openly admitted he "punches his own dog." The inhumanity was not lost on the ladies who recorded the incident. They are now trying to draw attention to the officer's comments in an effort to highlight just how little police seem to care about animals. Mulvaney wrote:
This is a Winnipeg Police Service officer in uniform, on duty condoning a criminal act...Vivian and I think that the officer's behaviour was despicable, but we do not encourage or condone any action against this officer that may cause him harm. Reprimanded? Yes. Reassigned? Yes. Penalized? Yes. But not harmed in any way. Let's take the high road.
The friends are now using Canada's Freedom of Information process to obtain the entire footage recorded by Winnipeg Manitoba's Police Service. They have gone public with their outrage, which has been helped by support from friends and family. In several updates to her story, Mulvaney wrote that the welfare of the dog is now being investigated and so, too, is the Winnipeg officer with badge number 2181.
Since Mulvaney's story went public, several citizens have come forward with their own story of how the officer allegedly stonewalled their own efforts to get the police to help them. She wrote that she is still concerned over the welfare of animals at her neighbor's residence:
Let's not forget about the poor dog that was originally observed being punched in the face four times as he cowered on the ground helpless and terrified. As far as I have observed, he has not been examined yet for skull fracture (hairline?), hematoma, brain damage (due to long term abuse), etc. And there is a second dog in that home and a cat.
As The Free Thought Project has reported, it is not uncommon for police officers to abuse their own animals, and in one case from last month, an officer was caught on video abusing his own search dog when the animal failed to signal for drugs at a traffic stop.